« Thievery 101: Don't Steal Right Next To A Police-Dog Training Site
|
Main
|
Mercenaries: US Soldier Wrestles Suicide Bomber To Ground To Allow Intended Victims To Take Cover »
February 23, 2007
Hot New Video: Candid Shots of NYC Beaver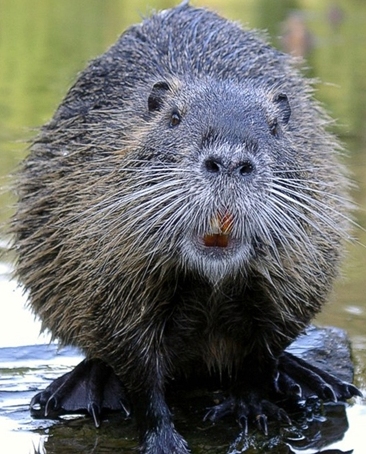 "Okay, you can take my picture... but if
this turns up on the Internet, I'll cut you."
Beavers grace New York City's official seal. But the industrious rodents have not been seen in the flesh here for as many as 200 years — until this week.

Biologists videotaped a beaver swimming up the Bronx River on Wednesday. Its twig-and-mud lodge had been spotted earlier on the river bank, but the tape confirmed the presence of the animal itself.

"It had to happen because beaver populations are expanding, and their habitats are shrinking," said Dietland Muller-Schwarze, a beaver expert at the State University of New York College of Environmental Science and Forestry in Syracuse. "We're probably going to see more of them in the future."
"Beaver expert." He majored in beaver. Funny, they didn't offer that when I went to college. Though I doubt I'd've been able to satisfy the prereqs either way.
Note that the biologist strikes an alarmist note -- "their habitats are shrinking" -- despite the fact that their population is growning, and despite the fact that beavers have returned to NYC for the first time in 200 years.
Maybe they'd have less population pressures if they stopped going to sex parks like this.
Thanks to Pupster.

posted by Ace at
03:23 PM
|
Access Comments