« More Marcotte
|
Main
|
Al Qaeda Bigs Captured In Iraq, Al-Masri On Run »
February 08, 2007
Important Action Alert: Edwards Reverses, Bows To Nutroots, Keeps Mutants On Staff
I'm sure they had pretty vicious rants lined up had he fired them.
The New York Times does Edwards a solid by pretending that this was all about potty-language:
Some of their work contained profanity and vulgar language, which did offend some on the right and the left.
No mention of divine loads or abortions for the Virgin Mary, notice.
Nice. The New York Times is really good at this, huh?

Goldstein's Take: Is a hot, sticky load of analysis:
As I wrote yesterday, I don't care one way or the other, personally, about whether or not Marcotte and McEwan are allowed to keep their josb. That's Edwards' call. And from a blogging perspective, I suppose Edwards' decision is good news.

But let's not confuse the effect with the rationale—which is both risible and insulting. Because were it really never Marcotte's intent to malign anyone's faith, she probably wouldn't have dedicated so many hate-filled blog posts to, you know—maligning anyone's faith.

Of course it was her intent. Just as it was McEwan's intent. And worst of all, Edwards knows it. That he has pretended to take the two at their word, in an ostentatious gesture of "trust," is precisley the kind of staged treacle that makes people doubt the sincerity of politicians; and that both Marcotte and McEwan have assured their own personal Patriarch that they'll behave, now that he's promoted them to the grownups' table, is, to put it bluntly, one of the most pathetic public surrenderings of personal integrity I've ever seen.

Seriously. We should feel bad for them.

That is, were we to actually believe they meant any of it. Because how this plays out for the netroots is this way: either they are cheering on an ideological sellout, or they are knowingly and happily embracing an opportunistic liar. So. Congrats to them. Once again, they've covered themselves in white hot sticky glory!

Edwards and Marcotte deserve each other, as far as I'm concerned. A presidential candidate who tries to sell me on the fact that Marcotte and her group of shrieking ill-tempered character assassins had no intent of maligning anyone—all for a bump in the DailyKos straw poll—is a charlatan and a waffling opportunist.
LGF: puts it pithily:
Hey, Nutroots bloggers! Want to work on a big-time political campaign? All you have to do is publicly repudiate everything you've written for the past five years!
It's also amusing that Marcotte and McEwan resorted to that hoariest of lies -- "We were just being satirical."

Barnett: Doing that "Numbered List" thing he does to make himself sound all important and shit:
3) But won't it be a great tragedy for Edwards if he loses the support of the Nutroots? After all, Chris Bowers of MyDD has pounded his virtual shoe on a virtual table threatening, "We will bury you!" if Edwards goes through with firing the angry blogresses.

There's a lot that the Nutroots and the blogosphere don't get, but this is the most important: In 2004, Howard Dean enjoyed the unified support of the Nutroots and angry "progressives" everywhere. What did it get him? A fourth place finish in Iowa. If a candidate is going to play to the blogosphere as his or her main constituency, that's the ceiling on how well he or she will perform. Let's not forget that Dean finished behind an unimpressive roster of Dick Gephardt, John Kerry and John Edwards. Barack Obama and Hillary Clinton are both a lot more formidable than any of those guys.

4) But won't it look really bad if Edwards caves to the demands of knuckle-dragging wingnuts like you and cans Marcotte and what's-her-name?

Oh lord. This is the biggest myth of this whole melodrama. I can't think of a single right-wing blogger who has called for Marcotte's termination. Read my commentary, read Allah's, read Ace's, read Glenn's, read MKH's – we don't care whether Marcotte stays or goes. Really, take the challenge – find me a single prominent blogger who has said, "I demand Amanda Marcotte be fired."

We do, however, care that Edwards be judged by the company he keeps. If a campaign hired Ann Coulter as a message massager or speech writer, no one on the left would be sympathetic to the defense that Ann's incendiary past-writings have nothing to do with her ability to perform the functions that the campaign hired her to do. And make no mistake – while I have often found Ann's writings to be needlessly juvenile and offensive, compared to Amanda Marcotte she is a national treasure.

Edwards Embraces The Nutroots-- Not Just The Mutants Marcotte and McEwan, But Their Twisted, Paranoid Worldview As Well: Edwards won't let himself be "distracted," Allah notes:
It wasn't their intention to malign anyone's faith? By referring to religious conservatives as "godbags" and "Christofascists"? Quote:

Q: What if Mary had taken Plan B after the Lord filled her with his hot, white, sticky Holy Spirit?

A: You'd have to justify your misogyny with another ancient mythology.

Either he's a gullible moron or he takes us for gullible morons. Bad news either way. Here's the big finish:

We're beginning a great debate about the future of our country, and we can't let it be hijacked. It will take discipline, focus, and courage to build the America we believe in.

That's vintage nutroots newspeak, on the same paranoid continuum as questioning the timing, and I'm sure it won't be lost on his target audience. Their answer to every right-wing challenge, policy or otherwise, is to look for an ulterior motive that we're allegedly attempting to distract them from. Opposing abortion isn't "about" protecting innocents; it's about "controlling women's bodies." Opposing affirmative action isn't "about" fairness and meritocracy; it's about reinstituting Jim Crow. The Iraq war isn't "about" trying to reduce the incentives towards terrorism by introducing democracy; it's about oil, Israel, Halliburton, colonialism, or any/all of the above. And criticizing Edwards's bloggers isn't "about" the fact that they're offensive wretches whose brand of discourse has now been mainstreamed; it's about conservatives trying to hijack the debate about which of the two Americas Lionel Hutz purchased to accommodate his palace."
Yes, there's always a subtext, and the subtext is always a metanarrative about power relationships about race, class, gender, and sexuality.
They learned that in college. And that's pretty much all they learned in college.
The nutroots is taking this as vindication, that they've whipsawed the Democratic Party into finally "standing up and fighting for its principles."
Really?
These are your principles?
Duly noted.
The New Face Of The Edwards Campaign: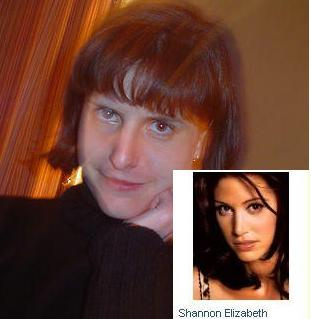 I'm comfortable with that.
The Shannon Elizabeth pic is there, by the way, apparently because some computer program supposedly analyzes your face and tells you which celebrity in its database you most closely resemble. This is posted on Marcotte's own photostream, inviting comparisons.
I haven't seen a computer go this beserker-nuts since WOPR in Wargames.
In related news, six Soviet ICBMs just hit McGill Air Force Base.
Would you like to play a nice game of chess?
Amanda, it's not so much as we'd like to control women's bodies, so much as we'd like to do a little policing of their Flickr accounts.

posted by Ace at
03:34 PM
|
Access Comments