« "We Won In Vietnam:" Don't Read Much Into It, Says Tony Blankley
|
Main
|
John Travolta's Personal Airport »
January 31, 2007
British Phony Up Evidence Against Nine Innocent Muslims To Influence Results of 2006 Elections
Good news, really. It means the Brits have finally fixed that time machine they inherited from a H.G. Wells estate sale.
VIL Muslim terrorists were to kidnap a British soldier on UK streets and force him to plead with Tony Blair for his life in return for a pull-out of troops from Iraq, The Sun can reveal.

The soldier would have been filmed begging the PM to withdraw from Iraq and Afghanistan in a sick propaganda stunt.

Army sources said the target was a British Muslim soldier in his 20s.

He would eventually be beheaded on film in a sick mirror of the torture and savage killing of British hostage Ken Bigley if Mr Blair refused.

Senior security sources say the plot would have put the most unbearable blackmail pressure on the Premier to act…

The fact that the arrests were made in Birmingham could suggest that soldiers recovering from wounds in military hospitals there might have been targeted.
Lots more, of course, from Allah, but you already knew that.
Greg Tinti notes that Andrew Sullivan -- famous for claiming the entire SkyBomb plot was a political stunt cooked up by Bush and Blair to protect Rick Santorum's Senate seat -- is now willing to admit, now that the Terrorist Santorum has been smoked out of his cave, that the bombing plot was real:
Recall that the alleged plot to bring down several airplanes over the Atlantic was also exposed because the suspects had been under intense surveillance for months. The awful news is that these fanatics exist; the less-awful news is that their neighbors and friends obviously have an eye on them, and the police are on the case.
That's a link to Tinti quoting Sullivan, not Sullivan, so you can click without any heart-ache.
Tinti wants to know when Sullivan will apologize to Karol of Alarming News for calling her "deranged" for her absurd belief that the SkyBomb plot was real.
Bonus: Maybe Sullivan's wildly-veering, nearly psychadelic take on the world can be explained by his self-proclaimed enthusiasm for magic mushrooms and the "mystical experiences" they provide.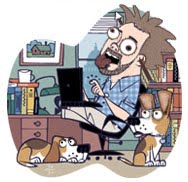 posted by Ace at
03:33 PM
|
Access Comments