« SOTU/STFU
|
Main
|
Stunt: Powerless GOP Urges Lie Detector Test For Sandy Berger »
January 24, 2007
Scandis Go Home
Pictured: The Scandi Rapid Transit System.
I don't remember when my Pappy first taught me hate -- hatred of the icicle-squating Scandi snow-wops. But I'll always thank him for it.
One of my earliest memories is of watching the Muppet Show, and happily laughing along to the Swedish Chef. Hur-de-ver-de-verd-e-verr, the Swedish Chef said. And I, not knowing any better, merrily repeated his dirty Scandi gutter-talk. "Hur-de-verd-de-verd-e-verr," I said along.
My Pappy walked in, agahst, and shook his head in disgust. "They're goddamned trying to brainwash these kids," he said. The next day, the television was gone, and in place of the tv was a record player and a bunch of Richard Pryor and Redd Foxx albums. "You listen to these guys," my Pappy said. "They don't truck with any goddamned Scandi luge-jockeys."
And so I learned my first lesson about the Scandis. I also learned a lot about The Man, freebasing cocaine, and having anal sex with prostitutes.
Whenever we'd go to a restaurant, my Pappy would nervously look over both shoulders for Scandis, and then, if he didn't see any, would sigh with relief. "Thank God," he'd say. "Not many 'Bjorns' here. So the place won't stink of herring."
One time I asked him why he called them "Bjorns." He explained "Bjorn" was the Scandi gutter-language equivalent of "John." And Scandis were called "Johns" because they had an unhealthy desire to spend most of their time in the toilet. When Scandis were alone at home, he told me, their whole families would gather in the toilet to eat dinner. "So that's why we call them 'Bjorns,'" he said. "But you can also call them 'Toilet People,' but only if there aren't any of those dirty head-mongers within earshot."
"But why do these 'Toilet People' love the bathroom so much?" I asked.
"I don't rightly know," my Pappy said. "Maybe the white porcelain reminds them of their stinking igloos. Maybe they just like the smell of dried urine. It might remind them of the fermented reindeer piss they guzzle every Winter Solstice, which, in frozen Scandi-land, is called 'Tuesday.'"
Another time I was eating dinner, but wouldn't eat my vegetables. "There are children starving in Scandinavia, you know," my Pappy told me.
"So I should eat the vegetables, and not waste them?" I asked.
"Nah, throw 'em out, let the 'possums have at them," he said. "Let the filthy Loki-lovers eat fucking snow. Human food would be wasted on them."
I remember how excited he'd get to watch the US Open, and root for Jimmy Connors, who he called "The Great Off-White Hope." The day Bjorn Borg beat Jimmy Connors was just about the saddest day of my Pappy's life. "Don't worry, son," he told me as he gave my hair a comforting tussle. "Bjorn Borg is just a shaved Yeti in short-shorts. Those people are barely evolved from the snow-sasquatches. Jimmy Connors is still the greatest human tennis player in the world."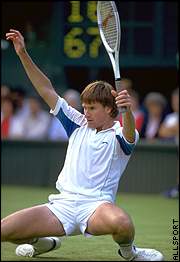 He didn't really lose -- the fix was in.
"Those people" control the tennis world.
One time I wondered if the Toilet People celebrated Christmas. My Pappy just chuckled darkly. He told me they did -- in their way. "Ever notice how the Toilet People are always eating shit loaded with salt? Their fish-- even their candy is thick with salt."
"Ewwww!" I said.
"You betcha. The Toilet People love their salt. And I'll tell you why. When Jesus was condemned to be crucified, these rotten toboggan monkeys got into one of their giant wooden shoe-boats and sailed to Judea. These vicious Odin-worshippers planned on rubbing salt in the Savior's wounds as he died. But, being a bunch of fuck-up Toilet People who run on UPT, or 'Uncolored People Time,' they got there late and didn't even get to the right place. They showed up in Rome in around 422 AD, looking around for Jesus, rubbing salt between their dirty hands and laughing like maniacs. Well, the joke was on them, wasn't it?"
He says to this day it's a religious requirement that all Scandis always have at least a good handful of salt on them at all times, just in case the Messiah should return. "They missed their one chance," my Pappy said, "and they're not going to miss the next one." He told me they salt everything they can get their dirty paws on -- even their asses, or "Reindeer Tunnels" -- just to practice for what they call "The Big Day" or "Thor's Victory Lap."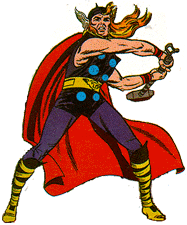 The Seduction of the Innocents:
The perverts of the permafrost teach children
that "God" has girlhair and go-go boots.

So that's why I hate the Bjorns. They say hate can only be taught at a young age, and I'll always thank my Pappy for starting my education off right.

posted by Ace at
11:10 AM
|
Access Comments