« Breaking: President Uses Nationally-Televised, Heavily-Promoted, Endlessly-Analyzed Speech To Declare "Secret War" On Iran And Syria
|
Main
|
Bush's Plan Gets Early Results: Shia-Sunni Violence Cools In Detroit »
January 12, 2007
Naked Aggression: AF Investigates Air(wo)man's Playboy Spread
They say her actions fail to demonstrate the integrity the Air Force expects from its members.
She says she's been fighting for other people's freedoms, now she's just exercising her own.
She's on the left. They say she's a mother of two.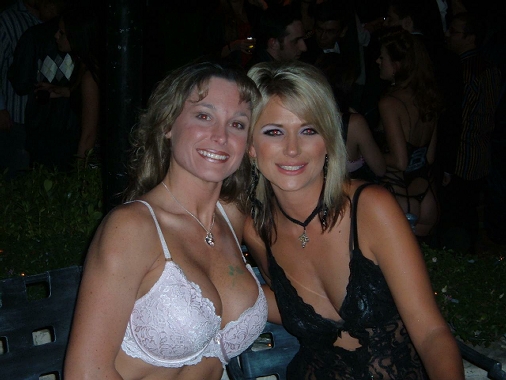 I'll say.
I agree with Rob on this (who has more links). She knew she wasn't supposed to do this, it's utter bullshit that she "didn't expect any problems," she felt like violating her service contract to get some Playboy money and exposure, and she should be booted out.
It seems there are a lot of ways people can intentionally get themselves tossed out of the military, if they have a mind to.
Why she couldn't have just finished out her current term of service and then done this, I don't know.
Oh wait, yes I do: Because then Playboy wouldn't have been particularly interested in her. They made it clear, I'm guessing, that the whole pictorial depended on her being an AF sergeant at the time of the shoot; she had to either violate the AF's code or forgo the offer entirely.
Which would mean that Playboy is civilly liable, if the government wanted to push it, for tortious interference with a contract, but of course no one would.
The Air Force loses an NCO, a woman loses a career, and Playboy, which no one ever even jokes about anymore, gets a little press, but I guess they were the most desperate of the three.
I mean, you don't even hear the old "I read Playboy for the articles" jokes anymore, because people just don't even read it not to read the articles anymore. They don't even eye it on the magazine racks.
Not A Violation of Any Code Or Order? Jones thinks it's not:
She's not an officer, she's a staff sergeant.

So it's not punishable as "conduct unbecoming an officer."

If there is a regulation or order prohibiting air force members from posing nude, then it's violation of an order.

Otherwise, how could they punish her?

The General Article, Art. 134? I think it was struck down as too vague to enforce.

Even in the military you can't just make shit up as you go along and punish retroactively.

Army Lawyer, where are you now?

Not an army lawyer or anything but, back when i was in the army a spc4 in my unit posed nude in playboy and she got in trouble for using her uniform in the spread. Ya cant use your uniform for moneymaking activity. Just sayin. Anyway that is what she got in trouble for, had she been all the way nude and not worn her uniform for the photoshoot she might have been ok.

There's no rule preventing posing for nudey mags? I can't believe that. Then all those muscular marines can pose for all the gay internet sites they want without any reprecussions?*
* Please? Please be true? Can I even dream of living in such a world?


posted by Ace at
12:00 AM
|
Access Comments