« Barack Obama
|
Main
|
Report: List Of Best Corporate Buzzwords Proves That Entirety Of British Isles Is Gay »
January 03, 2007
Howard Fineman Reveals: Next President Will *Not* Be George Bush
Howard Fineman truly is an idiot. Read his bold statements about what the public wants in their next president -- "NO IDEOLOGUES, PLEASE;" "KNOW THE MIDDLE CLASS" -- and tell me if each of them is not either utterly obvious, or cutesy Bush-bashing disguised, as Time and Newsweek occasionally like to pretend, as nonpartisan horse-race analysis.
Gee, the public wants a "SERIOUS STUDENT" this time? I can't imagine whom Howard Fineman is saying they don't want.
And that thing about "ideologues"? As always, Howard, an "ideologue" is someone who believes things you don't. If he believes in the stuff you believe in, he's just "principled." I doubt very much if Fineman or his nitwit liberal "source" for this pap finds the Democrats' lockstep enthusiasm for an increased minimum wage to be the fetish of "ideologues" at all -- no, that's just plain ol' horse sense.
"WASHINGTON EXPERIENCE NOT NECESSARY"? Are you shittin' me? This country hasn't elected someone directly from Congress since frigging Kennedy and Howard Fineman's here to give us the inside scoop that a career in Washington may not be a prerequisite for the presidency?
In related news, water is wet, night is dark, and the "cycle of violence" continues to spiral out of control in the age-old dog-squirrel conflict.
Anyway. It's so stupid I've quoted almost the entirety of it below.

I've Got Nothin'
I'm completely tapped. I haven't had an original or interesting thought since 1985, and that one was about selling cinnamon-raisin bread (just like the bagels!), but it turned out they already were doing that. So, I guess it wasn't original. But I thought it was interesting. Then again, I'm a fucking moron.
WEB EXCLUSIVE COMMENTARY
By Howard Fineman
Newsweek
Updated: 2 hours, 16 minutes ago
Jan. 3, 2007 - Now that the 38th president has been laid to rest, the capital can take up the main business of 2007: trying to figure out who will be the 44th. What type of leader does the country want? Here is my sense of it, based on talking to politicians and party strategists from both sides of the aisle (the left side, and the center-left side) and voters here and around the nation. And when I say "voters," I mean politicians and party strategist; they vote too, you know. So, basically, I called up my friend and met him at a Georgetown bar to knock this thing out on Newsweek's dime.
MAMMALS ONLY PLEASE
It might be considered phylumist to suggest, but the American people feel most comforted by a leader who shares similar values to themselves -- such as giving birth to live young, being warm-blooded, and having an endoskeleton supporting their body weight. "The American people have briefly flirted with non-mammalian candidates," says Dan Pfeiffer, a former staffer to the Evan Bayh campaign, as he tries to close out nineteens in our cricket rubber-match. "But they find reptiles too cold, they don't like they way their tongues flicker out and they don't get the whole 'swallowing mice whole' thing."
His argument rings true to me. Perhaps it's because I'm on my ninth dirty martini, maybe it's because I'm still bothered, somewhere deep inside, by the short-lived NBC science-fiction series V, a show which pitted reptiles who looked like humans against actor Marc Singer, a human who looked like a reptile. But for whatever reason, our next President will almost certainly be a human being, or at least be both bipedal and mammalian, maybe a big friendly dog like Scooby-Doo or, better yet, First Officer Spock.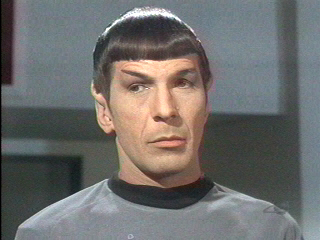 "The Roadmap to Peace...? Fascinating."
IT'S PARTY TIME-- *THIRD* PARTY TIME, THAT IS
The public is tired of the same binary choice in their President's party affiliation. "Historically," Dan Pheiffer says as he orders us round of Kamikazes, "the public has only had two choices for president. Those on the right could chose the Republican Party. Those on the left could choose the Communist Party. But many of us wish there were, I don't know, some sort of new, exciting democratic alternative between those two extremes."
And that's the sort of party America wants this time 'round.
Both Pfeiffer and I put on our "thinky looks" as we try to imagine what that third party might be.
B.Y.O.H.
Pfeiffer tells me he's fairly confident that the next president will have a functioning head, preferably attached to his body.
There was a time, to be sure, when the country seemed ready to embrace a headless President, one whose suddenly-truncated neck bubbled over with red grue, whether he frightened the children or not. But those carefree, less-judgmental days seem to have passed like the Age of Aquarius and my own late-eighties crack addiction.
Pfeiffer moves on to eighteens, plugging a double and a triple, and going up 36 points. "The public wants its president to look them in the eye," he says, now nailing another double, just to be a points-douche. "And for a candidate to look you in the eye, he himself must have an eye, and that implies a head. The public is tired of turning on the TV set and looking at blow-dried politicians with neck-stumps whose severed esophagi gurgling up saliva and stomach acid as they try, futilely, to speak. Quite frankly, it's a bad look."
And Pfeiffer is equally bearish on candidates with more than one head. "Just the standard number, I think," he says. "It's like the number of men you should have sex with before committing to heterosexuality -- zero's too few, nine's too many. Somewhere in the middle would be nice."
NO SERIAL KILLERS OR CHILD RAPISTS NEED APPLY
The popularity of William Bennet's The Book of Virtues suggests that the American public is still concerned with issues of character. Although the public is willing to forgive a candidate for his transgressions, a candidate must still be relatively clean, even in this post-Clinton age.
First among those disqualifying transgressions: being a serial killer or a child rapist. A candidate must be certain he has no "skeletons in his closet" or, for that matter, skeletons in his basement crawl-spaces or vegetable garden. "This eliminates Dennis Kucinich, unfortunately," Pfeiffer says. Then he winks flirtatiously at what he thinks is a "woman" but which I can see, based on the telltale signs, is actually a transexual.
We both begin chugging triple-shots of bourbon to drown out the gnawing tedious obviousness of our discussion. "I'm not one for predictions," Pfeiffer says, "But I will make you one guarantee about the next president: He will have absolutely no history of stalking, killing, and eating his fellow human beings."
That seems strict. Not even one?
"Well perhaps one or two," he allows, "but only if he can somehow incorporate it into his biography, and explain to the American public the lessens he's learned from his cannibalism, and how that's taught him about the insecurity of the middle class, and how Mexicans need papers or, I don't know, whatever the fuck he's talking about. God, I think I'm getting fucking drunk."
By the way-- that "woman" I thought was a transexual? Turns out I was wrong.
It was a cigarette machine. It did have big hands, though.
That last round of Dewers and LSD was a bad idea.
THE CANDIDATE'S NAME SHOULD BE A PERFECT ANAGRAM OF "ORACK BABAMA"
This is the key consideration, both Pfeiffer and I decide, as we now move on to straight tequilla shots and have now been asked to stop playing darts since we began drunkenly spraying them around the room with less precision than a Palestinian terrorist in a Rome airport.
"I think the next Preshident should be Orack Babama," I say, and then realize my mistake. "I jussht said Orack Babama."
"That'shh funny," Pfeiffer says, and spills his drink all over his crotch. "You sshaid Orack Babama."
"Orack Babama," I say again.
"He's a very attractive candidate," Pfeiffer says. "Very attractive. I'd break my Rule of Nine for him, if you know what I mean."
There is an uncomfortable silence, which seems as good a time as any to spark up a bowl of crack.
"You're the bessshht," Pfeiffer tells me. I shake him off as he grabs my shoulder. "No, no lishhten to me. I love you, man. I serioushly love you."
He then falls off his chair as I take a wild swipe at grabbing the waitress' cooter.
"Orack Babama," we both say as the bouncers haul us out and toss us onto the cold Georgetown pavement.
"So what'shh thish article going to be about?" he asks as we collect ourselves up, wobbling, from the ground.
"Oh I don't know, politicshhh or shomething," I say as I vomit on to a stray cat. "No one readsh thish shit anyhow. It's Newsweek. Now let me bang this stupid article out, and then we can go see if we can double-team that cigarette machine."

posted by Ace at
10:10 PM
|
Access Comments