« The Wonder Years' Winnie Cooper Bends Into All Sorts of Positions on Video
|
Main
|
A Bit Of Unintentional Humor »
October 02, 2006
Frist: Give the Taliban Part of the Afghan Government; The War Is Unwinnable
Goodbye GOP.
Perhaps we should make peace with Zawahiri as well? Let's negotiate, and see what terms we can get as good dhimmis.
The hell with the lot of them.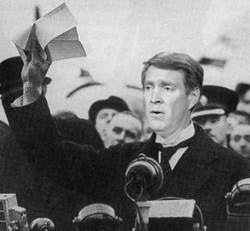 (Photoshop courtesy of Slublog.)
More... I don't need the goddamned Republican Party in power to sign "peace" deals with terrorists. I can get that easily enough from the Democratic Party. I've supported these vacuous, cowardly, inept, corrupt idiots for one reason-- to fight terrorists.
if they want to sign peace deals with them, that's their decision. I and others can make another decision. The country may move in this direction, but we hardly have to endorse the decision by voting in favor of Quislings.
At least the Democrats talk tough about sending more troops to Afghanistan and killing Taliban fighters and capturing bin Ladin.
If that really is no longer a GOP prirority, then I am no longer a member of the GOP.
You stupid jagoffs. You've done just about everything possible to lose this election; it's only the base -- ever hopeful and ever self-deluding -- that's kept you from your goal.
Was governing too much a chore for you? Was it too distracting, taking you away from fundraisers and fucking Congressional pages?
The Democrats have complained for years the GOP wasn't serious enough about defeating Al Qaeda and the Taliban, that it was too focused on Iraq. Congratulations -- you just took a talking point and made it an established fact.
Well, enjoy your minority status. The rest of us will try to rebuild to the extent we can a party that actually sees ending the Taliban and Al Qaeda as somewhat more critical than ending internet poker.
More... I had hoped that the GOP's fear of losing power had shook them out of their moronic, corrupt stupor. I thought July and August were enough to send them a message.
I guess not. They don't learn easy.
It will, in fact, take an electoral drubbing to make them understand.
So let the enlightening begin.
Obit: From the WSJ:
Yet none of this excuses the more fundamental problem, which is that too many Republicans now believe their purpose in Washington is keeping power for its own sake. The reform impulse that won the House in 1994 has given way to incumbent protection. This is the root of the earmarking epidemic, which now mars every spending bill and has become a vast new opportunity for Member corruption. This is also part of what corrupted felons Duke Cunningham, Bob Ney, Jack Abramoff, Tony Rudy and Michael Scanlon. Power for its own sake also explains the House GOP's decision to join Senate Democrats in killing serious reform of Fannie Mae and Freddie Mac, despite $16 billion in accounting mistakes or fraud. The Members are in bed with the housing subsidy lobby.

Even amid all of this scandal, many Republicans still refuse to acknowledge any problem. Appropriators continue to resist major budget reform, and the same Republicans who gave a Democratic President the line-item veto in the 1990s refused to give a weaker version to a GOP President this year. No wonder so many loyal Republican voters have been telling pollsters they're not sure if they'll vote this year.

With his party down in the polls, Mr. Bush has tried to recast the midterm election as a referendum on the war on terror. This strategy may yet save Republicans from losing Congress, both because the war is the most important issue of our time and because the Democrats are calling for retreat in Iraq and essentially for a return to the antiterror policies of the 1990s. But it is no credit to the performance of Republicans in this Congress that their best argument for re-election is the wartime flaws of their opponents.
It's worse than that, we now know. The Senate Majority Leader just came down as more accomodationist on the Taliban than Nancy Pelosi.
Which Part of the Government Does Frist Seek To Give To the Taliban?
The domestic side of things, which includes forcing girls and women into serfdom, or the foreign policy side of things, which includes sheltering Al Qaeda and directly abetting in the slaughgter of Americans?
For years we've seen heartening images of girls going to school in Afghanistan. Does Frist suggest rolling that back? If so, what precisely have we won there?
There have always been two ways to deal with Muslim aggression: the compassionate way that Bush chose and the decidedly less compassionate manner that many of us are beginning to see as the only option remaining.
If it's true that Afghanistan can never be won without killing a lot of Afghans, well, I'm sorry, they've chosen their own fates.
What I mean is-- suppose Frist is right as far as his premise. Does that lead to the conclusion that we capitulate to these mass-butchers?
Or does it lead to a very opposite conclusion?
Signing a peace deal with these lunatics is not an option. If the choice is between peace with mass-murderers and killing a lot of Afghans who support the Taliban, well, those fucking B-52's aren't sitting on the runways to look pretty, now are they?
There is no "peace" with these people, and no one who believes such a thing is possible has any right to be in a position of responsibility in the US government.
Others Counsel Patience... And note we won't have Bill Frist to kick around anymore. Thank God.
For those who claim I'm being a crybaby/pissing in my pants -- if you want a fullthroated refutation of this jackassery, you're not going to get it by saying "We'll support you, even if you sell us out on every single issue we care about."
Some mention the 24 hour rule. Well, that's a good rule. We'll see what the GOP's reaction to this is for 24 hours.
Bill Frist thinks it's important to win a war against Hi/Lo but not against those responsible for 9/11.
I'm not sure what my reaction to that ought to be. I've spent five years railing against Democrats who want to give peace a chance. I'm supposed to buy into that notion when it's offered by Bill Frist?

posted by Ace at
04:27 PM
|
Access Comments