« Sexually-Explicit Emails Came From Another Page
|
Main
|
Gas Falls Below $2 »
October 01, 2006
Malkin Responds To Critics; Another Damaging Pic Emerges
Michelle responds to the rather-stupid charge of Ken Layne and the Gawker goons that she's just seeking attention by responding to libel.
Was it Michelle or Ken Layne who hit-whored with this libel? It was all so long ago I forget the details.
Is she suing? It seems not, but she keeps hope alive with this:
There is a time to be tolerant and there is a time to draw lines. If you don't draw those lines, bullies will be emboldened. The smug Gawker smear machine is all about pushing those boundaries with the expectation that no one will push back. They project their own cynicism, recklessness with facts, intellectual laziness, and bad faith on everyone else.

But outside of Manhattan and Los Angeles, not all of us think blogging is a for-profit enterprise founded solely to tear people down with gossip, rumor-mongering, and damaging lies disguised as "satire." Funny how some of the loudest voices decrying the lack of civility in the blogosphere are the biggest promoters of the bottom-feeders and debasers at Gawker Media.

That is not what my blogs are about. That is not what I am about.
She also notes, as I did, that Gawker/Layne/Wonkette have retreated into the legally-useful lie that this was all meant as a "parody." Now, it's impossible to sue for defamation of a public figure over true parody; it is however quite possible to sue for libel presented as fact. Many commenters insist it's well-nigh impossible to sue for the latter, but it's not-- it's very difficult, requiring the showing of "malice," with malice defined as a gross recklessness as to the veracity of the claims made. Given that this was obviously a photoshop, of dubious provenance, and Gawker/Layne/Wonkette seem to have done no fact-checking whatsoever, they indeed acted with legal malice.
Thus, the lie that it was only a parody. Because they can't win on any other grounds.
Now, it's difficult for a public figure to sue for libel. But it is not impossible. Otherwise I'd be free to, say, claim in an Ace of Spades Exclusive that I have IM's from John Kerry to an unidentified teen reading thus:
JenjisKhak: What are you wearing?
Teen: Shorts and a shirt.
JenjisKhak: Mmmmm.... sounds hot. Why don't you take them off?
Teen: Okay... what are you wearing?
JenjisKhak: Nothing but a cockring and my lucky CIA hat.
That flies because it's obviously parody, and I called it such. But what if I represented those were genuine emails? You can get away with a lot of erroneous reporting as regards false information about public figures, but you can't get away with information you 1) knew to be false when you printed it or 2) had good reason to suspect was false and failed to do a mininum level of verification to prove either way.
Nick Denton is on the hook, legally, if Michelle wanted to press the suit. I don't know if it would be worth it to her -- this isn't a multimillion dollar claim, obviously -- and there's no guarantee she could win. On the advice of counsel, Layne & Co. will all claim, like the Tobacco Executives, that of course it was all a parody, even though it wasn't presented as such, and in fact arguments were made based off it (hypocrite, etc.) that disprove any parodistic intent.
I mean: Please. You don't present a "parody" and then make a litany of charges based on that parody. That would be like me immediately calling John Kerry a hypocritical pederast based on the real parody offered above.
You make charges of hypocrisy based upon a claim you're presenting as true. Otherwise, it simply makes no fucking sense, now does it?
See if you can follow my scary-complex logic here, Nicky and Kenny-Boy: You don't base real charges upon something presented as obviously false information.
Michelle probably won't sue, though, because of a general blogger just-roll-with-it ethic, and also, probably, that she wouldn't want her home address revealed through court filings. The left would, of course, be just delighted at that.
Meanwhile, a far more damning pic has emerged from 2005's CPAC, showing Michelle Malkin apparently endorsing a troglogytic, racist, sexist, homphobic gob-smackingly "Ceasarist"* hate-stie: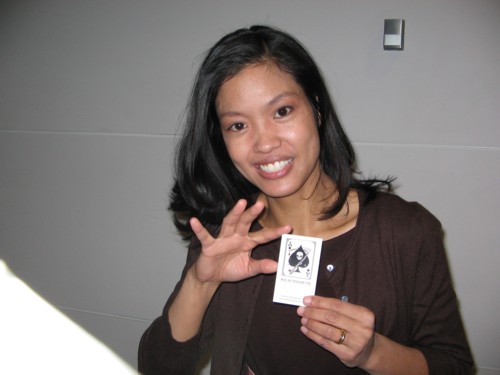 Photoshop? Real? I say it's "possibly legitimate."
However, should there be any threats of lawsuits, I will immediately segue into my "parody" defense.
Come on -- it's obviously a joke, right?
Ken Layne Is A Goddamned Contemptible Liar: And that ain't a parody, jagoff-- that's the real thing. That's a genuine charge.
All you have in the blogopshere is your credibility, and rather than confessing error, you chose to lie and claim a "parody" for legal reasons rather than tell the truth and apologize and correct.
You're a goddamned liar, and you have no business being considered a respected member of the media.
Oh wait-- you're not considered a respected member of the media. My bad.
Remember: When you read any of Nick Denton's bullshit blogs, you never know if you're reading something that's being represented as true or something that will be claimed to be "obviously parody" a few hours after being represented as true.
So why bother at all?

* Thanks to Purple Avenger for the "Caesarist" charge, compliments of St. Andrew of the Sacred Heart-Ache.
PS: As others have noted, even if this were true (and not, as it turns out, and exceedingly subtle Ken Layne "parody"), what the hell would it matter?
There's a difference between underage girl celebrities like Charlotte Church selling an idea of adult sexuality to her even-younger fans and a college-age woman daring to wear a bikini and keep a private picture of it.
How the hell is there any hypocrisy there? Someone who agitates for sexual modesty and against the sexualization of very young girls has not necessarily sworn off wearing a freakin' bikini, for crying out loud.
Liberals love to pretend that the conservative critique of sexual permissiveness and a hypersexualized media is the equivalent to our calling for an end to sexuality altogther.
No one's calling for that, idiots. This "hypocrisy" exists entirely in your minds.
PPS: To the goddamned proven liar Ken Layne:
Got a problem with the charge? Find, respond to it. Please point out lanaguage in your post suggesting that the image was obviously intended as a parody, as you now claim.


posted by Ace at
01:45 PM
|
Access Comments