« HotAir Double-Feature
|
Main
|
Israel Warns Five News Agencies: Stop Doctoring/Staging Photos »
September 29, 2006
Iron Man coming to the Big Screen [Jack M.]
And since Robert Downey Jr. is slated to play Tony Stark, this classic cover of Iron Man #128 instantly came to mind: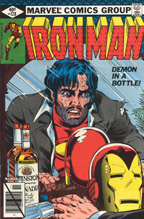 Why Robert Downey Jr. you ask?
"The Marvel characters are not just about how high they jump or how fast they fly, they're about their character flaws," Feige said. "They're about their inner demons. They're about the struggles that they go through between being a man and being a hero."

Downey, who has battled his fair share of inner demons, worked hard to get the role, getting in shape and even growing a goatee like the one Stark sports in the comic books.

"In every casting announcement we've done, people in their mind's eye have their own view of it and let us know about it. We're used to it," Feige said. "The point is, we looked at everybody, and we found the best person for the role. It's as confident a casting move as we've ever done. The proof will be in the pudding, but he is Tony Stark."
Here's one thing I know, if Downey doesn't get nominated for an Academy Award for his portrayal of a skirt chasing, drug addicted, booze hound Tony Stark there is no justice in the world.
After all, he's spent his whole life preparing for this part. It makes his preparations for the lead role in "Chaplin" seem pathetic by comparison.

posted by Ace at
05:46 PM
|
Access Comments