« True Colors -- Michael
|
Main
|
Arab Leaders: Pope's Remarks may lead to War [AnalogKid] »
September 16, 2006
The Good Guys Whup the Papists -- Michael
Here's my idea of sectarian violence: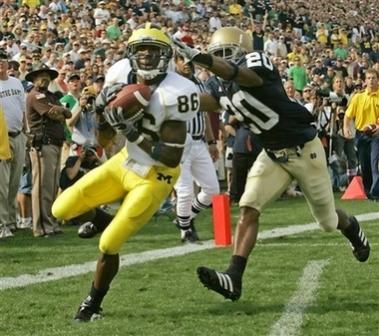 By TOM COYNE, AP Sports Writer

11 minutes ago

SOUTH BEND, Ind. - Take that, Notre Dame. No. 11 Michigan finally put a Big Blue bruising on the second-ranked Fighting Irish in a 47-21 rout Saturday β€" the most points scored against Notre Dame at home in 46 years. "They deserve their just due," Irish coach Charlie Weis said. "I think it's important to understand that team just came and whupped us pretty good."
See, I'm a Lutheran, so I don't like Notre Dame. And I'm a Michigan grad, so I love Michigan. Doesn't get much better than when the forces of Truth and Justice whup the minions of the antichrist in Rome. Oh yeah.
I mean, it's not like I'm a religious bigot or something. As a gospel-oriented Lutheran, I love my fellow believers who are Catholic.
Still . . .
Feel the pain, RightwingSparkle. Your team went DOWN!!!


posted by Ace at
10:31 PM
|
Access Comments