« 2006 Democratic Soft Spots
|
Main
|
It's Science! [ Harrison ] »
September 09, 2006
Safe Driving Tip -- Michael
When your are driving around Europe, you would like to think that your fellow motorists are concentrating on keeping their cars between the white lines on the pavement. Is that too much to ask?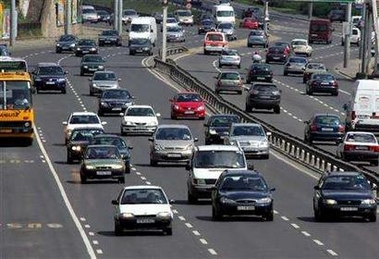 For some, apparently it is.
BRATISLAVA (Reuters) - A Slovak driver who crashed into a bus shocked rescuers who found him unconscious and half naked with a vacuum pump on his penis.

Police said the 42-year-old man, driving an old Citroen in the Slovak town of Levice, had ignored a "give way" sign.
No wonder. Frankly, I am likely to miss some road signs if my schlong is getting sucked by some mechanical device.
That's why I have a GPS system in my car.
"It's very likely he had auto-sex while driving, it is a matter of investigation. After the accident he was found lying in the seat, his pants were off and it (the pump) was placed on his penis," police officer Peter Polak told Reuters.
"Very likely"? Let's think this over. They found him unconscious with a cock-pump installed. I think it is very likely that police officer Peter Polak has correctly interpreted the evidence at the scene of the crime.
"I've never seen anything like this, nor have my colleagues," he added.

The man was taken to hospital with head injuries.
Fortunately, his dick was protected when the crash occurred.

posted by Ace at
03:44 AM
|
Access Comments