« Open Thread
|
Main
|
Israel Hates Adorable Kitty-Cats »
August 08, 2006
Deficit Smallest In Four Years
I'm a bit late on this, and yeah, it's kind of a mixed picture out there, but I'll take my cowbell where I can get it.
The federal deficit will register $260 billion this year, the lowest in four years, reflecting a strong economy and resulting growth in tax revenue, congressional analysts said Friday.


The estimate by the nonpartisan Congressional Budget Office is well below its earlier predictions and also below the $296 billion White House estimate less than a month ago.


Better-than-expected revenues are driving the deficit down from last year's $318 billion figure and far below the record $413 billion posted in 2004.


At $260 billion, it would be the lowest since the $158 billion figure in 2002, the first deficit following four years of surpluses.


The deficit picture is even better when measured against the size of the economy, which is the comparison economists think is most important.


"At 2 percent of gross domestic product, the 2006 deficit would be smaller than the deficit recorded in the past three years β€" 3.5 percent in 2003, 3.6 percent in 2004 and 2.6 percent in 2005," said the CBO report.
And the Fed has paused in raising interest rates, which is a good-news, bad-news thing, but let's focus on the positive.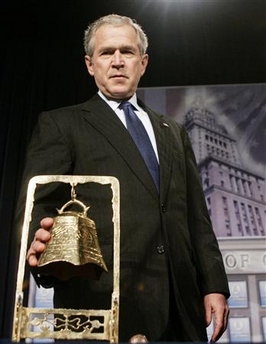 Click on pic for Cowbell theme.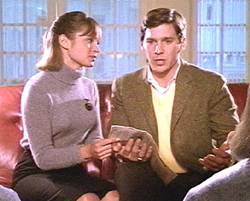 "And... can you get three gold-plated diapers for my friends, too?"
H/t to Lorie at Wizbang!

posted by Ace at
03:04 PM
|
Access Comments