« AoSHQ: Your Precognitive News Source
|
Main
|
Reuters Admits Photo Is Doctored; Suspends Hajj: Promises Investigation »
August 06, 2006
Reuters Doctors Photos From Lebanon!!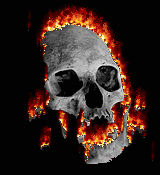 Bumped, for those of you who didn't bother reading the Internet yesterday. Start here, then read the other posts.
When it comes to matters of forgery, I think Little Green Footballs has established his bona fides.
Even I can see the very suspicious "clonings" of picture elements here. And I'm an idiot.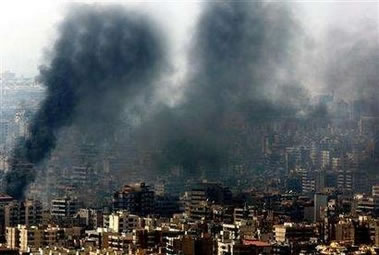 Decide for yourself. LGF throws a little question mark into the headline, but then writes "There's really no question about it." (Update: There is really no question about it any longer. I mean, there was really no question at first, now there's really, really, really no question.)
Seems to me someone was just writing a lot about the MSM setting itself for a major scandal by credulously taking every report or picture submitted by a foreign stringer with likely poltiical biases, unknown loyalties, and dubious ethics, and splashing them on the front pages as if they'd all been carefully scrutinized and vetted.
Photo taken by REUTERS/Adnan Hajj.
Of the Hajj's of Louisberg Square, Boston, I wonder?
Again, you tell me.
Reuters has some explaining to do. The whole MSM has some explaining to do. But they will do no explaining, and ask no questions, and embargo the story, because they cannot admit that they have cut foreign budgets to such a degree tthey now rely almost entirely on local stringers of questionable objectivity and integrity for the bulk of their foreign reportage.
They just can't even get into this issue. They'd more or less have to simply say "Almost all of our international coverage is highly suspect due to our unwillingness to send credentialed journalists into these areas."
PS: Unless there's some sort of spoofing going on, the image appears to be posted on Yahoo news, credited to Reuters.
Did someone at Yahoo doctor it? Someone at Reuters?
I doubt it. I think it was doctored much earlier in the process.
There is enough on the simple face of it here to compel Reuters to make the original negative public. If they don't, they're compounding their crime by covering it up.
PPS: Tried to find my old Drudge Siren gif, couldn't, decided to go with a flaming skull. Too much, I imagine. But the Drudge Siren is old.

PPPS: I don't want to oversell this, but this could be Rathergate II: The Revenge, that we've all been waiting for.
It's not just this one picture. It is the MSM's "outsourcing" of most foreign news coverage to low-paid, low-experience, low-credentials, foreign "local" stringers who almost certainly have a very strong personal interest in 1) juicing their stories and pictures to make sure they sell and 2) advancing a political goal of slandering Israel that most Muslims, sadly, seem to share.
It would be one thing if, given economic realities, Reuters et al. did this but made sure they applied some very serious vetting to this material back at the home office.
But they don't. Whatever pictures come across their desks -- the obviously propagandized pictures from Qana, this absurd doctoring of smoke plumes to make the wreckage in Beirut seem more extensive and dramatic and, most important of all, disproportionate -- they simply publish without even the most basic scrutiny.
If this shoddy, crude forgery got past their vaunted "multiple layers of painstaking editorial fact-checking," what in the world would not?
It's too soon for a victory lap. But I'm going to be taking it pretty soon, I think. I wrote a major scandal was on the way. We needed only unambiguous evidence of "journalistic" misconduct on the part of the stringers, and beyond-negligent behavior by the home office of a news organization in putting obvious, shoddy doctored photos out to the world.
We just got exactly that.
This isn't mere negligence. This is wilfull blindness approaching connivance with co-conspirators.
If this crap gets by the MSM, what credibility do they have left? If I want speculation, bias, and doctored photos passed off as genuine, why not just read blogs?
You arrogant, incompetent morons. You were warned you were about to step on your own dicks with this kind of shit. You didn't bother to listen.
We'll see how that all works out for you, huh?
Cowbell Update: Although I've made it a general rule that "cowbell" only applies to economic events, I'll make an exception, as this is big, and the most recent economic numbers were not.
Click on the flaming skull to hear the cowbell theme, courtesy, as always, of Blaster's Blog.
Because you asked for it.

If Two Makes a Trend, How About Three?: A close up of the suspected cloned plume of smoke from Reuters.
This part isn't as obvious as the repeated smoke-formations in the plume-tops, and it's even possible it's not doctored. If it is p-shopped, a better job of it was done, as there are elements blurred out to avoid obvious similarities to the foregrond plume.
Doctored? Maybe, maybe not.
But I'd sure like a look at the original negative. Wouldn't you?
"Multiple layers of painstaking editorial fact-checking."
Yeahhhhhhhhhhhhhh.
Via Via Left & Right, who deserves a follow-up click, as they don't have a sitemeter on their picture.
Correction: I mistakenly thought that was another cloned pic from Reuters. It appears to just be a close-up of the bottom-left of LGF's pic. Ergo, it's not a "new" example of cloning, just a zoom-in of the same one.
I apologize for the rush to put that up without asking exactly where it came from.

Purple Avenger reminds me of one of my favorite Bond quotes.
"Once is happenstance, Mr. Bond. Twice is coincidence. Three times is enemy action." -- Auric Goldfinger
And he was the Man With the Midas Touch. You should listen to him.
Update: Left & Right has prompted LGF to go hunting for cloning in the buildings, and he seems to have found one more obvious than Left & Right's.
An animated gif that recalls the sweet, sweet days of Rathergate. Ah, nostalgia.

posted by Ace at
06:52 AM
|
Access Comments