« Outstanding Fake Video Of The Day: Crafty Jews Doctor Targeting-Camera Footage To Make It Look Like Terrorist Rockets Were Being Fired Out of Qana
|
Main
|
Pray For Fidel -- Michael »
July 31, 2006
Oh stop it now... I'm okey dokey! [Fidel Castro]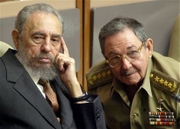 It's just a formality really, Raul can handle things.
Even though he's a moron. Ok who am I kidding, he's a fucking retard.
Look, I'm not happy about this either. I got a bleedin gut thing and they gotta patch me up. I'm gonna be down for a few weeks.
Raul's a fucking idiot and everybody knows it. What the hell am I gonna do? He's the only brudda I got and Alarcon can't handle this shit.
Besides, Raul's 75. How long can he screw this up?
Oh. Ok, you got me there.
I don't feel so good.


posted by Ace at
10:06 PM
|
Access Comments