« "Son of A Terrorist Whore"
|
Main
|
Possible Suspect in "Broad Spectrum of Society" Train-Bombing »
July 11, 2006
Bush Pumps Shrinking Deficit
Even the NYT had to acknowlege it a few days ago:
Surprising Jump In Tax Revues Is Curbing Deficit

WASHINGTON, July 8 β€" An unexpectedly steep rise in tax revenues from corporations and the wealthy is driving down the projected budget deficit this year, even though spending has climbed sharply because of the war in Iraq and the cost of hurricane relief.

On Tuesday, White House officials are expected to announce that the tax receipts will be about $250 billion above last year's levels and that the deficit will be about $100 billion less than what they projected six months ago. The rising tide in tax payments has been building for months, but the increased scale is surprising even seasoned budget analysts and making it easier for both the administration and Congress to finesse the big run-up in spending over the past year.

Tax revenues are climbing twice as fast as the administration predicted in February, so fast that the budget deficit could actually decline this year.

The main reason is a big spike in corporate tax receipts, which have nearly tripled since 2003, as well as what appears to be a big increase in individual taxes on stock market profits and executive bonuses.

On Friday, the Congressional Budget Office reported that corporate tax receipts for the nine months ending in June hit $250 billion β€" nearly 26 percent higher than the same time last year β€" and that overall revenues were $206 billion higher than at this point in 2005.

Congressional analysts say the surprise windfall could shrink the deficit this year to $300 billion, from $318 billion in 2005 and an all-time high of $412 billion in 2004.
Kudlow notes that the economy has grown quite a bit in the last couple years:
Did you know that just over the past 11 quarters, dating back to the June 2003 Bush tax cuts, America has increased the size of its entire economy by 20 percent? In less than three years, the U.S. economic pie has expanded by $2.2 trillion, an output add-on that is roughly the same size as the total Chinese economy, and much larger than the total economic size of nations like India, Mexico, Ireland and Belgium.

This is an extraordinary fact, although you may be reading it here first. Most in the mainstream media would rather tout the faults of American capitalism than sing its praises. And of course, the media will almost always discuss supply-side tax cuts in negative terms, such as big budget deficits and static revenue losses. But here's another suppressed fact: Since the 2003 tax cuts, tax-revenue collections from the expanding economy have been surging at double-digit rates, while the deficit is constantly being revised downward.
20% overall growth. That seems somewhat good.
In response to the cowbell-worthy economic news, Senate Minority Leader Harry Reid thoughtfully responded, "AIDS, crack, Bernie Goetz, rock-n-rolla cola wars, I can't take it anymore." Then he pointed down the hallway and said "Hey, oh my god, the dudes from Enuf Z'Nuff are going down on each other!" and then hid in a coatroom.
From a brand-new blog by a long-time reader, tipster, and commenter.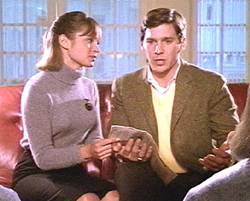 "But the deficit was going to bake me a pot!"
Shenanigans Called On Kudrow: Larry the Urbanite objects that Kudrow's growth figure is non-inflation adjusted. An inflation-adjusted figure would be 11.4%, still vigorous (and more plausible), and hardly in need of trickery to make more appealing.
TallDave objects to his using the non-inflation-adjusted US growth in comparison to the inflation-adjusted growth in other countries, which is obviously a bogus method of comparison.

posted by Ace at
12:35 PM
|
Access Comments