« Still No Headstone For Casey Sheehan
|
Main
|
Bush Fatigue? Approval Rating Drops To 36% »
April 07, 2006
Cowbell: Unemployment Rate Falls To 4.7%, 211,000 Jobs Created
...beating ecomonists' forecasts.
Employers, in a springtime hiring burst, boosted payrolls by a sizable 211,000 in March and pushed the nation's unemployment rate down to 4.7 percent.

The latest snapshot, released by the Labor Department on Friday, suggested that an accelerating economic expansion is putting companies in the hiring mood, brightening prospects for job seekers.

Hiring gains were fairly widespread. Construction, financial activities, education and health care and government were among the sectors posting payroll gains. That help to blunt job losses in manufacturing and in the transportation industries.

The unemployment rate, which dropped from February's 4.8 percent, ended up matching January's jobless rate, which was the lowest in 4 1/2 years.

Employment was stronger in March than economists were expecting. Before the release of the report, they were forecasting a gain of 190,000 jobs and they said they believed the overall civilian jobless rate would hold steady.
And of course consumer confidence improved as well.
Polipundit notes that over two million jobs have been created in the past year. (Thanks to Andrew for that.)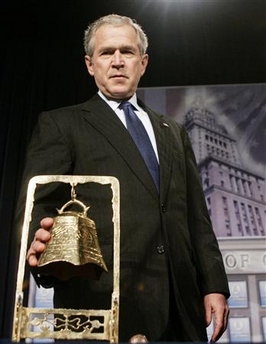 A scene from George Bush and the
Raiders of the Lost Golden Cowbell.

posted by Ace at
12:33 PM
|
Access Comments