« Iran State Paper: Former German Chancellor Helmut Kohl Agrees Holocaust Didn't Happen
|
Main
|
Just To Get Over All The Brokeback Stuff »
March 05, 2006
Oscar Thread: "We Like Us, We Really Like Us!"
Dave from Garfield Ridge is live-blogging, as is Decision '08.
Wow, Jon Stewart is funny.
Are they going go with their liberal gut and give it to Clooney, or realize he sucks and they hate him?
Oscar loves Hollywood Royalty like George Clooney.
I love saying "Oscar Loves."
Wow, it's George Clooney. How wonderful.
His speech? "Of course you don't like us. We're better than you are."

I'm hoping there'll be a lot more sanctimony coming up. There's nothing like entertainers -- well-paid dancin' monkeys -- telling us how important what they do is, and how vital it is to the rest of us.

Costumes: Who gives a shit? Jennifer Anniston provided a little sanctimony by announcing the only wardrobe that mattered were those provided by the five nominees for best costumes.
Time Wasting: This show is knocked for its length. Here's an idea-- abbreviate the usually GODAWFUL best song nominees to one verse, one chorus, bridge, chorus -- say a minute and a half, tops -- or maybe just get Donnie and Marie to do a medley of them and knock them all out in about four minutes, flat. (Toss a pie at Donnie at the end, too, just for nostalgia.)
And stop these idiotic theme retrospectives, like "Hey, Look, Hollywood Makes a Lot of Biopics."
I admit, they have cut down a bit on the introductions of the nominees.
Makeup: Narnia.
Little joke: "I'm just glad that Clooney wasn't nominated for make-up."
Oh, dear. You thought Clooney was insufferable before? Wait until tomorrow.
Another Liberal Joke From Jon Stewart: "Do you think if we all got together and pulled this [big Oscar statue] down that democracy would fluorish in Hollywood?"
Well, meritocracy wouldn't, Jon.
This guy is still making jokes from three fucking years ago. They'll just never get over it.

Best Supporting Actress: I haven't seen any of these movies, but I know every critic has a hard-on for Cathleen Keener, so that's my pick.
Unless it's the brokeback chick.
Nope. Rachel Weisz. The whole category was too stocked with liberal movies to predict.
Rachel Weisz thanks her "luminous acting partner" Ray Fienes. Nice Yoda reference, Rachel. Nice rack, too.
Lauren Bacall is here to tell us what film noir is. Again, another waste of time.
This is pretty sad... she seems kind of out of it. She doesn't know her lines and can't see the cue cards. She looks like Paula Abdul, only 90 years old.
I guess I mean she looks like Paula Abdul.
Not a Suprise that March of the Penguins beat out the Enron documentary. People actually saw the Penguin one.
Art Direction: The one about the Nip whore.
I think they should just give James Cameron this award every year. Everything in Aliens looked kewl.
We're Confrontational and Liberal: So speaks Samuel L. Jackson. Another montage abot how important Hollywood is.
Shit, you wouldn't know from watching this that most movies Hollywood makes are in the line of Goonies and C.H.U.D II: Bud the Chud.
I see they're continuing to insist that Thelma and Louise was a good movie. Has anyone thought of that movie in fifteen years? Except to say that's where Brad Pitt became a star?
A cut from The Candidate, a bubblegum-dumb "political" movie.
Here comes the obligatory cut from Being There...
Nope, no Being There. I guess it was too on-the-nose.
How many times do I have to see the "Mad as Hell" bit from Network on the Oscars? I don't think I've ever actually seen it in the movie. Always got too bored one third of the way through. On the Oscars, though, I've now seen it eighteen bazillion times.
Now the Principle Bores the Student Body At an Anti-Drug Rally: Who the hell is this guy? This president of the academy? Can he be impeached? He bores me, and I'm tired of seeing him.
Key insight: Hollywood is in the "storytelling business." And there's nothing more important in life than going to a theater and listening to a couple of gang-bangers behind you talk on their cell-phones for the whole movie.
Now a Medley of Film Scores: Why do scores only rate a brief medley, when every score contains multiple themes, and that music is actually part of the movie, instead of just running over end-credits and being used as a promotional vehicle on easy-listening radio?
Movie "songs" almost uniformly suck. Moive scores are sometimes pretty effective, and actually important to a movie. Now, I sure the hell don't want to hear long versions of the scores. But if they can condense the scores, why not these horrendous "Best Song" nominees?
Besides, it's that fuckin' retard Randy Newman who wins every year anyhow. Or if he doesn't win, at least he's nominated for the same fucking song that sounds like every other fucking song he's ever written.
It's like every year they give a Grammy to Bobby McFerrin. You start to think that people are just nominating people because they've heard the names before.
BROKEBACK WINS! Until now, it's been a shut-out. Now Brokeback turns it around, so to speak, and wins one. This could be the start of a Brokeback orgasm.
Another Montage: This one of epics/crowd-pleasers/war-movies.
Hollywood's way of reminding you "We don't only make films that suck ass."
Jon Stewart mocks the show for featuring so many montages, and says Hollywood is now out of film clips.
If only.
We'll see 75% of these same clips next year.
I Used To Fear Death, Until I Saw Lily Tomlin and Meryl Streep Engaging In "Funny Banter": Now I welcome the sweet oblivion of Death's embrace.
Wow. This is Bruce Villanche's crowning achievement. He's so proud of this. And somehow he got this moronic shit, going on for more than two minutes now, past the editors.
Okay... now I think I know what's going on.
The show was actually too short. Or a clip wasn't ready. They were stretching, vamping.
Okay, if they were doing that, kudos to them. It was insufferable, but what the hell else are you going to do when you have to fill two minutes without a script?
Yet Another Montage: This one because Robert Altman got an honorary Oscar, so I had to sit through clips of the incredibly overrated The Player again.
This guy, I'm guessing, is going to be a real asshole.
Well, he's not being a total asshole. He's meandering but inoffensive.
But man, is this show boring.
Coming up: Queen Latifa!!! And GEORGE CLOONEY!!!
Prediction: "It's Hard Out Here For a Pimp" will not win Best Original Song.
I think Randy Newmann will win, despite not being nominated.
Whoa... it did win. I guess there aren't any black actors nominated this year, so that's why they've got Sam Jackson, Morgan Freeman, Ludicris, and Queen Latifa as presenters, and that's why they picked this song as a winner.
I can't really believe that 80 year old white academy members were really down with "Hard out Here For A Pimp."
Sound Editing: Kong.
GEORGE CLOONEY!!! WHOOOO-HOOOO!!! "Sit down, sit down." Too cute.
He's announcing the In Memoriam section. I hope next year's In Memoriam includes "George Clooney's Career."
Akkad Mustapha and Debra Hill both died. They both collaborated with John Carpenter, both as producers.
Anyone ever seen John Carpetner? Or seen how much he smokes? He's still alive, and those two are dead?
This Is Too Boring... and I'm now just watching The Thing again.
Best Use Of a Malamute As a Creepy Threat: Norwegian Sled Dog in "The Thing."
Best Actor: Kurt Russell as RJ MacReady in "The Thing."
Best Supporting Actor: Wilford Brimley as "Blair" in "The Thing."
No, seriously, it's going to be Philip Seymore Hoffman.
Hoffman. Of course. I think he played "Bennings," the meteorologist.
I'm sick of blogging the Oscars, so I'll just blog Dave At Garfield-Ridge blogging the Oscars.
BTW, does anyone here think that Hoffman's kicking himself for accepting the role of the bad guy in Mission Impossible: 3? There's some curse out there for best actor and actress winners. Halle Berry wins and ends up with Catwoman. Jamie Foxx wins and ends up in Stealth. Charlize Theron wins and ends up in Aeon Flux. There's a craptacular curse out there, all right.
That's a pretty good comment, I think.
Reese Witherspoon won for best actress. "I never thought I'd be here my whole life." That makes a million and one of us.
I think it's pretty funny they nominate "Dame" Judi Densch every year and never give the old bird a fucking award. Let's face it, no one heard of her until she became James Bond's boss.
Gratuitous Gary Busey Pic: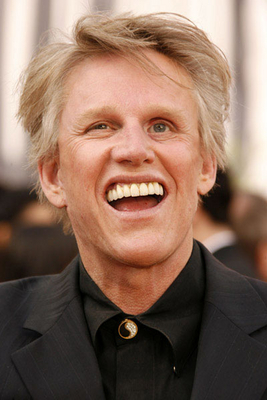 From Me Too Then.
Adapted Screenplay: Why wasn't Sin City nominated, some want to know?
So, Brokeback wins.
Original: Crash. God, I wish they would start nominating movies I actually see.

Best Director: Yeah, looking back, The Hulk was pretty gay, too.
What a shock.

Finally... Best movie, Crash. I have to say, I'm disappointed. I was sooooo Brokeback-en-hearted.
How horrible. The entire night. I don't watch this show unless a GF makes me (well, not makes me, you know what I mean) and no one made me watch it tonight. I just thought I should blog it.
God, it was bad. So boring, filled with so many bad movies, and so much lame John Stewart.

posted by Ace at
08:16 PM
|
Access Comments