« American Meddling in Canadian Elections
|
Main
|
The Best Show On Television? »
January 23, 2006
How Long Till This Guy Gets Sued?
I was watching VH-1's "Best Week Ever" show the other night...yeah I know...I have no life.
Anyway, they had video of E!'s Isaac Mizrahi grabbing Scarlett Johansson's breast at the Golden Globes. I was shocked!
It is beyond me how/why she did not beat the living shit out of that little bastard.
Look, just because you are gay does not mean that you have permission to grope women's breasts on camera without their permission.
But it does make for some good TV!!!
Where was Ace during all this? Can someone vouch for his whereabouts? Allah? LauraW? Anyone? Just curious.
Here is a still shot: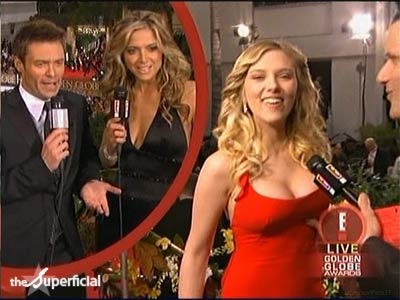 Video can be found here.
Best line from where I found this video:

Giuliana DePandi telling Ryan Seacrest that he'd get slapped for groping breasts because he's straight, and then Ryan Seacrest laughing at the idea of being straight.

I Don't Want To Say "It's Old" Update
: I can't tease my good friend and fellow guest-blogger Wunderkraut for covering this story
a week after I did
, as I think we can all agree that
anytime
Scarlett Johansson's breasts are fondled in public, we must thoroughly cover the story from as many angles as possible. The blogosphere owes at least this much to you, the readers.
Still, I would be remiss if I didn't remind the Ace of Spades HQ readers that you can usually find stories like this well-covered over at my blog, Garfield Ridge, as they happen. I don't get to post all that often right now, but when I do, I give you the quality you deserve. Especially when it comes to red carpet can-handling.
Shameless Attention Whore Update:
Thanks Dave. I was wondering if this was old or not. I even searched Ace's archives to make sure he did not post on it. I guess that means I have not been as faithful of a reader of Garfield Ridge as I should have been.
Forgive me father, for I have sinned.
BUT. I do have to hand it to you. You worked that update right into a plug for your site. Bravo!
*clap, clap, clap*
I wonder if Ace will let us whore our individual sites when this guest gig is up?
Update
You are both shameless. I would never think to plug my blog in such an obvious publicity-seeking way.
Now, we'd better cut this out before this place becomes "The Corner" and we start using oh-so-cute nicknames for one another. I don't want to start referring to Dave as "DLo" or anything.
Update of the previous update of the first update:
At least you put your plug below the fold!
I don't know. Oh-so-cute nicknames could be fun. Just as long as I am not "Derb". WK

posted by WunderKraut at
12:16 PM
|
Access Comments