« Al Qaeda Prankster Scares IRA Co-Incarceratees With Fake Bomb
|
Main
|
Dow 11,000 Watch: Done and Done (And I Mean Done) »
January 09, 2006
Chris Klein Romance Watch
He's so over his ex-fiancee he has to announce his new crushes in the tabloids:
He says, "Charlize Theron (leaves me tongue-tied). I've met her a few times now and she's always left me completely lost for words.

"She's wonderful and so beautiful."
Chris Klein? Tongue tied? The devil you say.
I like how the writer had to (paraphrase) The Eloquent One's words about being tongue-tied. He probably was speaking pubescently and made no sense at all there.
What a lucky woman Charlize Theron is. What woman doesn't want to date a male-ish version of the Alien Borg Queen from Star Trek: Insurrection?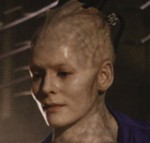 Update: I'm over her, I mean honestly, I'm like sooooo totally over her, I barely ever think about her, ever, except that I can't seem to stop talking about her:
We get it, Chris Klein. You've moved on from your days with Katie Holmes.

Still, the "American Pie" actor can't seem to keep from publicly pining about his former relationship with Tom Cruise's baby's momma.

After telling "Access Hollywood" in November that he wasn't bitter and had moved on, Klein, 26, told himself the same thing recently on AP Radio:

"It's a time that I'll always look back with … fondness, but her and I have moved on."
I'd feel bad for him if he didn't have this thing going on that's working for him.
A lot of the women in Hollywood need a Daddy. And they call him "Daddy," because they're hungry.
But Katie Holmes doesn't. Not hungry. And maybe she needed a little more placating.
Not Gay: The A-Man thinks Holmes was a beard. How the hell does a man so embarrassingly pine for a woman, publicly no less, if he's gay?
Is the A-Man suggesting that Klein is actually smart enough to cover up one embarrassing secret with another fake embarrassing secret?
Surely he can't be suggesting that.
The A-Man, natch.

posted by Ace at
03:29 PM
|
Access Comments