« Inventor of Stove Top Stuffing Dies
|
Main
|
US Military: 700 "Insurgents" Killed Since September »
November 23, 2005
Energy Prices Fall, Again; Consumer Sentiment Rises, Again
A full year before the 2006 midterms? I question the timing.
Energy prices turned lower Wednesday after a new government report showed the nation's crude oil inventories continue growing and remain above historical levels.

Crude futures rebounded from five-month lows this week as the onset of cold weather in the northeastern states stoked supply concerns because of expectations for increased heating-oil demand. The region is the world's largest market for that type of fuel.

But the Energy Department reported U.S. commercial crude oil stocks last week expanded by 400,000 barrels from the week before, standing at 321.8 million barrels. At that level, "crude oil inventories remain well above the upper end of the average range for this time of year," the department said.

Oil prices began falling in electronic trading as many analysts projected an upbeat report. A barrel of light, sweet crude for January delivery lost 69 cents to $58.15 on the New York Mercantile Exchange.

...

On Wednesday, the department said stockpiles of gas and distillate fuels β€" such as heating oil β€" also grew last week. Meanwhile, overall demand for petroleum products is down 1.6 percent from the year-ago period, the department added.

...

Other Nymex prices also slipped, with heating oil falling nearly 3.6 cents to $1.70 per gallon and natural gas losing 14.4 cents to $11.47 per 1,000 cubic feet. Gasoline dropped 1.85 cents to $1.469 per gallon.
How 'bout them market forces?
Still, I hope the SUV craze abates.
In related news, Nancy Pelosi called for investigations into the record profits generated by corporations she calls "Big Botox."
Meanwhile... Consumer optimism said to be "bouncy" and "bouyant:"
U.S. consumer confidence improved in November as gasoline prices eased and the drag on sentiment from Hurricane Katrina abated, a report showed on Wednesday.

The University of Michigan's index of consumer sentiment recovered from a two-month slump to 81.6 this month from 74.2 in October, just above forecasts around 80.6.

"It looks like the economy is stabilizing after the hurricane-related stresses and we're heading into the holidays with an upturn in confidence that is encouraging and bodes well for good consumer spending over the next month or so," said Gary Thayer, chief economist at A.G. Edwards and Sons.

Improvements took place across the board, with the survey's current conditions component jumping to 100.2 from 91.2, while the expectations measure climbed to 69.6 from 63.2.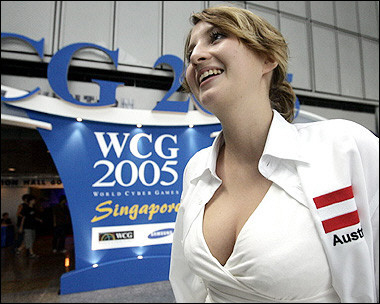 My turn-ons are expanded capital expenditures,
increasing consumer spending, and guys with really tricked-out
Talon gaming-computers who wear a monocle for no good reason.

posted by Ace at
01:08 PM
|
Access Comments