« I wonder if this guy will get the same coverage as Cindy Sheehan does.
|
Main
|
US Investigating Bodies To Confirm Zarqawi Kill »
November 20, 2005
The Stuff That Dreams Are Made Of
If you haven't seen it yet, here's the upcoming Boeing 787 'Dreamliner's' interior:
Sort of Star Trek, TNGish with the all the curves. Not a bad thing. Certainly feels 'future.' And the blue lighting wasn't just for the photo. It can be manipulated in flight, in color and brightness, to mimic outside conditions. Probably less fatiguing in some body-clock, scientific way.
Here's the entranceway, all vaulted and round and blue-glowy too: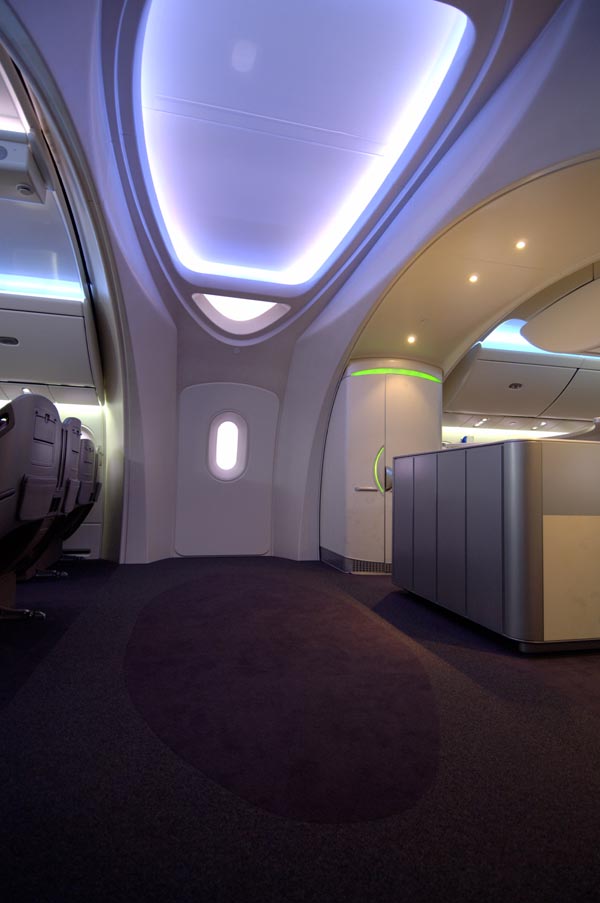 [More photos here.]

Certainly an improvement over the present entrance-way ambiance. Right now, when you wait to shuffle through the plane door, it's sort of a sad affair, a stewardess beckoning you into what looks like some clunky, appliance-ridden breakfast nook.
If you look at the shots, you can tell the windows are a good bit larger than the little portals we're used to too. Another change, one that doesn't show up in photos, is to the interior humidity. The 787 will actually have some. No longer is airplane air going to be metal-tinged, bone dry stuff.
These changes to the plane's interior are the result of changes in the plane's exterior. No aluminum anywhere. No metals at all, for that matter. The 787 is carbon-fiber plastic. It's going to be the first commercial plane, fuselage and wings, made up of composites. This is a big deal:
Weight, of course, is of paramount concern to an aerospace engineer. And that's where composites come in. Skins, frames and stringers made out of carbon fiber are lighter than aluminum but just as sturdy. Making the cage and its cover out of composites can reduce the airplane's heft dramatically while increasing its strength.

Composites confer other advantages as well. The biggest wear and tear on an aluminum airplane comes from pressurizing and depressurizing the cabin thousands of times over a lifetime of takeoffs and landings. Inflating the fuselage like a balloon to achieve cabin pressure wears on the aluminum skeleton and the joints between the hundreds of metallic skin panels. Corrosive moisture also builds up inside a jet. Over time, this all adds up to maintenance.

A composite fuselage, on the other hand, won't corrode and can withstand much greater pressure. That means it can be blown up to the equivalent of 6,000 feet of altitude rather than 8,000 feet, which can help decrease fatigue on long flights without increasing an airline's maintenance budget. Stronger, more resilient carbon also means the 7E7 can have a more humid cabin and bigger windows--a big plus for passengers.
The article that snippet comes from, a longish January piece from the Chicago Tribune, is a damn good read, and well worth registering for. A magazine type piece, it places the move to composites in the context of commercial airline history, and explains what a change and gamble it was specifically for Boeing and its culture.
It was a move they had to make. Early in the decade, Boeing was getting its ass handed to it by the European consortium Airbus.
Overall, there were still more Boeings in service, but for several years, in a completely unheard of development, Boeing was getting fewer orders for new planes than a rival (frankly, even having a competitor was a change).
Boeing needed a big shakeup to leap it ahead of Airbus and composites were it. For the 787, they decided to construct the plane in big carbon-fiber chunks, long strips of whole fuselage baked in an autoclave. Later, they would be assembled together withour rivets. Essentailly, big epoxy'd strips of more carbon fiber would be wrapped around the fuselage sections, joining them like duct tape joining pieces of tubing.
For buyers, the move to composites just makes economic sense. The plane is cheaper to make and thus to sell. It's also 20% lighter than if it was made from aluminum. Lighter planes means less fuel which means cheaper to fly planes with longer ranges.
But there're other plusses. Business Week details some of those advantages the Tribune snippet hinted at:
Dreamliner engineers are discovering that their composites are even tougher than they initially imagined. So Boeing is able to guarantee customers that maintenance costs will be 30% lower than for aluminum planes.

The biggest savings will come on inspections. Because composite materials are more durable than aluminum, government regulators may call for fewer inspections. After just six years in service, a normal plane undergoes a meticulous and costly check for corrosion. The composite 787, in contrast, may remain in service for 12 years before its first structural test. By staying out of the shed, the Dreamliner can make up to 113 additional flights. "The corrosion and fatigue benefits are going to be astounding," says Bair. "It's probably a bigger story than the fuel [savings]," he adds, referring to the 20% drop in fuel costs the 787 can deliver compared with other planes.
Airbus went in another direction: bigger. Their humongous A380, now rescheduled for a delayed release in 2007, tries to out-efficient Boeing by simply packing more passengers into each flight.
At first, they were pretty cocky this was all the advantage they needed:
When asked to comment on the announcement of chief rival Boeing's plans to introduce the long-haul, super-efficient 787 Dreamliner jet, the Airbus chief responded: "We don't need to react to the presentation of this plane."
Their mindset was pretty inflexible, pretty confident bigger would turn out to be better. And they were mouthing off that the all-composite move was simply too drastic.
Boeing was betting the company otherwise, taking the view that the A380 is too big, that the big airport and big gates it requires leave it out of step with the trend in the industry away from the old central-hub/reconnecting flights model. The future, they believed, belonged to effcient, long distance, smaller "more direct flight friendly" planes.

The market's verdict? Well, by midsummer, even European journalists could see Airbus was in trouble, that the Dreamliner was on the rise. Der Spiegel's article Boeing Has Airbus On the Ropes laid it out pretty well.
And, in a slap at Airbus's A350, their new, smaller belated response to the 787 that uses more composites, Der Speigle summed the plane up in Airbus A350, No Match For Dreamliner, writing, "the company doesn't have the time, money or manpower to create a competing jet."
But that was back in the summer. Has the outlook changed for the Dreamliner since then?
Yes. It's gotten even better. On Friday, Boeing announced they've already sold out the first three-year run of the 787's production.
Further market-place votes should emerge in the next day or so from Dubai, where a big annual air show is going on right now. An industry event, Boeing and Airbus are there in full effect, flying their planes about, trying to make impressions on the Mid-East Airlines gathered there to buy.
So far in Dubai, Boeing's doing record numbers with Dreamliner inspired updates on older models.

But even if the A350 gets some of the deals, the future looks good for plastic planes.

posted by Dr. Reo Symes at
05:59 PM
|
Access Comments