« Anniversary of A Blogger Milestone: One Year After Rathergate
|
Main
|
Katrina's Aftermath, From A First Hand Witness »
September 09, 2005
The Blogosphere Gets Results: New Flight 93 Memorial Announced
Gee willickers, that was fast!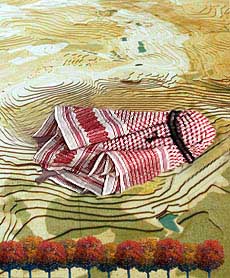 A spokesman for the new design said that the panel wanted to avoid all controvery or symbols of Islamism in the new design, and so chose a happy, uplifting central feature, the folded table cloth from a family-style Italian bistro.
"Everyone loves bistros," the spokesman said. "A lot of people think of Heaven as a nonstop family-style sharing of calamari and mussels in hot sauce, and we think this design symbolizes that. We're happy to have finally put this controversy behind us."
Thanks again to Allah for this exclusive tip.

posted by Ace at
03:06 PM
|
Access Comments