« Rove-Plame-Wilson Haiku Exhibition
|
Main
|
Question: What's The Simplest Way To Say "Engages In Apologism"? »
July 16, 2005
Terrorist-In-Training At The Guardian Calls Islamic Extremism Just A Bit of Excessive "Sassiness!"
At the UK Guardian, an Islamicist "trainee journalist" Dilpazier Aslam is allowed to expound on the London Bombings.
If I'm asked about 7/7, I - a Yorkshire lad, born and bred - will respond first by giving an out-clause to being labelled a terrorist lover. I think what happened in London was a sad day and not the way to express your political anger.
Interesting that he explicitly admits his weak, obligatory "terrorism is bad" statement merely an "out-clause" to defend him against (as we shall see) the quite supported charge that he is, in fact, a "terrorist lover."
Then there's the "but".
There's always a "but." That's the problem.
Let's see how that "but" agrees with you, Chum:
I really didn't like it when British football hooligans beat that innocent Muslim to death, b-u-u-u-t...
See? An awful lot of wink-wink nudge-nudge support for the violent actions taken is implicit in that but.
If, as police announced yesterday, four men (at least three from Yorkshire) blew themselves up in the name of Islam, then please let us do ourselves a favour and not act shocked.

...

Shocked would be to suggest we didn't appreciate that when Falluja was flattened, the people under it were dead but not forgotten - long after we had moved on to reading more interesting headlines about the Olympics. It is not the done thing to make such comparisons, but Muslims on the street do. Some 2,749 people were killed in the 9/11 attacks. To discover the cost of "liberating" Iraqis you need to multiply that figure by eight, and still you will fall short of the estimated minimum of 22,787 civilian Iraqi casualties to date. But it's not cool to say this, now that London's skyline has also has plumed grey.
Hmmm... "not cool." I really appreciate he's using the language of youth to try to convince me!
How can I become an Islamicist terrorist supporter, Dilpazier?!
Shocked would also be to suggest that the bombings happened through no responsibility of our own. OK, the streets of London were filled with anti-war marchers, so why punish the average Londoner? But the argument that this was an essentially US-led war does not pass muster. In the Muslim world, the pond that divides Britain and America is a shallow one. And the same cry - why punish us? - is often heard from Iraqi mothers as the "collateral damage" increases daily.

...

The Muslim community is no monolithic whole. Yet there are some common features. Second- and third-generation Muslims are without the don't-rock-the-boat attitude that restricted our forefathers. We're much sassier with our opinions, not caring if the boat rocks or not.

...

Perhaps now is the time to be honest with each other and to stop labelling the enemy with simplistic terms such as "young", "underprivileged", "undereducated" and perhaps even "fringe". The don't-rock-the-boat attitude of elders doesn't mean the agitation wanes; it means it builds till it can be contained no more.
Yes, we shouldn't use those terms. They're as simplistic as they are accurate.
Dilpazier Aslam is a member of the terrorist-supporting group Hizb Ut Tahrir, described by even the UK Guardian as being Britain's most radical Muslim organization.
And now the Guardian has hired him, and gives his defense of terrorism prominent placement in its pages. Now that's sassy.
Here's some more "sassiness:"
Sassy!
I'd like a double-shot of Sassy! And barkeep, keep 'em coming!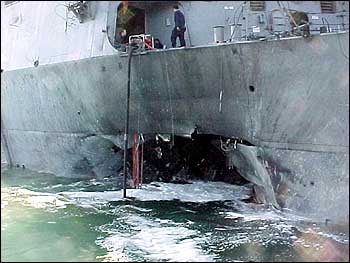 Sprechen Sie "sassy," anyone? Dilpazier tells us he doesn't care if he "rocks the boat" with his sassiness. Well, consider this particular boat well-rocked, sir!
Seventeen dead seamen... the cause of death was listed as AOSS, or "acute onset sassiness syndrome."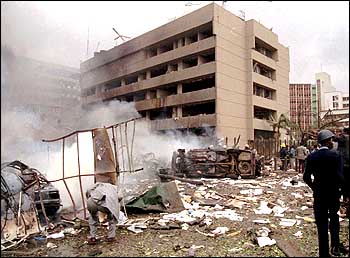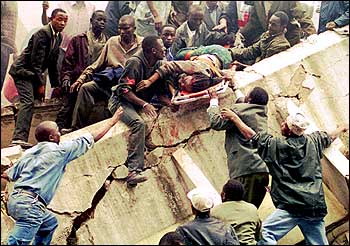 I feel like I'm the meat in a Sassy sandwich!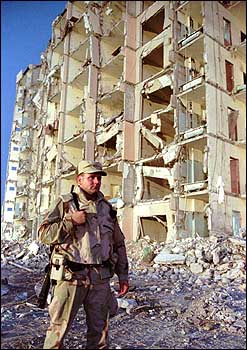 Looks like someone's out for a sassy little stroll on the main street of Sassytown!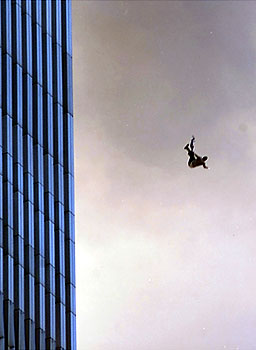 Just like Superman... except with yellow-sun-enhanced super-sassiness!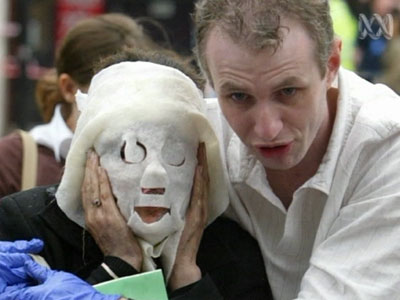 The clothes-- pure Saville Row. The extreme make-over-- by Sassy Salon!
...
Why, it's not a clash of civilazations at all. It's just the natural friction between those with no sass and those with extra-super mega-sass!
Thanks for the links to the Daily Ablution to Tim Blair, who has more.
Pics taken from NoOpprtunity (questioning claim that Clinton had "no opportunity" to fight Islamist terrorism with photo evidence) and photo-duck and the September 11th photo archive.


posted by Ace at
12:50 PM
|
Access Comments