« 600,000 New Millionaires Last Year [Say Anything]
|
Main
|
Darth Vader Plays Wheel Of Fortune. [Dave at Garfield Ridge] »
June 09, 2005
Pelosi on Dean [John from WuzzaDem]
Let me start by apologizing for that mental image.. Moving on:
According to to House minority leader Nancy Pelosi:
"The fact is that the Republicans are trying to make a lot of hay out of Governor Dean's remarks because they are failing to meet the needs of the American people," she said at a press conference.

"If Governor Dean were not being effective, they would not be going after him so strongly," Pelosi said.
Excuse me one second please.
AAAAAAAAAAAHAHAHAHAHAHAHAHAHAHAHAHAHAHAHAHAAAAA!!!!
Almost done.
AAAAAAAAAAAAHAHAHAHAHAHAHAHAHAHAHAHAHAHAHAHAAAAAAA!!!!!
I feel much better now.
Classic Pelosi. And of course, Dean's story is:
"I think a lot of (the controversy) is exactly what the Republicans want, and that's a diversion," he said.
Now, I'm not saying that most Republicans (myself included) don't enjoy seeing the mad doctor taking one foot out of his mouth to make room for the other, but who's making an ass out of himself over and over and over again?
And who didn't know that Dean was going to be a disaster as DNC chair?
And to top it off, apparently he's not brining in the crazy donor money for the Dems.
Any bets on how long he'll keep his job?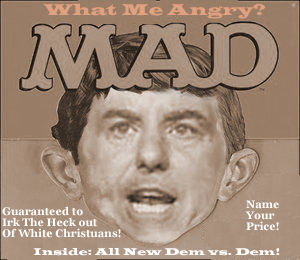 [Cross-posted at WuzzaDem.com]

posted by Ace at
09:38 PM
|
Access Comments