« "He Said Very Hurtful Things... Then My Shoes Fell Off"
|
Main
|
Makin' Shit Up AT the LA Times »
April 19, 2005
Still More On Liberals Photographing Conservatives
From a poster, who says he's a photographer:
I have a lot to say about this issue. As a conservative and a professional photographer who has photog. friends who have photographed major politicians and world figures for such magazines as Time and other such pubs., I tend to notice some trends.

First observation about this Coulter cover, it that the photographer is the this guy named Platon, who did the Clinton cover of Esquire, or whichever magazine it was that had the infamous crotch shot. It made some sense that Ann had her legs crossed rather than a lewd, sexually provocative posture. The thing about Platon is that he used extreme angles as compared to other more traditional shooters for Time, such as Gregory Heisler, who shot the other infamous cover portrait for Time, of Newt Gingrich in which he was made into a monster with greenn and magenta gelled lighting.

Two of my NYC photographer buddies often shoot politicians and they have made angelic, heroic shots of none other than Wesley Clark, Hans Blix, Al Gore's daughter and others. When I compare and contrast these portraits with the others that these photogs. have created of Michael Bloomberg (shot from a low angle to show the skin bulging out of his tight collar)...or Bill O'Reilly (shot to look like a total buffoon with an awkward expression on his face) or simply to place a dumb looking image of President Bush on their website.....there is an absolute mission going on in the media to make these conservatives look like evil morons. Photographers make biased images the distort normal looking people and photo editors help out by picking these distorted images to further their vision.
He then links a couple of websites to prove his point, but I'm not really sure what they prove. You can click on Evan Kafka and Saunders Jonathan, but I really don't see how either supports his claim. Perhaps I'm just not familiar enough with photography.
A lot of people keep bringing up that Esquire shot of Clinton with his legs spread as counter-evidence to the suggestion that Time tried (and failed) to make Coulter look bad.
The Clinton shot made him look handsome. The only "controversial" part of that was that the shot was angled right into his groin, with his legs spread. But here's the thing -- Clinton obviously willingly posed that way for the photographer. He was not adverse to that shot. If he had been, he could simply have not posed that way.
It was speculated that perhaps Clinton sort of meant that pose to be a somewhat-literal "Eat me" to his conservative critics. A bit of groinal gloating.
In any event, that shot did not distort Clinton's features, nor lengthen any part of his body into cartoonish proporportions. I don't think Coulter said, "You know what? I think it would be really cool if you tried to make me look as gangly and unattractive as humanly possible."
Stop With The Insanity Update: Liberals, and actually a few conservatives, are poo-poohing the idea that any of this is deliberate.
Well, Slublog compares Time covers of liberals and Time covers of conservatives.
Guess who always looks happy and youthful and handsome? Guess who always seems to look scary if not bizarre?
A Picture, and Then a Thousand Words Update: Slublog sends this goofy picture of Bush the Chicago Tribune ran a couple of years ago on page one, five columns wide, above the fold (i.e., big and prominently placed).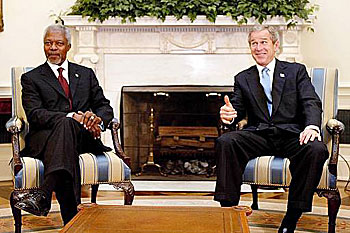 An unknown angel sends along this Hardball transcript where Matthews bitch-slaps Jim Warren for running a front page shot making Bush look like a giggling retard.
HEADLINE: HARDBALL For November 22, 2002
BYLINE: Chris Matthews; Mike Barnicle
GUESTS: Jim Warren; Bob Dornan; Al Sharpton; Alan Dershowitz; Noah Oppenheim;
John Fund; Carl Jeffers
HIGHLIGHT:
Does the Media Mock President Bush?
BODY:
CHRIS MATTHEWS, HOST: I'm Chris Matthews. let's play HARDBALL. "The Big Story " in a moment, the "Chicago Tribune" lampoons President Bush in a page one photo. Why does the media league continue to mock this president?
...
First, this photo, above the fold, across five columns on page one of the
"Chicago Tribune". President Bush with U.N. Secretary-General Kofi Annan, caught in an awkward and embarrassing moment. Controversy surrounding the photo led the "Tribune" own ombudsman to admit - quote - "My gut tells me it amounted to a page-one editorial, in which George W. Bush was being labeled an idiot and a clown unsuited to the presidency."
...
So what's behind the continued treatment of Bush as some kind of idiot? I'm
joined by Jim Warren, managing editor of the "Chicago Tribune", former U.S.
congressman Bob Dornan. He's a radio talk show host. And MSNBC's Mike Barnicle, a columnist for the "New York Daily News".
Jim Warren, what role did you play in this decision to put that picture on
the front cover, top of the fold, five columns wide?
JIM WARREN, CHICAGO TRIBUNE: While a conservative conspiracy theorist, I will admit that I was in the meeting when the decision was made. This had nothing to do with ideology, Chris. This is, after all, a Republican paper at heart, one that has endorsed every single Republican residential candidate for the last
century.
Here's the cliff notes on what happened. We picked our big six stories for the day, then we asked the photo editor what he had, as we always do at the end of the meeting. There really wasn't much. We took a look at this Bush photo. We asked what the context was and he erroneously told us, it was well intentioned, but erroneously told us it had something to do with Bush being on a roll following the big U.N. vote.
So that's what we thought it was about, somehow chortling, somehow giving aically a thumbs-up to his big victory. If we had known the actual context, which was just him having some fun at the expense of some photographers, who were asked to leave that photo op, we would not have run the photo.
You know the criticism we received, and interestingly enough, Chris, was very mld initially, very mild. Nothing like the criticism that the ombudsman, Don ycliff has received from the left, for in their view being a bit of a ninny. But again, if we had known the real context, would not have run it.
MATTHEWS: Why did you pick a picture of the president of the United States tat makes him look like a horse's ass?
WARREN: Chris, that wasn't the point. It was...
MATTHEWS: Everyone watching now, please take a look at this picture and judge for yourself, everyone watching, of all the pictures, this newspaper chose a picture taken by Agence France-Presse, not any of the other wire photos. You hose this. Why? Why this picture?
WARREN: We close it because it was in our minds, the best, most interesting poto that we were shown and given the context, we understood that...
MATTHEWS: If you believed the context was a funny game between the president and the wire photographers, and that was the context of the pictures, why did you give it top of the fold...
WARREN: No, No, Chris...
MATTHEWS: ... A-1 five-columns widespread.
WARREN: No Chris, you misunderstood me. If we had known that the, what the real context was, which was that he was poking fun at the photographers, we would not have used it. We were led to believe that it was in some way tied to the U.N. vote and Bush basically chortling in a we're on a roll kind of aura, following that vote. We...
MATTHEWS: Just to straighten something out, Jim, who decides what pictures tor un? The editorial page editor - the editor of the editorial page, or the news division?
WARREN: No, in this case, no. Obviously, the news division...
MATTHEWS: Well why did you refer a minute ago to the fact of your newspaper having a publisher, an editorial policy on the editorial page, which is historically Republican? What relevance is that to this conversation?
WARREN: Oh the relevance is for all the conspiracy theorists out there who think that we sort of move in lock step - I just wanted to say...
MATTHEWS: But you know there's a difference between...
WARREN: Well yes...
MATTHEWS: ... what [Sulzberger, owner of the NYT] thinks about fighting in the Middle East and what Howell Raines thinks about it. Howell Raines controls the news pages in "The New York Times".
Isn't it a red herring to be talking about what the editor of the editorial page thinks or the publisher thinks when this is a newspaper editorial decision by the news division?
WARREN: No, I'm just giving you a larger context here. There's not some reflexive nation magazine in these "Time's" Magazine animist toward Bush here. And we've treated him extremely solicitously in our news pages.
We made what was probably the wrong decision here based on a faulty premise If we had known why he was making that funny face, Chris...
MATTHEWS: OK.
WARREN: ... we would not have used it.
MATTHEWS: Jim, I want to ask you before we get further in this, it was partially your decision or entirely your decision?
WARREN: No, it was partially - I was sitting next to managing editor helping him run the magazine that day. It was - the newspaper that day - it was the managing editor's final call. But we sat around looking at the photos and we tend to, you know, work by consensus, and none of us said hey, don't run that. We had to do it over again, might we have? Perhaps.
...
WARREN: And again, once again, the most passionate reaction, guys, was not from conservatives, but was from liberals and about two to 300 e-mails have already come in, in the last 24 hours, unhappy with the aforementioned mbudsman's bashing of us that Chris alluded to.
[As I noted: Liberals LOVE getting criticism from liberals; that allows they to claim "we're getting it from both sides, so we must obviously be neutral." But it's just idiotic mau-mauing.]
MATTHEWS: So the liberal readership supports the decision by the editors and not that of the ombudsman.
WARREN: Well, they thought that he was being a little bit too harsh on us. I just want to say that the folks...
MATTHEWS: Well that's sort of a usual suspect's response, though, isn't it?
[Is Matthews on f'n' fire here or what?]
...
WARREN: Hey Chris, remember...
...

MATTHEWS: ... should this headline here -- was this a mistake for the
"Tribune" to run this picture - Michael Barnicle.
BARNICLE: Well in retrospect, yes it was.
MATTHEWS: Was it a mistake for you, Jim, to run this picture on the front page, A-1?
WARREN: I've already committed hari-kiri here, Chris.
(CROSSTALK)
WARREN: What more do you want out of me?
MATTHEWS: ... to get one more drop of blood (UNINTELLIGIBLE). Is this wrong,
Jim? Take it - take it like a man.
WARREN: Yes, if we had to do it all over again...
DORNAN: Chris...
WARREN: ... we wouldn't.
(CROSSTALK)
MATTHEWS: That's it. Look, when you made your deal, stop talking.
What a bitch-slapping. I've edited out all the useless comments by the useless Mike "Let me give you some local color about the firemen in Brooline" Barnicle and Bob "You know exactly what I'm going to say on every single topic" Dornan.
The Tribune's Ombudsmen Joined in the Bitch-Slapping Too Update: All very dated now, of course, but here's that Ombudsman's piece mentioned in the Hardball transcript.
Thanks for that to MarkD.

posted by Ace at
09:57 AM
|
Access Comments