« Good Call: James Bond Will Return... Played By Clive Owen
|
Main
|
Alan Keyes: Huckster or Maniac? »
March 29, 2005
A Repost With A Purpose: Single Soldier Kills 15-20 Terrorists After Ambush
Major Loose Shit: This firefight occurred LAST Easter; it was republished from May 16, 2004. Sorry; I missed that completely.
The media must have missed this at the time too, because I never heard a word about it, and of course I was reading news. And blogging about it.
Anyway, still a kick-ass story.
Also, the guy wasn't a Marine. He was an army soldier. And a reservist to boot.
Back to orginal post:
I may have my facts wrong (as usual), but I think I recall S.L.A. Marshall noting that amidst the trained soldiers are born warriors, and those born warriors, maybe ten percent of a unit, inflict something like 50% of all casualties on the enemy.
Spec. Timmy Haag of South Glens Falls, N.Y., would seem to be one of those one-in-ten Decimators:
[T]he truck carrying Haag and 13 other members of his platoon was roughly 100 yards past a mosque flying the fedayeen flag. An RPG slammed into the left side, killing 21-year-old Pfc. Nathan Brown of South Glens Falls.

...

Haag had begun returning fire with his SAW machine gun from the first moments after the blast.

"First thing he did was stand up on the driver's side," Mechanick recalled. "He saw a couple of enemy soldiers. He suppressed them, killing two or three immediately."
Mechanick is a Staff Sergeant. He had his own show of bravery, but you'll have to click on the article for that. Fair use means I have to cut some stuff out.
Haag turned to the passenger side and suppressed the fire coming from that direction. He and fellow soldier James MacDonald then clambered down and fought their way down the line of vehicles to notify their commander their truck had been hit.

"Small arms fire, AK-47 and RPG," Mechanick recalled "Haag's just running though it and as he's running he's shooting, killing people."

Haag and MacDonald passed four alleys, each of which had between six and 15 enemies armed with automatic weapons and RPGs. Haag is said to have shot them all.

"Timmy Haag was phenomenal," Mechanick said. "When the firefight happened, Timmy Haag was the man."

...

Mechanick had numerous other wounds and he was pale and short of breath from the loss of blood. Haag kept calling to him and nudging him with his boot as he fired.

"He knew I was going to sleep, and if you go to sleep you don't ever wake up," Mechanick said. "He's shooting at the enemy, kicking me, shooting at the enemy, kicking me: 'Sgt. Mechanick, don't you go to sleep.' Shoot a couple of rounds. Kick me. 'Sgt. Mechanick, don't you go to sleep.'"
Ummm... that's multitasking.
Two roadside bombs went off close enough to lift the truck off the ground. Haag spotted an Iraqi fleeing a courtyard, detonator still in hand. Haag cut the bomber in half and kept firing, by one estimate 1,500 rounds in all.
Easter Sunday, by the way.
Top Ten Signs That Specialist Timothy Haag Is On Fuckin' Fire
10. In the middle of the firefight, began deadlifting terrorists he'd wasted because he felt his "lats needed some toning"
9. At one point completed eight "PERFECT MORTALITY!" finishing moves in a row, thus unlocking the secret "Floating Dragon Pavillion" level and gaining the Lightning Gun
8. Just for shits and giggles, used one terrorist as a human shield while simultaenously fucking him up the ass; not in a gay way, of course, but like a Viking
7. Compelled one terrorist to surrender just by quoting Rodney Dangerfield's Caddyshack lines in a "very hurtful" tone of voice
6. By personal appointment by President Bush, will travel to London as special envoy to request that Madonna "Shut the fuck up already"
5. Promoted on the battlefield to newly-created rank of "Muad'Dib"
4. Left-for-dead terrorists could speak nothing but gibberish and the enigmatic name "Keyser Sose... Keyser Sose!"
3. Just awarded the Mr. Paul Anka Star With Cluster, with commendation "The Only Important One On That Machine-Gun"
2. By an incredible coincidence that leaves both military experts and movie buffs baffled, he looks just like this...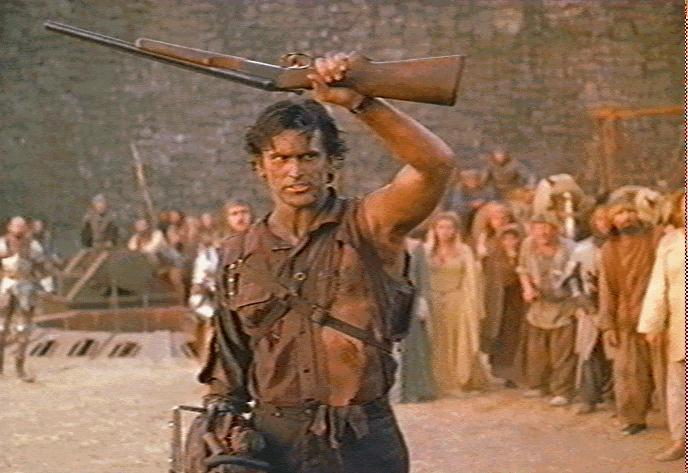 ...and is fond of saying things like this, this, this, this,
and even this
...and the Number One Sign That Specialist Timothy Haag Is On Fuckin' Fire...
1. When his machine-gun ran out of ammo, he killed four terrorists in close-quarters combat armed with nothing but Bob Dole's cock
Pic of Ash and .wav's from Army of Darkness wavs.
Bonus Entry For Heroism Beyond the Call of Duty Update: Actually, this was on the original list, but that list got zapped and I had to reconstruct it from memory. I forgot about this one.
0. Audie Murphy's family gathered at the firefight to watch Dad's record get broken
The Purpose of this Repost: Check out the comment by "Viking Ghost" below.
Working out some stuff. More may follow. Fingers crossed.

posted by Ace at
04:22 PM
|
Access Comments