« A Defense and Explication of the Motivational Techniques of Mr. Paul Anka
|
Main
|
Pew Poll: Nets Down, "Internets" Up »
March 12, 2005
More WarPorn: The Cornershot
I think maybe I've mentioned this little honey before, but now I've got cool pics.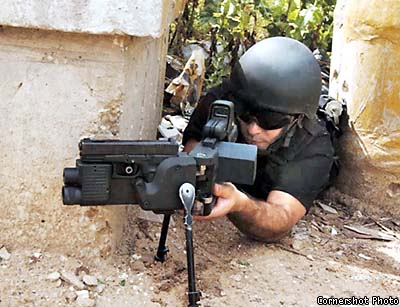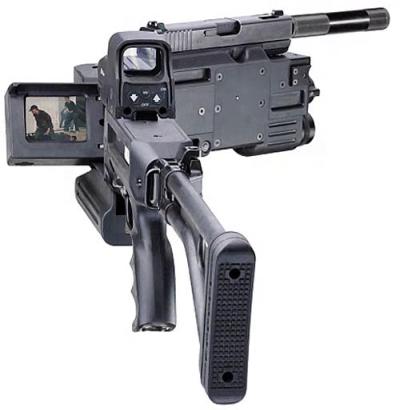 (Pics from The Cellar.)
Yeahp, it shoots around corners:
The CORNER SHOT is the ultimate solution for dealing with the deadly threats that lurk "around the corner" in a variety of tactical situations encountered by military and law enforcement personnel, anti-terror units and SWAT teams operating in open or built-up areas, inside buildings, rooms and enclosed spaces, and especially in forced entry situations.

The CORNER SHOT has already been acquired by police and special forces units around the world.

The key to CORNER SHOT is the swing-hinge front section of the system, a state-of-the-art device that houses the handgun and a compact detachable color video camera. The unique lateral (both left and right) swinging mechanism enables the user to safely sweep, search or engage targets 'around the corner' with the camera transmitting what it sees directly to a video monitor. Both the video monitor and the remote trigger control for firing the pistol, together with all system operating switches, are fitted to the frame held by the user.
Also available with "40mm Personal Grenade Launcher," if you act now:
I'm not down with all military lingo. What's a "Personal" grenade launcher? As opposed to what, a public one?
Is lobbing a grenade at someone really that personal? I guess it depends on the recipient's attitude.
Thanks to Bob.

posted by Ace at
12:16 PM
|
Access Comments