« You Promise? (Hoke)
|
Main
|
Susan Estrich Goes From Nasty to Disgusting (Hoke) »
February 19, 2005
Oscar Predictions (Hoke)
I know Ace will be furious that I beat him to this punch, but you can take these choices and bank them. These picks are Kerry will win Virginia good!
BEST PICTURE: Ignore Finding Neverland and Ray. That leaves The Aviator, Sideways and Million Dollar Baby. Sideways is a little picture, so it will get an Oscar for screenplay. The Academy loves to dick with Scorsese (and after Gangs of New York, he deserves it). WINNER - Million Dollar Baby.
BEST ACTRESS: Discard the Hispanic and the two English ladies. Comes down to Warren Beatty's wife versus someone who plays a female boxer-turned-paralyzed person. If she was in Treblinka, she'd have hit the trifecta. WINNER - Hilary Swank.
BEST ACTOR: Tough. Forget Johnny Depp and Leo DiCaprio. That leaves Don Cheadle, Jamie Foxx, and Clint Eastwood, nominated for his first acting Oscar. You can go two ways. Either the two black guys split and Eastwood wins, or Foxx's near perfect turn as Ray Charles makes it a no-brainer. I'm riding on the latter. WINNER - Jamie Foxx.
BEST SUPPORTING ACTRESS: A whole lot of "Who?" There may be a sentimental call for the star of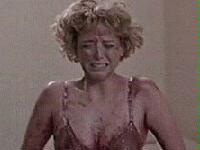 Candyman (Virginia Madsen), but I like Cate Blanchett playing Kate Hepburn. WINNER - Cate Blanchett.
BEST SUPPORTING ACTOR: Toughest of the bunch. If Foxx doesn't get it for Best Actor, he's a shoe-in here. But since I have him winning Best Actor, he's out, and it becomes an old guy fest - Morgan Freeman versus Alan Alda. I give the nod to Hawkeye. WINNER: Alan Alda.
DIRECTING: Clint Eastwood. No question.
ORIGINAL SCREENPLAY: Throw out Eternal Sunshine (too weird, too early in the year), Vera Drake (British), and The Incredibles (cartoon). Do you go Hotel Rwanda (searing, public-minded) or crumb for a Scorsese flick. I say crumb. WINNER - The Aviator.
ADAPTED SCREENPLAY: Sideways. For sure.

posted by Ace at
12:50 PM
|
Access Comments