« It's JRR Tolkein's Eleventy-Third Birthday
|
Main
|
UN-Necessary »
January 03, 2005
Elephants Pitch In to Clear Tsunami Damage
BANG NIENG, Thailand β€" A year ago, they were filming battle scenes for the movie "Alexander." Now six elephants are pitching in to help with the massive cleanup from the tsunami that devastated many of Thailand's prime tourist destinations.

...

While heavy machinery works on the tangled wreckage that used to be posh seafront resorts, some areas are too muddy or hilly for anything other than 4 foot drive.

So the Wang Chang elephant farm (search) in the 17th-century Thai capital of Ayuddhaya (search) offered to send in its best pachyderms. They arrived by truck Sunday in Phang Nga and got to work immediately β€" after a quick shower to cool off in the tropical heat.

"The six were chosen because they are smart and can act on command," said Romthongsai Meephan, one of the elephant farm's owners.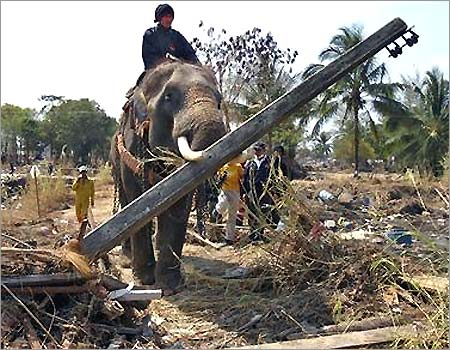 "I don't mind heavy lifting, but one year ago, Angelina Jolie was riding me like Big Wheel."

posted by Ace at
03:09 PM
|
Access Comments