« Maureen Dowd Abuse From Demure Thoughts
|
Main
|
Michael Moore Wants People's Choice Award »
December 13, 2004
Thanks For Voting!
Thanks to your votes, Ace of Spades HQ has now been voted the top blog of the top 100 blogs.
I mean, after you exclude all those blogs which were nominated for best overall blog, best conservative blog, best humor blog, best culture blog, etc. Ace of Spades HQ is therefore the very best of the top 100 blogs, assuming you exclude all the better blogs from consideration.
But it's a big honor, and I'm really grateful to those who voted. I'm not sure how yet, but somehow this has to aid in the Quest for Crazy Blog-Money.
A Little Kim Richards? Someone suggested it, and why not?
I can't find any good photos at the moment, but I did find this mpg of the Hello, Larry opening credits. Kim's a little young there, but hey, it's when I fell in love with her, so what the hell.
I can't believe I know all the lyrics to that stupid opening theme.
And what the hell is Meadowlark Lemon doing in there?
That doesn't really work in any of my fantasies at all.
Well, okay, Meadowlark's in one of my sexual fantasies. But only one. See, I always have this sex-dream about playing for the Washington Senators and then Meadowlark Lemon comes up to me to throw a bucket of water on me, except it's not water, it's confetti, and but then I realize it's not even confetti, it's cut-up naked photos of Jon-Erik Hexum having sex with Greg Evigan.
What does it all mean? I don't know. I've been in therapy for eight years trying to figure that one out.

Okay, One More: And this one is actually more for the ladies, who've had to put up with this Kim Richards thing for far too long.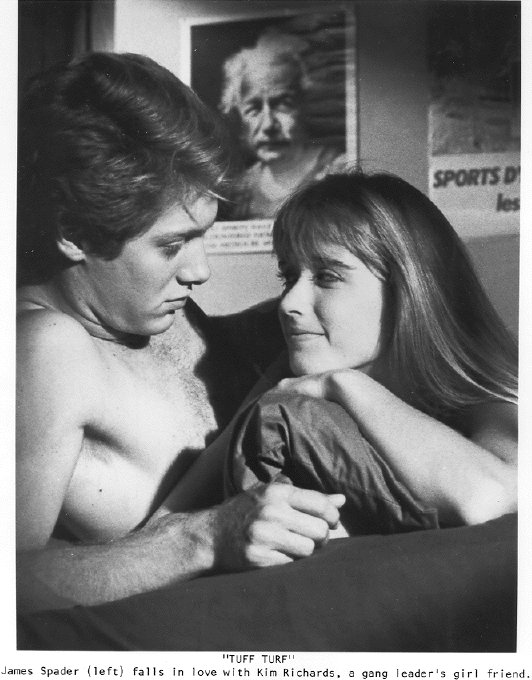 Not much of a picture of Kim, but then she's in bed with a shirtless James Spader, before he got all puffy, and yeah, even though he sorta looks like Anthony Michael Hall there.
And Even More For the Ladies! A video of Kim Richards in the "Tight Fit" episode of CHiPs, posing with a bare-chested Erik Estrada!
All for the ladies. I'm a ladies' man.

posted by Ace at
12:42 PM
|
Access Comments