« SwiftVets Rally?
|
Main
|
Newsweek: Breaking for Bush »
October 30, 2004
A Moveable Feast: Bush Gets Fat on "Moveable Voters," 52-33
Only 8 percent of the electorate remains in play, but it seems late deciders are breaking for the incumbent:
Oct. 29, 2004 -- A better showing among movable voters has helped put George W. Bush back at the 50 percent mark, with 47 percent support for John Kerry among likely voters as the 2004 presidential campaign enters its closing days.

...

The ABC News tracking poll shows no impact from the controversy over missing munitions in Iraq.

...

This poll is based on interviews Monday through Thursday; results from last Saturday and Sunday, which were two of Kerry's three best days since this tracking poll began Oct. 1, have rolled out of the average. The results the past four days have been quite stable β€" a small numerical advantage for Bush, within the margin of error, each night.

...

Movables in today's results favor Bush by 52-33 percent, a change from 46-36 percent in Kerry's favor as of Sunday. It's a small group β€" eight percent of likely voters, down from 14 percent when tracking began β€" but in a close race, an important one.
Kim Richards?
Is there any doubt?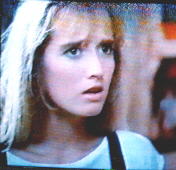 Other polling news ranges from mixed to light Kim Richards.
Zogby will claim that Kerry is up by one in tomorrow's poll.
The Cleveland Plain Dealer will show Bush up by 3, 48-45, in Ohio.
The "conservative" FoxNews poll-- which has generally tended to be one of Bush's worst polls -- now shows him with a five-point lead nationally:
October 30, 2004 -- President Bush jumped to a 5-point nationwide lead in a Fox News poll out yesterday amid growing β€" but very cautious β€" optimism among Republicans that the president will win Florida and the swing state of Iowa.

Nationally, Bush was at 50 percent to Kerry's 45 with Ralph Nader under 1 percent in the Fox poll conducted Wednesday and Thursday evening. It has an error margin of 3 percentage points.

...

The ABC national tracking poll also had Bush moving ahead to a 50-47 percent lead, but the Zogby national tracking poll had a tie at 47 percent each. Unlike the others, which show a pro-Bush trend, Zogby showed a slight trend toward Kerry.
The article notes the obvious-- Bush can lose Ohio, but then he'd have to pick up a couple of Gore states to win.
Damnit, Curt Schilling has backed out of campaigning with Bush in NH.
The Rocky Mountain News shows Bush with a suspiciously-big lead in Colorado, 51-42.
Real Clear Politics' summary looks good for Bush, but just barely so:
ABC/Wash Post: Bush 50, Kerry 47, Nader <1
FOX/Op Dyn: Bush 50, Kerry 45, Nader <1 | Bush JA @ 49
Battleground (w/leaners | 10/25-10/28): Bush 51, Kerry 46 | Bush JA @ 53
Rasmussen: Bush 50, Kerry 48 |
Zogby: Bush 47, Kerry 47, Nader 1
TIPP: Bush 46, Kerry 46, Nader 2 | Bush 45, Kerry 45
Kick the dog and brew the coffee, it's going to be a long Tuesday Night.

posted by Ace at
03:24 AM
|
Access Comments