« New Voters Won't Necessarily Help Kerry
|
Main
|
Anatomy of a Rollback »
October 29, 2004
New Poll: Bush Up in Pennsylvania and Michigan
Here's the bad news: he's also behind in Ohio.
Let's be cautiously optimistic about this -- and let's vote, damnit -- but it's probably safe to say at this point of the the election what they say about Hollywood: No one knows anything about anything.
What we have on our hands is a flip of a coin, and unless you're just a degenerate gambler, you can't be happy about that.
October 29, 2004 -- Two new polls yesterday claimed President Bush has 2-point leads in Pennsylvania and Michigan β€" must-win states for Democratic rival John Kerry.

...

Bush led by 49 to 47 percent in the Quinnipiac University poll of Pennsylvania. That's a statistical tie, but it's the first poll to show Bush ahead. The Los Angeles Times and Zogby polls showed a tie.

...

In Michigan β€" a state that even Republicans saw as a long shot β€" Bush led by 47 to 45 percent in a Zogby poll. Bush strategists targeted the upper Midwest, saying Iowa and Wisconsin were their best bets, followed by Minnesota and then Michigan.
Moderate Kim Richards. Maybe one of her more heavily-clothed scenes in Tuff Turf: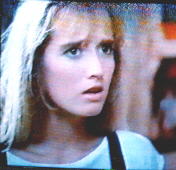 Update: This guy says Bush is ready to take a commanding lead in Ohio.
Okay, but, he's only got 'till Tuesday you know.


posted by Ace at
02:24 AM
|
Access Comments