« No Call From the Governor Yet
|
Main
|
Supporting Our Troops: "All anyone wants to write about is our dead and wounded" »
July 31, 2004
Supreme Court Orders Bologna Sandwich Freed
Court: Eighth Amendment Bars Executing Sandwiches, Retards; also, Retarded Sandwiches

IMPACTING HARD...
WORLD EXCLUSIVE! MUST CREDIT DRUDGE! I MEAN, ME!
WASHINGTON -- In an order announced by Ruth Bader Ginsberg, the US Supreme Court has ruled "political prisoner" Johnny Coldcuts' request for a habeas corpus hearing and ordered him released immediately.
"The American system of justice requires that all detainees be granted a chance for a fair hearing before a civilian court," the brief order stated. "Detainees, whether alleged 'terrorists,' or 'foul-mouthed time-travelling bologna sandwiches,' cannot be held indefinitely at the whim of the Justice Department, or even right-wing bloggers trolling for donations."
Having reached the threshold determination that Johnny Coldcuts was entitled to a hearing, the Court then made the rare decision to rule on the petition's merits, and found that Johnny Coldcuts had the "mental capacity of an eight year old boy." "The petitioner, Mr. Coldcuts, talks about nothing except knockers and weiners and 'stinkybutts,'" Ms. Ginsberg declared from the steps of the Supreme Court. "As we found earlier in this term, in U.S. v. Wonkette, persons behaving in such a fashion are presumptively retarded. The State failed to carry the burden of disproving this presumption."
Candle-carrying crowds gathered in Paris last night in a silent vigil to protest Mr. Coldcuts' "political execution" by a "unilateral right-wing American jingoist." Reeking French fucks carring signs reading Forgetez-vous Johnny Coldcuts-- Non stood in a light rain for eight hours to protest the execution. The City Council of Paris had earlier declared Mr. Coldcuts a "political prisoner" and an "honorary citizen" of Paris.
It is not known at this time why the signs were written in crude fake-French rather than the actual language. Some reporters believed they did so so that FoxNews commentator Bill O'Reilly would understand their message.
The solemn vigil turned to jubilation when the decision was announced in an AFP wire.
Mr. Coldcuts had much to say about his French supporters. "Fuck 'em," he quipped. "I was half-hoping to be shot just to see the looks on their ugly French mugs."
Mr. Coldcuts also announced his decision to file an appeal. "I'm not a retard," he protested. "How the hell do they figure that? I'm an educated, engaging time-traveling bologna sandwich. I've got half a mind to go to Washington and slap Justice Breyer right in his pudgy frigging face."
Ace of Spades, a self-described "Internet Vigilante" who threatened to execute Mr. Coldcuts in order to extort donations from his readers, said he was "satisfied" by the decision. "Okay, look," he said from his ultraswank corporate hedquarters on the secret 103rd floor of the Empire State Building, "I didn't get enough to buy a Ducati. But people did send in money, and that was very generous. And it isn't just the money-- it's also the fact that people cared enough to make such a generous gesture."
He leans back in his chair. "But mostly, you know, it's the money itself. If you put a gun to my head, I'd say it's 90% 'the money,' and 10% 'the gesture.' Actually, that may be high-balling it a little on 'the gesture' part."
Mr. Spades promised to abstain from ever threatening any other made-up internet characters, "at least until my bandwidth costs go up. Seriously, it costs me like sixty-thousand dollars a month just to keep this site up and running."
Andrew Sullivan was asked for a comment. "Rick Santorum is a homophobic theocrat," he said, completely off-topic, as is his wont. "I have several 'Emails of the Day' which verify that judgment. Also, please send me money."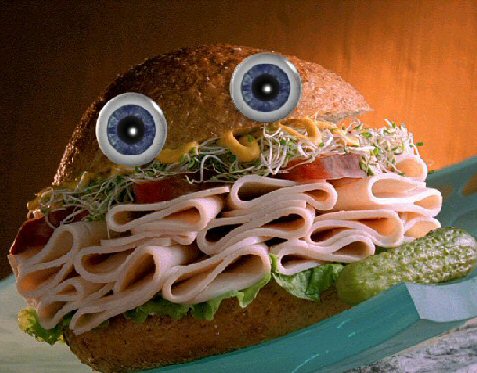 Thank you for saving my life, dickweeds!

Photo Credit: Used with permission of Enjoy Every Sandwhich. "Sandwich for Skippy" pic created by Zombie and Rowan.

Update: Joshua Micah Legolas Mordecai Sugarfoot "KHHAAAANNNN!" Marshall finds the "timing" of this decision "suspicious." "This news comes just as Kerry goes into a difficult period in his campaign, in which he must conserve campaign cash and use free media to get his message out," Mr. Marshall writes. "I think it's no coincidence that this media circus is sprung on the public at this time."
Mr. Marshall asserted that there were three periods during which the announcement of major news story would be deemed to indicate "suspicious timing": Before Kerry's convention, during Kerry's convention, and after Kerry's convention.
In fact, Mr. Marshall believes the November 2nd date upon which the election is scheduled is in fact possibly "suspiciously timed" itself. "How can we be sure that Kerry will be ahead in the polls on that one day of the whole year?" he ponders. "What if he's actually behind on November 2nd? That would be pretty suspicious, wouldn't it?"
He vowed he would have much more to say about this matter at a later time of his choosing.
More: Oliver Willis -- "Like Kryptonite to Original Thoughts and Jokes" -- has decided to once again copy from his betters. He is announcing a new pledge drive, titled Give Me Money to Buy Filet-O-Fish Sandwiches or I Will Eat This Filet-O-Fish Sandwich. He has named his Filet-O-Fish sandwich "Johnny Coldcuts," which is not only derivative, but it makes no sense in the context of a Filet-O-Fish sandwich.
Update: The pledge drive ended thirty seconds after it began, when Willis, driven mad by the delicious smell of the fishburger, consumed it in a single gulp.


posted by Ace at
08:39 AM
|
Access Comments