« The President's Words on Saddam Hussein
|
Main
|
Factory Report: Mixed, but Good Mixed »
May 20, 2004
Right Wing Media Alert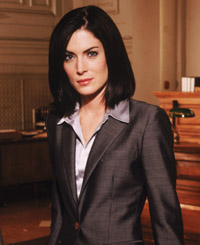 Alright, this lass could probably safely stand to increase her daily caloric intake into the triple digits. And what's the deal with her apparently dating both Jack Nicholson and David Spade? What's her type, precisely? Where's the overlap there?
Both could be described as "puckish," we suppose.
But, goodness gracious, we'll take our celebrity endorsements where we can get them (last item):
Representatives for George W. Bush are hoping to recruit actress Lara Flynn Boyle for campaigning duties, after she publicly declared her support for the American President. The former star of The Practice, 34, has gone against the grain of a large number of her Hollywood counterparts to pledge her support for the Republican leader. She says, "I'm Irish Catholic, so a Democrat by blood. But I'm 100 per cent for Bush. I want my president to be like my agent: not afraid of people, but wants my best interest."
Thanks to Free Republic.
Our apologies. We thought we were above Oliver Willis-style ladmag cheesecake photos.
It turns out we're not.
You've got to admit it's a pretty good photo.
Update: Things That Make Lara Flynn Boyle So Damn Hot.
She seems to have no particular "type." She's dated both David Spade and Jack Nicholson. Obviously, she's not obsessed with one particular male body or facial type.
Are you a seventy-ish, portly balding guy who's sort of gone to seed?
Or do you look instead like a weather-beaten Anne Heche, except without all that muscle and bodyhair, who's also sort of gone to seed?
Well, if you look like either one of those, or maybe somewhere in between, it's just possible Lara Flynn Boyle will find you attractive.
The illusion of obtainability is always worth bonus hotness points in the Ace of Spades HQ Hotness Manual.
She's hot, but not perfect hot. Once again, bonus points for the illusion of obtainability.
The fact that Lara Flynn Boyle is hot, but not perfect hot, means that you can play upon her anxiety and beat down her reservoir of self-esteem in order to keep her dependent on you. You just have to say things like, "Oh, no Lara, I'm totally attracted to you. I've never been really into what some would call 'classic beauties.'"
Or, maybe, "Look, I'm always calling you beautiful. Even when all my friends and the Hollywood glitterati say you're not so beautiful, I'm always there, arguing otherwise, usually in futility. But I think you're beautiful. In the right light, you understand."
And then, when she's asleep, just keep whispering to her, "Who else could possibly love something like you?" Eventually that will sink into her subconscious.
Convince them you're doing them a favor by having sex with them. Keep them in a perpetual state of body-image anxiety. Those are the Ace of Spades HQ keys to a long and happy relationship, at least on your end.
She's a cheap date. She seems allergic to sandwiches. The typical dinner, we're thinking, would be a bottle of Evian and three Certs. Diet Certs, we mean, which contain only 33% of all that fattening Retsin found in regular Certs.
She's rich. She's not super-rich, but she's stealth-rich, which is sort of sexier. A lot of Hollywood stars get big paydays, and we always hear all about that. But Lara Flynn Boyle has been consistently working since she was a teenager in the high-paying worlds of both movie and television acting, and both of her big shows have gone into the residual-bonanza known as syndication.
You gotta figure she socked most of that cash away, investing it before the run-up in stock prices in the mid-nineties. And we've never heard of her having a drug problem.
That sounds like big cash to us.
There are female stars who top her as a far as being stealth-rich -- the Olsen Twins, Alyssa Milano -- but they're all kind of weird-looking.
She's a Republican. The cherry on the Sundae. There are a lot of wonderful women out there, but how many, really, are likely to turn to you and say, "Frankly, I think Thomas Friedman is an ego-bloated douchebag"?
That's hot. That's dirty-kinky right-wing hot.


posted by Ace at
02:11 PM
|
Access Comments