« Smells Like Teen Realignment, Part II: Protest Warrior Makes MTV
|
Main
|
The Guys Get Shorts »
May 11, 2004
Robert Reich: John Kerry, Who is Not President, Is Keeping Interest Rates Low for the American Worker
Remember 2000, when Democrats blamed the start of the recession on the fact that Bush, who was not yet President, was "talking down the economy"?
It seems that Republicans can cause all sorts of economic disruptions, even when they're not in power. When they're not in power, they can just talk and create recessions.
But this theory just doesn't apply to Republicans. It applies to Democrats too, but in the opposite way.
Democrats, who are not in power, can have powerful positive effects on the economy, just by "talking fiscal responsibility."
That is the astoundingly daffy theory put forth in today's New York Times (where else?) by former Clinton Labor Secretary/6th level gnome illusionist Robert Reich:
WALTHAM, Mass. β€" If soaring deficits are such a big problem, why haven't long-term interest rates also risen? Could it be that John Kerry is wrong when he says that the Bush administration's deficits threaten to become a "fiscal cancer that will erode any recovery and threaten the prospect of lasting prosperity" β€" and Dick Cheney was right when, according to former Treasury Secretary Paul O'Neill, he said that "deficits don't matter"?
Well, what about it? Why aren't interest rates skyrocketing, despite the predictions of John Kerry and Paul Krugman (and Robert Reich) that they would? Could it be that John Kerry, Paul Krugman, Robert Reich, and liberal doomsayers generally were wrong?
Of course not, silly. Liberals are never wrong; sometimes you just have to be very "nuanced" to appreciate how right they are.
Hang on tight. You're about to go on the crazy roller-coaster blockbuster ride of the summer!
It's unlikely....
Unlikely, he says. That shows he's no partisan hack -- he allows for the possiblity that Kerry could be wrong.
But it's unlikely.
Very unlikely.
How unlikely?
Well, did you ever accidentally mis-dial your friend's number but then the phone system wigs out and mis-routes your call so that you end up actually getting your friend on the line anyway, despite having actually randomly, accidentally dialed the home number for the red-headed singer from eighties-band T'Pau?
That's the level of "unlikely" we're talking about here.
This year's deficit, according to the White House's latest estimate, will be a record $521 billion β€" an estimated 4.2 percent of the total economy. If President Bush succeeds in making his tax cuts permanent, future deficits will be much larger.
Apparently Mr. Reich missed the news that the deficit would be around one hundred billion dollars less this year than estimated, and less again next year.
But wait: that's just normal, run-of-the-mill pettifogging dishonesty. We aren't citing this piece for such mundane misrepresentations. We leave that kind of crap to people who actually know what the hell they're talking about, like Donald Luskin.
No, we only do economic analysis when someone is being such an incredible jackass that a child would say, "Hey there, fella. You're being a real fucking idiot here."
And that's still on the way. Fasten your seat-belts...
...
[I]f the market were behaving rationally, long-term rates would already be far higher in anticipation of an interest-rate crunch. Who in their right mind would lend dollars today, to be repaid in 3 or 5 or 10 years, without insisting that debtors pay substantial interest?
John Kerry's economic plan β€" rolling back the Bush tax cut for people earning more than $200,000 and re-establishing strict rules requiring that any new spending be offset with other spending cuts or new revenue β€" is based on this view. Yet so far, the vast increase in government borrowing hasn't affected long-term rates that much.
Capital markets do not always behave rationally, of course....
Another explanation is more consistent with economic and political rationality. Bill Clinton, and now John Kerry, have taught the bond traders on Wall Street an important and comforting lesson: no matter how big deficits grow under Republican presidents, eventually a Democratic president will come along to clean up the mess. That confidence is helping to keep long-term rates down, despite the current out-of-control deficits.
A-ha! Republican Presidents wreck the economy, but the markets are wise enough to know there'll always be a Liberal on a White Horse to save the day.
But there's more! So much more!
...
But there is no disputing that [Clinton's] plan had the intended effect. Deficits that had ballooned under Ronald Reagan and George H. W. Bush were brought firmly under control. Bond traders breathed great sighs of relief. Wall Street beamed.
Mr. Kerry has wisely and responsibly decided to take the same route. If he becomes president next January, he will inherit a budget mess not unlike that which Mr. Clinton inherited. And Mr. Kerry has already committed himself to following Mr. Clinton's lead and imposing fiscal restraint. He has scaled back some of his more ambitious spending plans, and has somberly told his Democratic audiences that the country must get its fiscal house in order before addressing the larger needs of society.
Undoubtedly, Mr. Kerry's resolve has contributed to the bond traders' calm.
Undoubtedly! Despite the fact that most of the country expects Bush to be re-elected-- even a majority of Democrats!
In the event that Mr. Kerry is not elected and President Bush gets a second term, the fiscal picture will become substantially worse. But bond traders will still take comfort in the knowledge that another Democrat will eventually come along to fix it.
This is cute on so many levels. On one level, he's making a prediction -- Interest Rates Will Skyrocket!!! -- that he says will not occur until after the November election. And of course he wants you to vote his way in November. But shucks, you won't be able to see if his prediction is accurate on voting-day, so you'll just have to take his word for it!
On another level, it's a great SuperMegaMetaTheory which explains that everything that goes wrong goes wrong because the markets know a Republican will one day be elected president, and everything that goes right goes right because the markets know a Democrat will one day (finally!) be elected President again.
No longer do we have to go through the tedious work of figuring out how the economy fares under this president or that. Reich reveals that's missing the forest for the trees. It doesn't matter what specifically happens under this president or that one; the economy grows when it anticipates a future Democratic president, and turns sour when it anticipates a future Republican president.
Undoubtedly this is true! There's of course not a lick of evidence for such a ludicrous theory, and one could just as easily reverse the theory and stand on ground just as solid (or liquid, or gaseous, as the case may be) and claim that everything good is due to the anticipation of Republican administrations, and everyting bad due to the anticipation of Democratic administrations.
But once again you'll just have to take Mr. Reich's word for it.
If interest rates rise, it's because Bush is a bad President.
If they remain low, it's because the markets anticipate a good Kerry Presidency.
If workers are laid off, it's because Bush is a bad President.
If companies start hiring like gangbusters, it's because they know that a good Kerry Presidency is on the way.
The big summary sentence:
...
John Kerry's promise of fiscal responsibility might just save George Bush's presidency.
Okay. Let's review what we've learned.
John Kerry predicted skyrocketing interest rates.
Interest rates are not, in fact, skyrocketing at all.
This would seem to undermine Kerry's prediction. As well as his basic understanding of economics.
But it only seems that way. In fact, Kerry is right, and that's why he seems wrong.
John Kerry's dire predictions weren't wrong at all; it's just that his virtuous prescritpions -- raising taxes, spending more of your money for stuff you don't want to pay for -- are so damn right that bond markets are reassured and they thus don't raise interest rates at all.
Because Kerry is so right, the markets take solace, and thus do not react in the way he predicts, thus seemingly proving him wrong, but this only proves him right all the more.
The bond-traders are anticipating the possiblity of a super-prosperous fiscally-conservative John Kerry Presidency and are thus "soothed" and "calmed" when they really ought to be panicking, just like John Kerry says they should be; but they're not panicking, but are instead reassured by John Kerry's correct statement that they should be panicking.
Who knew?
Thanks, John Kerry! Thanks for keeping interest rates low!
You're doing such a bang-up job of keeping interest rates low while not being President of the United States that we here at Ace of Spades HQ would like to elect you to a full four-year term of not being President of the United States!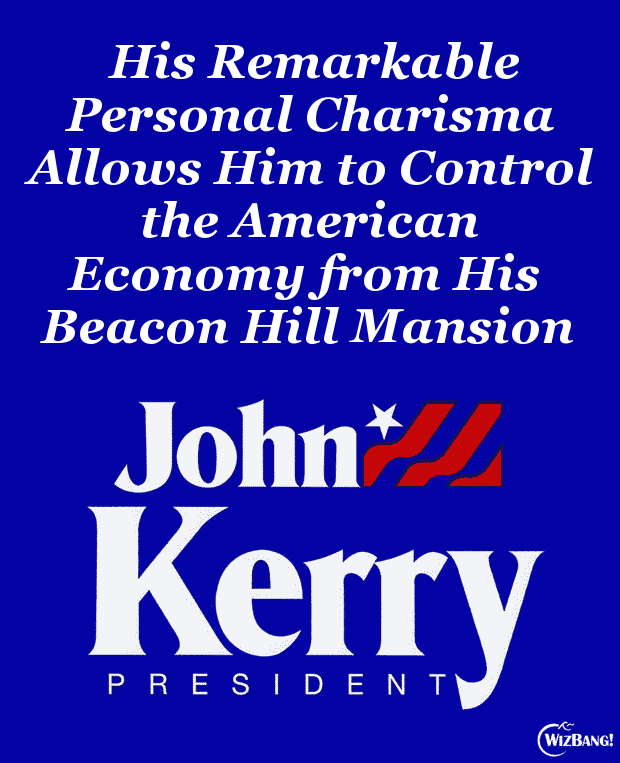 width="400" border="0" />
Thanks to Wizbang's wonderful "Sloganator" program, which allowed us to deliver these cutting edge graphics to you.


posted by Ace at
03:05 AM
|
Access Comments