« Quick Hits
|
Main
|
Aggravated Wombattery Cafe »
September 13, 2023
Federal Judge Strikes Down New Mexico Tyrant's Unlawful Ban on Carrying Guns

La Emperatriz, the Tyrant Michelle Lujan Grisham, First of Her Name, declared that the US Constitution did not hold in the territory she rules over. She presumed to declare a "health emergency" and then, having granted herself absolute power, unilaterally nullified the law and declared that she was abridging citizen rights to carry weapons.
She claimed that her duty to obey the Constitution was not absolute, and that she could suspend it here and there at her pleasure.
This was so blatantly tyrannical and so obviously a case of Banditry From the Top that her own Attorney General and fellow Democrat refused to defend her against the civil rights lawsuits lodged against her and the Office of the Tyrant.
Democratic New Mexico Attorney General Raul Torrez announced he will not defend the state in pending lawsuits against the governor's public health emergency order suspending open and concealed carry of firearms in Albuquerque and surrounding counties.

In a letter to Gov. Michelle Lujan Grisham (D-NM) regarding four impending lawsuit cases, Torrez shared the same sentiments from Democratic and Republican lawmakers and law enforcement, saying the ban violates the constitutional rights of law-abiding citizens.


"Though I recognize my statutory obligation as New Mexico's chief legal officer to defend state officials when they are sued in their official capacity, my duty to uphold and defend the constitutional rights of every citizen takes precedence," Torrez wrote. "Simply put, I do not believe that the Emergency Order will have any meaningful impact on public safety but, more importantly, I do not believe it passes constitutional muster."

...

"While I understand that frustration may have led you to undertake a unilateral approach to addressing the heart-wrenching challenge of gun violence in our community, I urge you to reconsider this course of action," Torrez wrote.
And just like that, a federal judge has issued an injunction against the enforcement of this lawless despotic edict.
Note that this is merely a temporary injunction which will hold until a full trial on the merits of the declarations and usurpations of this preposterous woman her bloated fumaceous gunt.
But as a judge needs to find that a party is "likely to prevail on the merits at any ultimate trial," this indicates that the judge, for his part, sees this as an obvious, no-brainer case of tyrannical overreach.
U.S. District Court Judge David Herrera Urias has granted a temporary restraining order Wednesday against Gov. Michelle Lujan Grisham's recent order banning the lawful carry of firearms in Albuquerque and across Bernalillo County.

The ruling cited the orders' direct conflict with the Second Amendment and will halt implementation of the orders pending a final hearing, which is scheduled for Oct. 3.

The restraining order only applies to Section 1 and Section 4 of the public health order.

Section 1 outlines the temporary suspension of open and concealed carry laws, and Section 4 states that "No person, other than a law enforcement officer or licensed security officer, shall possess a firearm on state property, public schools, and public parks." Both sections cannot be enforced.

But La Emperatriz is just getting started on her imperial decrees: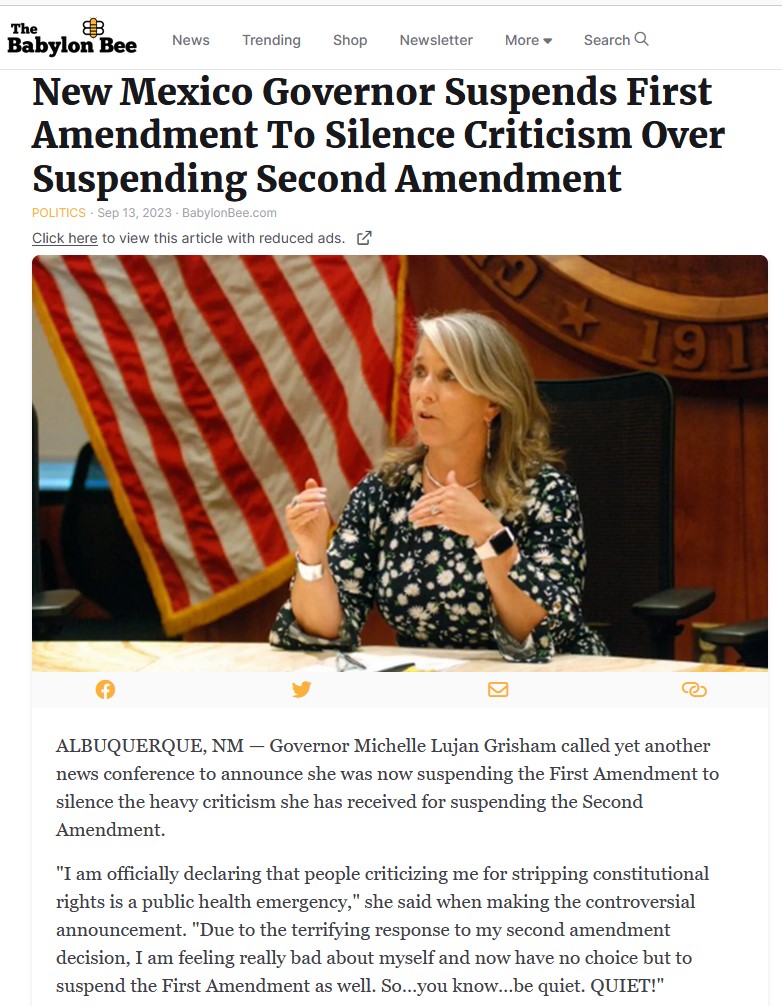 posted by Disinformation Expert Ace at
06:14 PM
|
Access Comments