ę The Very Special Counsel Jack Smith Asks Judge for a Protective Order Against Trump
|
Main
|
Feminists Tell Women: Take Your Men to the Barbie Film. If They Don't Understand Its Anti-Male Message, Dump Them. Ľ
August 07, 2023
Megan Rapinoe Finishes Her Soccer Career In Disgrace
She had a penalty kick that could have won the game, which was tied 0-0 at the time and would later be lost on free kicks, versus Sweden in the Round of 16 of the World Cup.
She decided to boot the ball into the sixth row, and then grin about it afterwards.
This the first time the US "Women's" team has exited the World Cup this early in history.
No wonder she doesn't mind men playing women's soccer.
After this performance, I'm ready for an All-Male "Women's" Soccer team myself.
Jason Whitlock is happy to see the back of her. Well no, no one's happy to see the back of her. She's got an ass made for photography, by which I mean it's two dimensional.
But he's glad to see her end her career as a "professional women's team" athlete and move on to fully commit to her Raging Activist career.
The collapse of the U.S. Women's National Soccer Team mirrors the descent of its most famous player, Megan Rapinoe.

...

Close observers were not surprised. The team has been in mental decay since Carli Lloyd retired (2020) and corporate media anointed the purple-haired Rapinoe as the unquestioned face of American women's soccer.

For the last three years, the 38-year-old winger has used the team's spotlight to grow the Rapinoe brand. The game, the competition, and representing national honor all took a back seat to self-promotion, virtue-signaling, so-called social activism centered around the BLM-LGBTQ-Alphabet Mafia, and expressing Trump derangement.

Rapinoe's handlers and major corporations partnered with corporate media to cast her as "The Great Gay Hope," the alternative-lifestyle Muhammad Ali.

Mia Hamm, Abby Wambach, Carli Lloyd, and Alex Morgan were all better players than Rapinoe. But none of them can match Rapinoe's knack for drawing attention to herself for sleeping with women -- her superpower, the behavior that makes her a legendary icon.

The same forces that have attempted to make Brittney Griner the Nelson Mandela of basketball insisted that "The Great Gay Hope" take a victory lap on the national team long past her expiration date.

To no surprise, the strategy backfired. Rapinoe acted as a locker-room cancer. She diminished the importance of competition. Throughout the World Cup, the U.S. women failed to play with passion and precision. In four games, they scored four goals and won just one match.

Fox Sports broadcaster Alexi Lalas repeatedly warned that the U.S. team would lose. Lloyd, working alongside Lalas, blasted the team after it laughed off and celebrated following a disappointing 0-0 tie with Portugal in its final group match.

The team had the wrong attitude. The team mirrored its star, Rapinoe, who was being crowned with commercials and feature stories promoting the legend of Megan Rapinoe. The World Cup was a coronation of Rapinoe ... until it wasn't.
Purple Hair don't care.
Whither Hope Solo?
ESPN, of course, celebrated her as a... Super-Patriot.
Meanwhile, the US Tennis Association permitted a man to play in the women's league, and he, get this, won.
Martina Navratilova isn't having it: She declared, "Women's tennis is not for failed male athletes."
But maybe it should be. If people like Megan Rapinoe say that men should be allowed to compete with women, then let's see every male college washout put on a wig and absolutely destroy actual women in soccer.
It's a very high-paying gig -- plus you get to shower with naked women, not all of whom are heinous.
And Men in Wigs can of course easily secure places on the national women's team:
Collin Rugg
@CollinRugg

Believe it or not, Megan Rapinoe's missed penalty kick that led to the worst USA women's World Cup finish in history was *not* the teamís most humiliating performance.

In 2017, the womenís team thought it would be a good idea to play Dallasí under 15 year old boys team.

They lost 5 - 2.

Maybe instead of spending so much time whining about their country the team should focus on practicing soccer.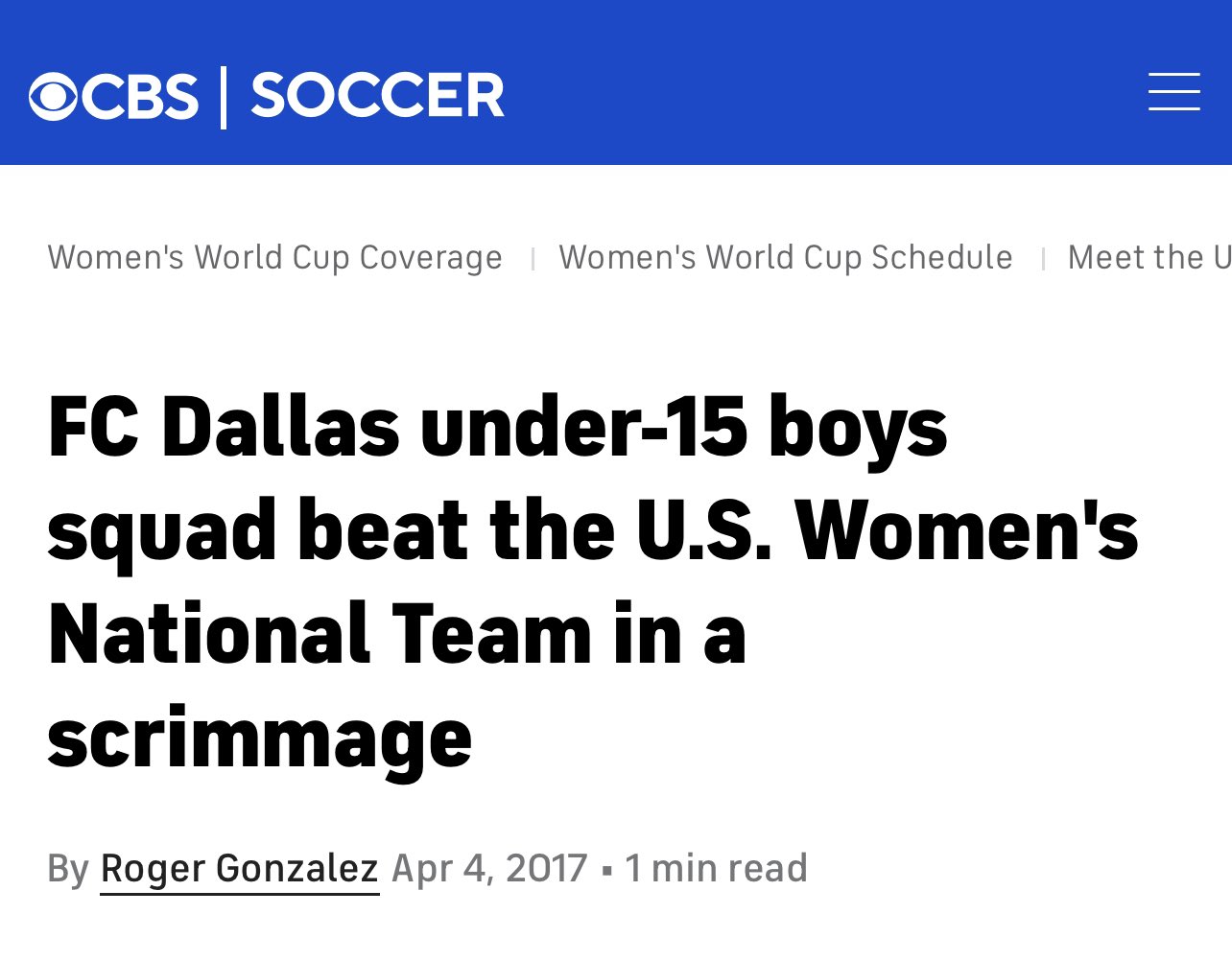 posted by Ace at
02:55 PM
|
Access Comments