« Vegans Melt Down Over Aubrey Plaza's Silly "Got Milk" Ad
|
Main
|
Happy Otterversary Cafe »
May 19, 2023
PRIDE and Prejudice of the LibsofTikTok
Alex Berenson @AlexBerenson

Someone needs to explain why this is bad, because it looks like @nytimes
was accidentally a little too honest about what "gender-affirming care" really is:






Sad news from Portland:

Portland Elementary School Cancels Pride Fest Friday After Social Media Agitation

Banning an elementary school "Pride Fest" is just like Nazi Germany!

Posted by: The ARC of History!
From BetaCuck4Lyfe, the Dodgers invited the "Sisters of Perpetual Indulgence" -- those are the men who dress as nuns and perform lurid sex acts during the vile Castro Street Fair -- to their "LGBT Pride Night."
I mean, are woke corporations now just saying that LGBT is synonymous with repulsive public displays of perversions?
I guess so. And they're okay with that. (But not if you say it!)
The Dodgers withdrew the invitation -- but only due to public disgust and complaints from Catholics, who are the group's chief objects of scorn and ridicule.
"The Dodger's choice to honor a blatantly perverted, sexual and disgusting anti-Catholic hate-group signals an alarming and dangerous normalization of anti-Catholic bigotry that should not be tolerated," the Brian Burch, CatholicVote president, said in a statement Tuesday. "The 'Sister's' evil and disturbing behavior makes a mockery of Catholic religious across the nation, the majority of whom have dedicated their lives to prayerfully and physically supporting, caring for and loving our nation's most forgotten, unloved and desperate."
LA LGBT Center, LA Pride step away from Dodgers' Pride Night amid backlash

LOS ANGELES (KABC) -- The Los Angeles Dodgers are facing mounting criticism over its decision to withdraw an invitation it extended to a group called The Sisters of Perpetual Indulgence to participate in the team's annual LGBTQ+ Pride Night.

"Our community is being used as political pawns in a way that I don't remember in my lifetime," said Joe Hollendoner, CEO of the Los Angeles LGBT Center. "This is why we need the Dodgers to not bend in the slightest, and in fact be strong in their allyship to us because it's not just about this once instance."

This is what LGBT activists are demanding we now accept?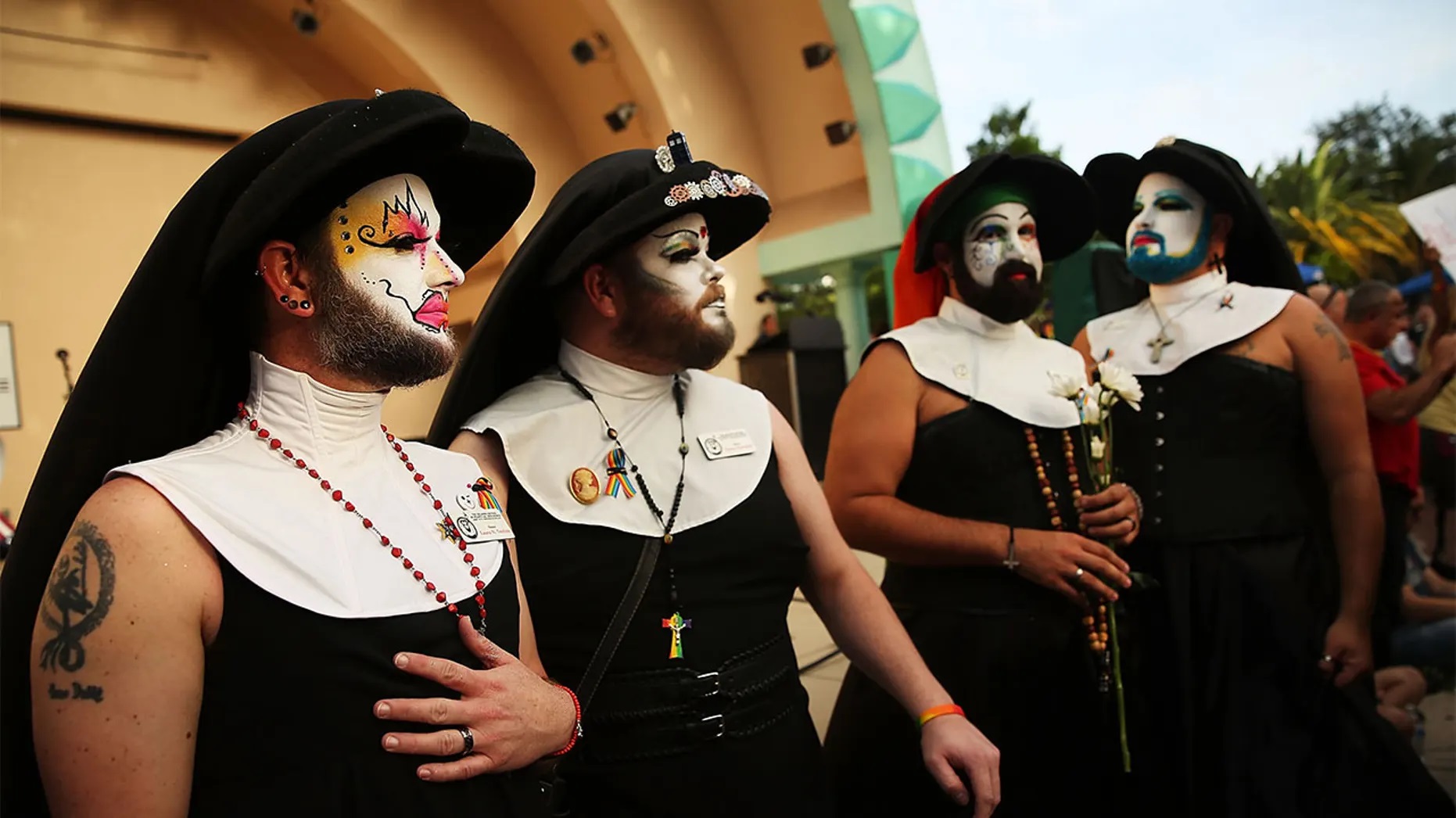 Here's some more good news, via J.J. Sefton: BLM's fundraising dropped 88% since the scandals about the founders just using all the money for self-enrichment.
Donations to Black Lives Matter have dropped off significantly since the organization's peak in 2020 following the death of George Floyd, with 2022 representing one of the left-wing group's worst revenue years by far.

According to records recently obtained by the Washington Free Beacon, the Black Lives Matter Global Network raised only $9.3 million in the "fiscal year ending in June 2022" which is an "88 percent decrease from the year prior."

It's a stark reduction in earnings compared to the money BLM was able to raise in the wake of the police killing of Minneapolis resident George Floyd in 2020. That year the organization was able to raise $80 million amid anti-police brutality protests and demonstrations that often devolved into civil unrest.
"Unrest." This is Fox News, by the way.
In addition to the controversy of the organization's brand being associated with deadly riots that occurred after Floyd's death, BLM's organizers generated more scandal by heavily enriching themselves with the revenue of donations made to the group.

The Free Beacon wrote that BLM "used that windfall to accumulate property and spread wealth to leadership while it could. Its founder, Patrisse Cullors, went on a cross-country real estate buying spree, snagging four properties in California and Georgia for a cool $3.2 million."

Additionally, "The charity secretly purchased a glitzy $6 million compound in Los Angeles in October 2020 with donor cash, which Cullors used to film videos of herself drinking wine and baking peach cobblers."
Also from J.J.: San Francisco, a sh1thole city rapidly losing its businesses, employers, and tax base, keeps focusing on the Important Things, like naming the nation's first "Drag Laureate."
Did they announce this in an elementary school? They should have. The award should have been made in a Drag Queen's workplace, a school for little children.
The nation's first-ever drag laureate was named Thursday in San Francisco.

Well-known drag performer and nightclub owner D'Arcy Drollinger was selected to the ambassador-esque position by Mayor London Breed, who called her a "a bright star" in the Golden City.

The role lasts for 18 months -- a span where Drollinger said she plans to make the city "sparkle."
I think he means he's going to pour glitter on the piles of human excrement that fill the streets, and apply lipstick and rouge to the overdose-death bums laying untreated on the ground.
I wanted to apologize for posting, with no warning, a very sick display of a drag queen/tranny show, in which they coach a very young child -- probably 8 years old -- to twerk for a crowd.
I should have just posted the link and provided a warning. In the moment, I thought it was so sick that I wanted the shock value to make my point for me, but it was wrong to make that decision and force the shock value on you without warning you.
That said, if you missed it, it's here: And it shocking and vile. All of these groomers and perverts should be arrested for the sexual exploitation of a child.
Maybe bookmark that the next time someone tells you these events are "family-friendly."
And here's another (content warning) drag queen doing sexual stripper-dances for a "family-friendly" event in Washington.
What these people consider "family-friendly" makes you wonder about how they grew up.
NBC "News" screams that evil Terrorist Parents are excluding a book from schools because it contains "LGBT themes." That's a euphemism for what it really does, which is offering children a detailed step-by-step guide for "Boy On Boy Sex."
DeSantis signed four bills this week that, outlaws trans "care" for minors, threatens fines and loss of liquor license for businesses that exhibit shows containing nudity or "simulated sex" in public, bans the use of trans/fake pronouns in grade school, bans woke indoctrination in schools, and other good stuff.
Ron DeSantis has been waging a hugely bigoted war on the LGBTQ+ community for more than a year now, and if you're wondering what the proof for such a statement is, we've got three words for you: "Don't Say Gay." On Wednesday, that war continued, when the Florida governor signed four bills into law that will make life hell for trans people.

One of those laws criminalizes using a bathroom that does not correspond to one's assigned gender at birth. (The rule applies to bathrooms in adult correctional institutions, schools (including colleges), juvenile correctional facilities, jails, and "public buildings that are owned or leased by the state, a state agency, or a county, city, or special district.") The crime in question would be trespassing, if you can believe it.


Another law prohibits doctors from offering gender-affirming care--like puberty blockers, hormone therapy, and surgery--to minors, even if they have their parents' permission. It also gives Florida courts the power to interfere when minors go out of state for treatment, despite the fact that DeSantis, once upon a time, claimed to believe that "A limited government is much more likely to be a competent government." (Last week, the governor signed legislation into law that allows health care providers and insurance companies to refuse care on "religious, moral, or ethical" grounds, a move that is expected, per Insider, "to disproportionately affect transgender people seeking care."

Rounding out what Equality Florida has dubbed DeSantis's "Slate of Hate" was the signing of a bill blocking minors from watching "adult live performances" (read: drag shows), and another that says schools can't make teachers or students to use the correct pronouns of trans people. The text also makes it easier to get books banned in school libraries, because if there's one thing Ron DeSantis hates, it's knowledge, about anything. "If a parent wants to engage in [discussions of gender identity and sexual orientation] with their kid...then that's up to them, but we should not be putting that in the curriculum in school," DeSantis said Wednesday. (For those of you keeping up at home, parents should have a right to decide what their kid learns about in school, but not if their trans child should be allowed to receive gender-affirming care. That's for Ron to decide.)
Cry... cry... fuel my boner-rocket with your tears...
Ari Drennen @AriDrennen

MSNBC's @chrislhayes: "Telling parents how they can or cannot raise
their children is among the most authoritarian things a government can
do. And now that is exactly what Ron DeSantis and the Republican Party
in Florida... are doing."

Why can't we just have Parents' Day, so that trans men don't feel excluded?
This falls into the very large category of, "Things that 0.1% of the population want to force the other 99.9% of the population to change to accommodate them." Hey, how about you f***ing try accommodating us for a change?
The blind have it tough -- but they do not demand that we re-architect all of society so that blindness is treated as the normal, default setting as far as sightedness. They know they have an impairment that makes them different from other people, in that respect; they do not demand that the rest of the world spend their lives role-playing as blind people just to make them feel "accepted" and "validated" and "seen."
99.9% of the world is not trans -- at least not yet. And no, we will not all pretend to share your gender confusion just so you don't feel like you're a 0.1% minority.
This is stuff you should be working out with your psychiatrists.
Trans activist and, ahem, "life coach" encourages doctors to break the law to continue "transitioning" children in Mississippi. He says there are things he wants to do "that I can't say on here (Tik Tok)." He continues: I'm going to get me some (makes gun-slide noise)... I will literally die on this hill."
He's talking about terroristic violence, of course. Like the Trans Terrorist in Nashville.
And he's not worried at all about saying so openly. Why should he be? Social media monopolies, and the FBI, have decided that leftists can encourage and even organize violence online without consequence.
A trans "activist" physically attacked conservative protester "Billboard Chris." If you think this mentally-ill criminal will be prosecuted for this, you're dreaming.
This trans activist is deliberately affecting a cartoonish manner of speaking that very young children may find amusing, but no one over age 12 will. Why is it using a voice that will appeal to only very young children to promote... hormone blockers?
Well, obviously: because it's trying to sell puberty blockers to little kids who haven't yet begun puberty.

For the past ten years, Dove's advertising has consisted of the same message:
You're unattractive or grossly overweight. But you have a hidden beauty that no one can see, except your mother and also maybe some people with disordered vision.
At some point, don't women realize that if they're buying Dove, they're self-identifying as Cheesecake Factory 2's?
Dove
The beauty product for those without beauty.
Including transsexuals who aren't even making an effort. Obviously.
Speaking of, Dylan Mulvaney has complained about the Bud Light backlash causing him stress and sleepless nights.
Is he stress-eating, too? (Language warning; Dylan Mulvaney warning.) Looks like he's going for the thicc look. Like a young Jonah Goldberg.
By the way, the comedian in the second half of that clip is Chrissie Mayr, who does the Grace Randolph and Frosk impressions on Friday Night Tights.
Another ad for homeschooling here.
Is it transphobic to not want to date a trans person? It sure is, says this person.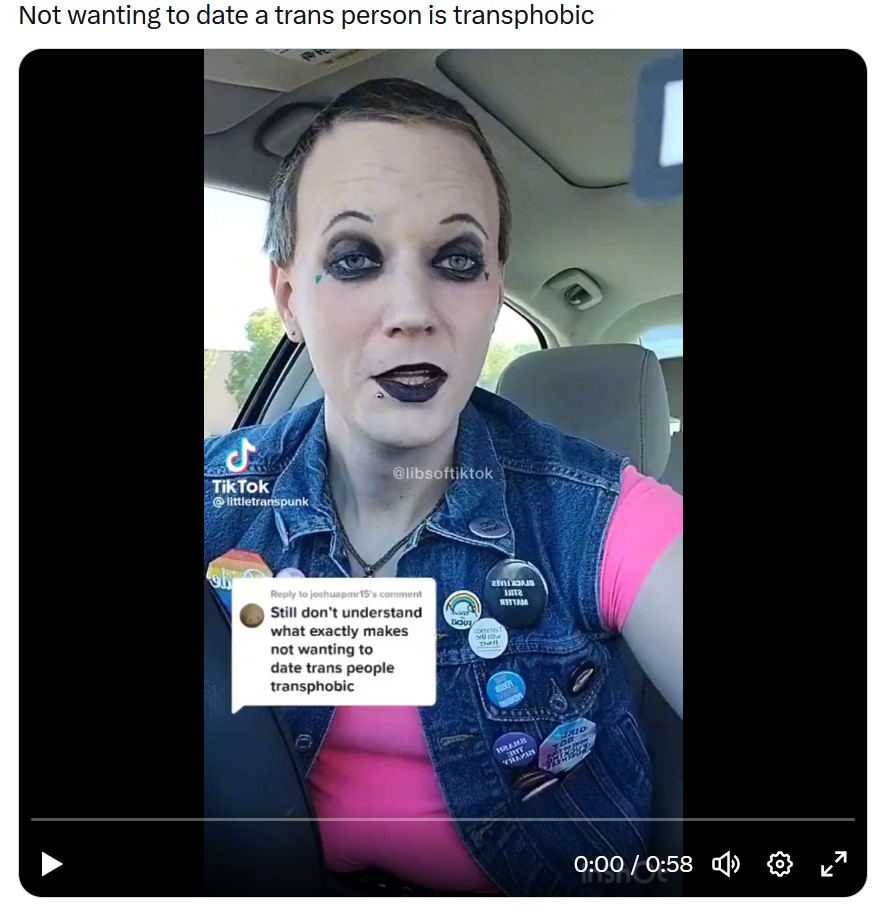 I mean, as long as this ruling is coming from a credible source, I guess I believe it.
There's is a danger to constantly attempting to bully people with the "transphobic" label to make them do what you want: At some point, your ask is too big. And you say, "Well, if you don't give me your big ask, you're at transphobe."
And at that point, they say: "Okay, I am a transphobe. Now I will identify, proudly, as a transphobe. So now that that's cleared up, and your pet slur now means absolutely nothing to me, I'm going to start speaking my mind about the viral mental illness you are trying to infect children with."
And then what? Do you threaten to call them a "racist" too, if they won't comply?
That's where we are now.
People have had it.

The Hasbro toy company -- which really wants you to boycott its products -- uses the Transformers to encourage your kids to go trans.
Megyn Kelly @megynkelly

May 12
This is DISGUSTING
I'm quoting Megyn Kelly there not because of what she says, but who's saying it. She used to be Little Miss Social Liberal, who never wanted to get crosswise with the leftwing media elite. Now she's becoming... radicalized. Serendipitously, she just admitted that she had been wrong about transgenderism, wrong to be "compassionate" and play along with the delusion, just yesterday.
A lot of women -- who trend extremely socially liberal, who trend incredibly pro-gay (in fact, white women are often more zealously pro-gay than gay men are), and who are extremely susceptible to group pressure and media messaging -- are getting really tired of this shit.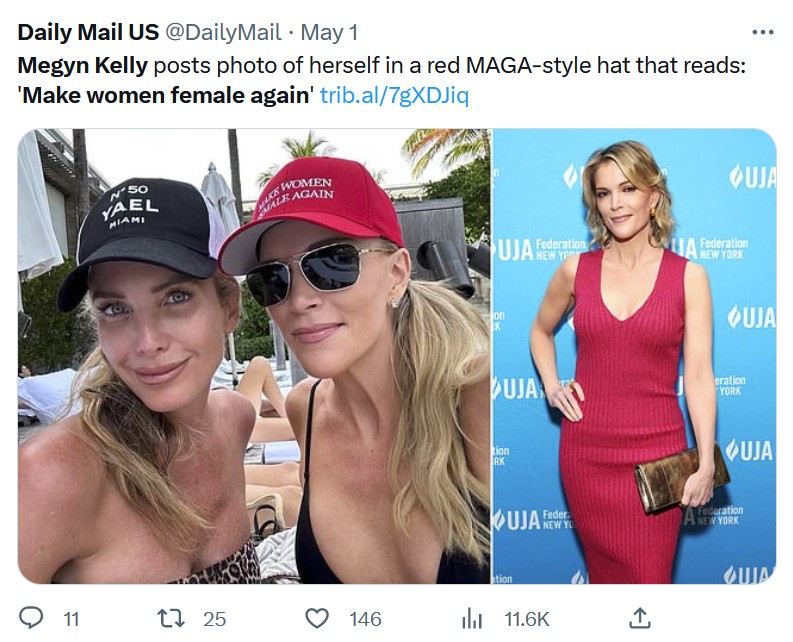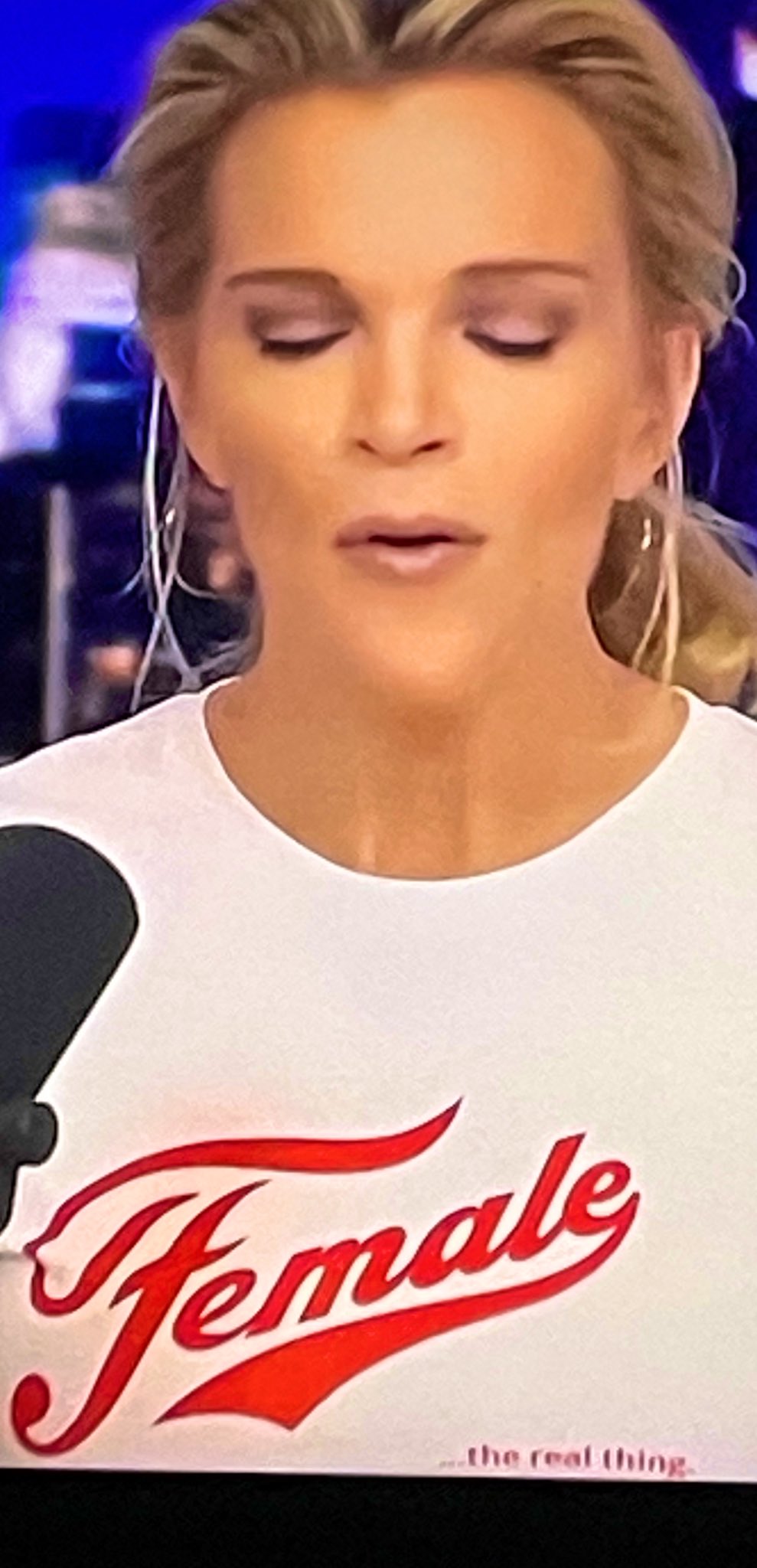 "Cis women are the most transphobic people," this AWFL says.
Why yes -- increasingly, they are! Congratulations, you've turned the one group most susceptible to social bullying against you.
Women can also be very mean bullies in return.
And you've turned them against you.
Good luck with that!


posted by Ace at
06:25 PM
|
Access Comments