« "QAnon Shaman" Jacob Chansley Released from Prison into Halfway House
Update: Order Was Signed Back in January
|
Main
|
DOJ Finally Makes a Single Arrest In the Pregnancy Counselling Center Firebombings Case »
March 30, 2023
Trans Terrorist Chose School Because There Was Too Much Security At the Other Two Schools It Considered
I guess it didn't believe the left's claim that good guys are incapable of using guns effectively to defend lives.
Swope told The Post that Hale had "looked at" two other schools, both public, before deciding "the security was too great to do what she wanted to do."

"So she chose a private Christian school, for, probably the reason is that the security is a whole lot less," he went on.
Rob @_ROB_29

Aubrey Hale initially chose a different location for her attack

Nashville Police Chief: "There was another location that was mentioned, but because of a threat assessment by the suspect of too much security, they decided not to,"
Democrats continue blocking posting cops -- school resource officers, or SROs -- at schools because 1, BLM told them that they demand an absolutely lawless environment where criminals are free to be their worst selves, and 2, doing something practical to stop shootings at schools would stop them from getting what they really want, which is gun confiscation carried out by heavily-armed federal agents.

Now a Nashville City Council member spins the NY Post, saying they'll release the trans terrorist's manifesto... eventually.
Nashville school shooter Audrey Hale's manifesto is set to be released to the public after the FBI and its highly skilled team of criminal profilers analyze its contents, a Nashville City Council member revealed to The Post.

The FBI's Behavioral Analysis Unit is working "in tandem with" the Metro Nashville Police Department (MNPD) to complete "a very in-depth analysis of certain aspects of the shooter's life," Robert Swope said Wednesday.

"The manifesto is going to be released. It's just a matter of when. There are some incredibly brilliant psychological minds and psychological analysts combing through her entire life," added Swope, who is a member of the city council's Public Safety, Beer and Regulated Beverages Committee.

Yes, it will be released sometime in 2029 with a lot of redactions by the FBI.
Is that the plan? Don't bother answering; we all know that's the plan.
The radical "trans collective" calling for a "Trans Day of Vengeance" justified the murder of Christian children by explaining the Trans Assassin had no other choice, she had "no other effective way to be seen."
They also declared: "Hate has consequences."
A radical transgender group said the transgender Nashville shooter felt "no other effective way to be seen" than killing six people at a private Presbyterian school.

The Trans Resistance Network (TRN), a far-left transgender "collective," released an inflammatory statement on Monday in the wake of the Covenant School Nashville school shooting by transgender woman Audrey Hale that killed three 9-year-olds and three adults.

Calling the mass murder a dual "tragedy," the group wrote the first was the deaths of the children and adults in the school and extended their "deepest sympathies and heartfelt prayers to those families dealing with the loss of loved ones."
A "dual tragedy." Mustn't forget to praise the killer!
A radical transgender group said the transgender Nashville shooter felt "no other effective way to be seen" than killing six people at a private Presbyterian school.

...

"The second and more complex tragedy is that Aiden or Audrey Hale, who felt [she] had no other effective way to be seen than to lash out by taking the life of others, and by consequence, [herself]," they continued.

TRN wrote they "do not claim to know the individual or have access to their inner thoughts and feelings" but they "do know that life for transgender people is very difficult, and made more difficult in the preceding months by a virtual avalanche of anti-trans legislation, and public callouts by Right Wing personalities and political figures for nothing less than the genocidal eradication of trans people from society."

"Many transgender people deal with anxiety, depression, thoughts of suicide, and PTSD from the near-constant drum beat of anti-trans hate, lack of acceptance from family members and certain religious institutions, denial of our existence, and calls for de-transition and forced conversion," TRN claimed.

The victims were shot and killed when Audrey Hale, a 28-year-old transgender former student of the Covenant School, entered the premises with two "assault-type rifles" and a handgun and began firing, police said.

"All of these factors contribute to a population that is medically under-served and who often faces anti-trans bias while accessing care leading to significant physical and mental health disparities," they continued.

"Hate has consequences," the radical trans "collective" added.
No chiding from the leftwing media, which runs thousands of stories about the "radicalization pipeline" that exposes impressionable young men to the dangerous incitements of... Jordan Peterson.
No, of course not. The media always finds ways to justify and "contextualize" leftwing violence, so of course they'd have no problem with mere incitements to violence.
TRN then pivoted to laud transgender people in the wake of the shooting that left three 9-year-olds dead as well as three adults in at the Christian private school.

"It is a testament to the inner strength and beauty of transgender people, that despite the overwhelming odds of homelessness, job discrimination, and constant anti-trans bigotry and violence, so many of us continue to persevere, survive and even thrive. We will not be eradicated or erased."
Anyone in the straight-shooting FBI opening a file on this terrorist organization or nah?
Let me make it easier for them: 90% of trannies are white, so this is a white hate organization. Has that made it a little easier for the FBI?
Let me put it simply:
If the media and law enforcement gets serious about enforcing their codes against incitement of violence from the trans extremists, why should any of us care about such incitements going in the other direction?
Got it? As the Trans Radical Collective itself admits, "Hate has consequences."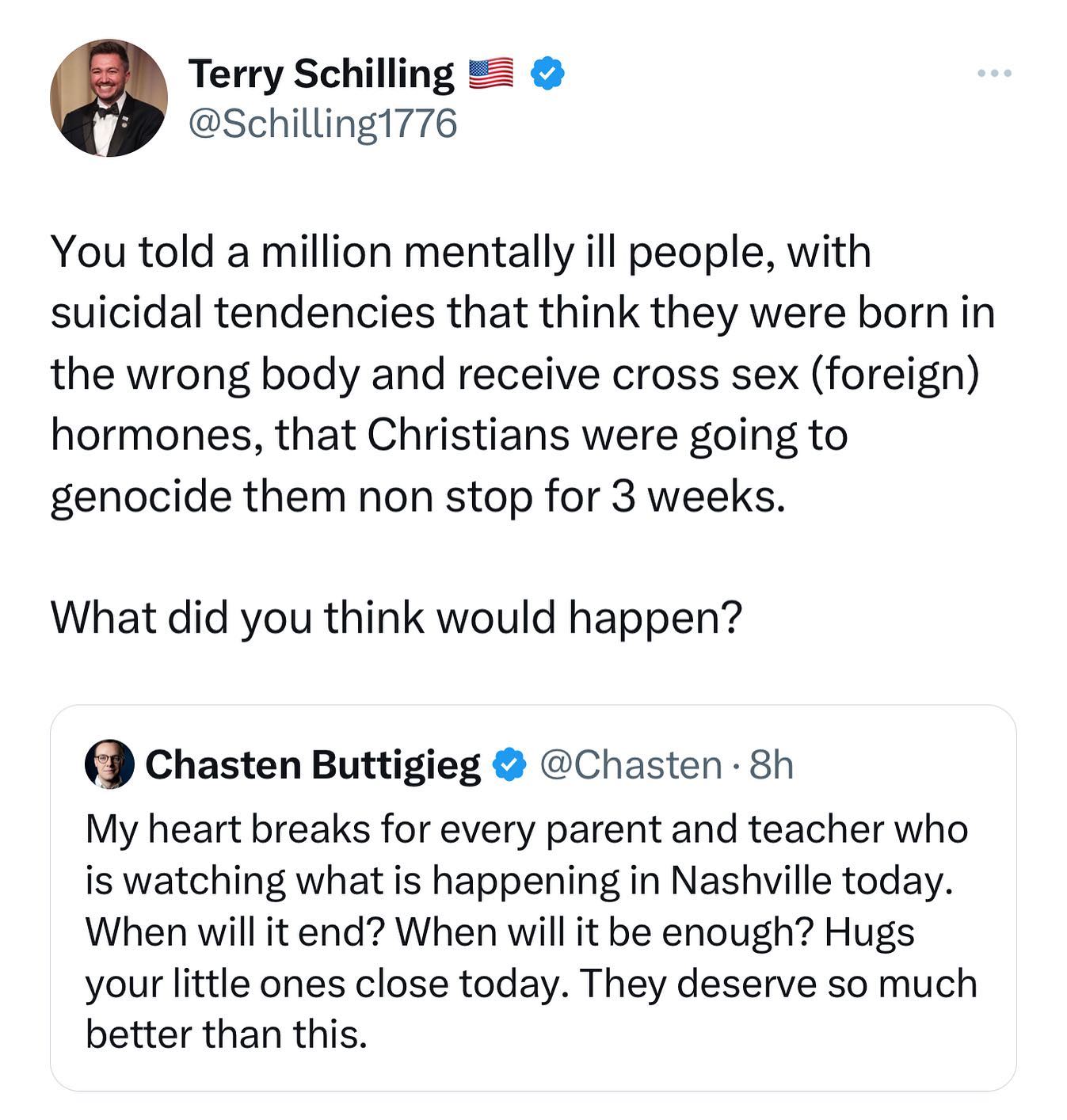 posted by Ace at
01:03 PM
|
Access Comments