« Hunter Biden, Flush With Cash From His "Sugar Brother," Starts Filing His Lawsuits Against People for the Crime of Telling the Truth About His Influence-Peddling, Crack-Smoking, Whore-Banging Ass
|
Main
|
Quick Hits »
March 17, 2023
Trump-Backing Super PAC "MAGA, Inc." Files Scammy Ethnics Complaint Against Ron DeSantis, Seeks to Have Him Removed from "Any Future Florida Ballot" (That Is, any Presidential Primary or General Election Ballot)
Well I don't like covering these stories at all. I don't like being cross-wise with half of the readership.
I also can't just pretend that this hasn't happened.
I know when I post negatively about some things that some readers report, my tone is read (and maybe is) scoldy, as if I'm trying to shame people for something someone else entirely did.
I don't mean to do that and I want to underscore I do not mean it here. Even if I don't like Trump's tactics, obviously, no one here could change Trump's behavior even if they wanted to. Trump does what Trump does, period.
Also, everyone here supported Trump in the past, so we've all collectively overlooked or even justified his, um, pugnaciousness. So if Trump supporters want to keep overlooking this, I can't blame them -- I've overlooked some Trump stuff I really didn't like, and, in the less-than-50% chance he becomes the nominee again, I'll go back to overlooking his bad behavior again, too.
But I'm getting really tired of overlooking it. One of the greatest draws of Trump was, for me, this exhilarating realization that I was now allowed to stop defending all of Bush's failures.
I didn't have to lie anymore. I could just say, "Yeah, that guy failed at most of what he tried and he also 'succeeded' in doing things I didn't want done, and I'm sick of having to defend his ass and I won't do it any longer."
But I'm right at the same place now with Trump. And I see DeSantis as a similar chance to say, "Yeah Trump shut the country down and never finished the wall and no his call to Ukraine wasn't 'perfect' and I don't think he reads his briefings or ever really knows what he's talking about and I'm tired of defending him."
I know people are sticking with him -- "the devil you know," one commenter said, plus his unambiguously successful first 3 1/2 years of his presidency (only stumbling due to an unprecedented pandemic created by the country he was warning everyone about for years, which was somehow... his fault?), plus wanting to support a guy who has been absolutely ill-treated and persecuted by an Oligarchy reasserting its Right to Rule and right to destroy anyone who threatens that Right to Rule.
But I am really tired of defending him, now that he has a successor that embraces Trumpism but without all the Trump baggage, and would like to stop doing that. I know opinions vary.
I just don't think he can win, and the eternal response -- "Well no one can win!" -- is not persuasive. If no one can win, what do you care who we nominate to lose? Trump supporters sure act as if winning an election is a possibility.
Anyway, all that preamble aside:

MAGA, Inc. isn't "affiliated with any candidate," so this isn't necessarily done at Trump's direction.
On the other hand, I don't hear him disavowing the Obama-like tactic of attempting to get his opponents taken off the ballot.
I don't see any evidence for the allegations here that DeSantis is using taxpayer money for personal travel. This complaint just asserts that, and then demands that DeSantis be disqualified from running against Trump.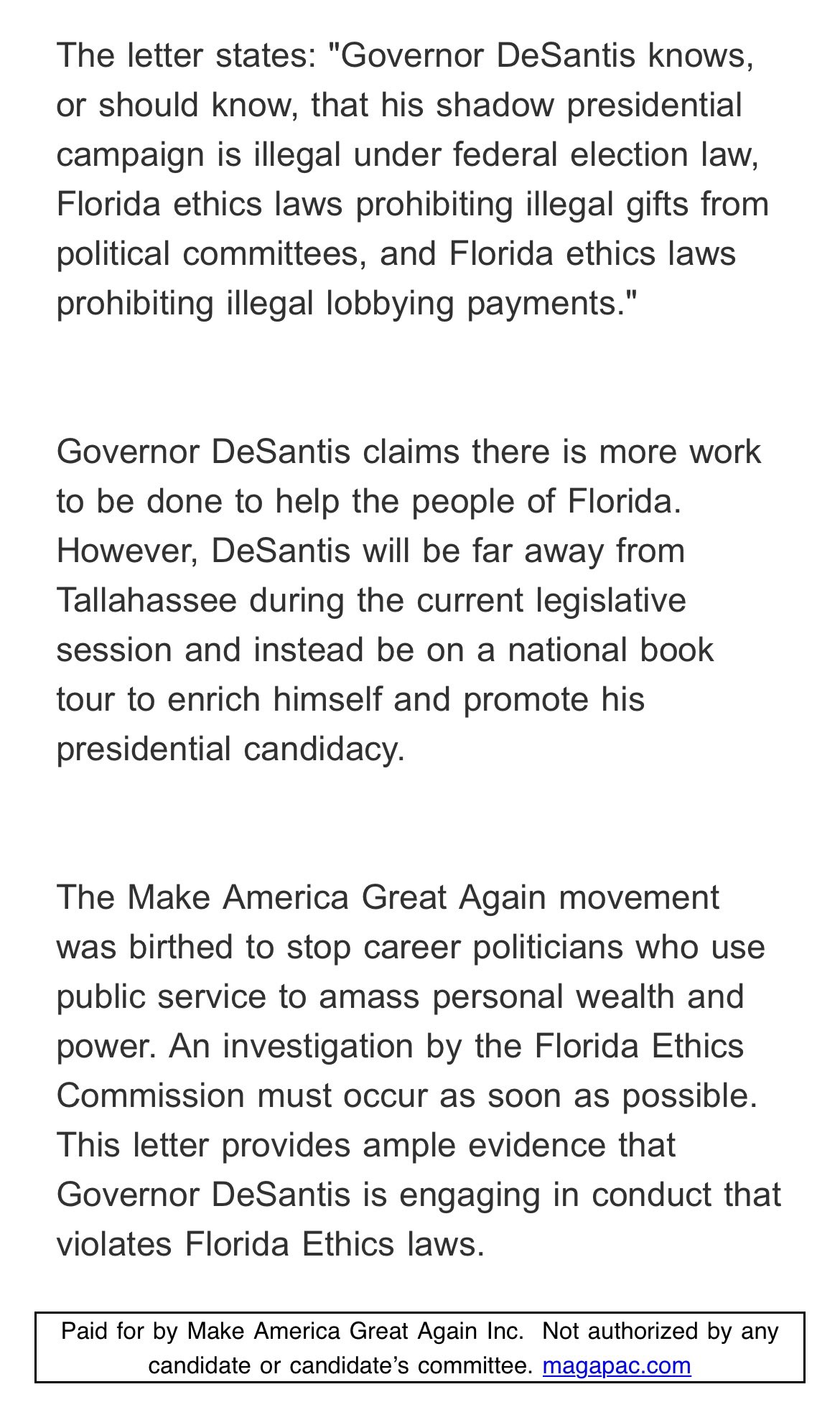 DeSantis knocked the scammy filing as "frivolous."
Ron hits back at Don's 'frivolous' investigation demand: DeSantis' office slams Trump PAC's 'politically-motivated' and inappropriate accusation he is already running a 'shadow campaign' for president

Florida Gov. Ron DeSantis' office hit back Wednesday at a Trump-aligned PAC that wants the Florida Commission on Ethics to investigate DeSantis

DeSantis's comms director called the complaint 'frivolous' and said it was 'inappropriate' to use the Ethics Commission this way

A 15-page complaint from MAGA, Inc. claims DeSantis has launched a 'shadow presidential campaign' and is breaking Florida law

I don't understand where MAGA, Inc. is getting the idea that you're not allowed to make moves that will set up a presidential run before you've actually declared a presidential run. That is done in literally every presidential run. Trump declared early just to scare the field into not running against him, which obviously did not work.
So now MAGA, Inc. has decided that everyone has to declare early like Trump did, just because.
By Nikki Schwab, Senior U.S. Political Reporter For Dailymail.com

Florida Gov. Ron DeSantis's office on Wednesday hit back at a Trump-aligned political action committee for filing a complaint with the Florida Commission on Ethics charging that DeSantis was running a 'shadow presidential campaign.'

'Adding this to the list of frivolous and politically motivated attacks. It's inappropriate to use state ethics complaints for partisan purposes,' DeSantis' Communications Director Taryn Fenske told DailyMail.com in a statement.

A 15-page complaint from MAGA, Inc. claims DeSantis has launched a 'shadow presidential campaign' and is using it to amass 'signficant personal wealth and political capital.'

Taylor Budowich, the head of MAGA, Inc., argued to Glenton Gilzean Jr., the chair of the Florida Commission, and a DeSantis appointee, that there is 'strong evidence' that DeSantis has engaged in 'illegal conduct.'

DeSantis, the complaint argued, is making moves associated with getting a presidential campaign off the ground, such as hiring staffers and meeting with key figures in early primary states, but is doing so 'at the expense of Florida taxpayers.'

Budowich argued that DeSantis is using his book tour as a guise for a presidential campaign and is receiving 'gifts' associated with it, including hotel rooms, speaking venues and food.

'Should the Commission find that a violation occurred, it should impose penalties that include removing Governor DeSantis from office and disqualifying him from any future ballot in the State of Florida,' a press release from MAGA Inc. said.

I know, I know: "politics is a contact sport," and DeSantis "started this" by launching attacks on Trump through his "globalist backers," "attacks" which no one can ever quote or cite. They just assert that they're happening. Somewhere.
I think what they mean is that if anyone praises DeSantis, or if DeSantis just rises in popularity without taking any negative shots at Trump at all, that's still a "betrayal" to Trump, and that is therefore an "attack."
I don't get all this "betrayal" nonsense. Trump is a transactional guy himself, but demands others treat him with loyalty. He gets to act transactionally, but we have to all act non-transactionally towards him.
I don't know if this "politics is a contact sport" line is going to hold true for both Trump and DeSantis -- if DeSantis points out that maybe Trump wouldn't be so distracted if he hadn't directed his sleazy fixer Michael Cohen to pay a porn star not to talk about an affair they had in 2006, would that be a case of politics being a contact sport, or would that be an Unforgivable Attack on a Fellow Republican Which is Automatically Disqualifying?
I think the latter, of course.
Trump indictment over Stormy Daniels payments is 'more probable' - but he can win: Lawyer who's cleared Natalee Holloway suspect and accused cop killers and A-Rod insists ex-President committed 'no crime'

Trump lawyer Joe Tacopina said he holds hope that 'justice will prevail'

He defended Trump's statement denying knowledge of $130k 'hush' payments

Tacopina called it 'not a lie' since there was a non-disclosure agreement

By Geoff Earle, Deputy U.S. Political Editor For Dailymail.com


Donald Trump's lawyer Joseph Tacopina called a potential indictment of the former president 'more probable' -- after defending Trump's claim not to have knowledge of hush payments to Stormy Daniels as 'not a lie.'

...

Trump continues to deny having a sexual encounter with Daniels, a former porn star, as she alleges happened back in 2006.

In a Tuesday interview with NewsNation host Dan Abrams, Tacopina was pressed on the $130,000 payment executed by Cohen.

Here's why that's not a lie,' said Tacopina. 'Because it was a confidential settlement. So, if he acknowledged that, he would be violating the confidential settlement. So, is it the truth? Of course, it's not the truth. Was he supposed to tell the truth? He would be in violation of the agreement if he told the truth.'
The confidentiality agreement that he purchased required that he lie, so it's not a lie.
Okay but the whole point of the NDA was to prevent people from speaking, about what is, I'm pretty sure, the truth.
I don't think Trump should be prosecuted for this but... hey, if one side is going to support scammy charges, shouldn't both sides support them? After all, "politics is a contact sport." "We're not playing bean-bag." Choose your favorite "all is fair in politics" cliche, but then apply it equally to all parties.
I'm also, again, growing less inclined to defend Trump, given that he himself is always making nasty attacks, and trying to put other people in the same trouble he's in.
A new poll shows Trump up 46% to 32% over DeSantis among Republicans, improving on the last reading of Trump 42% DeSantis 36%, but then again, Trump is still only drawing less than half of the party despite being a very well known commodity and having 100%+ name recognition, while DeSantis is already in striking distance despite not having announced yet -- Meatball Ron is still running this apparently-illegal "Shadow Campaign" -- and despite many people not knowing who he is.
If Trump is acting a little bit worried about DeSantis -- he should be. He's not imagining things.
I think part of the justification for Trump supporters' demand that no one be allowed to criticize Trump is their idea that Trump is almost inevitable, so anything that damages him -- even a strong primary challenge conducted fairly and positively -- i just hurting the ultimate Republican candidate.
But I don't think Trump is the most likely Republican candidate. I think DeSantis is. I think the fact that DeSantis is already competitive with Trump despite not even announcing his bid indicates that he's actually the favorite in the race.
So if we're talking about disallowing attacks on the likely eventual Republican nominee -- then Trumpworld must stop its attacks on DeSantis.

DeSantis' fellow Freedom Caucus member Chip Roy became the first congressman to endorse Meatball Ron, even though he's running an unprecedented Shadow Campaign where he makes moves to run for president before actually announcing he's running for president.
A co-conspirator in Meatball Ron's crimes!
GOP Rep. Chip Roy, of Texas, has endorsed Florida Governor Ron DeSantis for the 2024 presidential race, even though DeSantis has not yet announced he's running.

Roy sent out a fundraising email Wednesday noting his early support for DeSantis and wrote that when Republicans choose their nominee, "it's time for younger, but proven, leadership to offer America eight solid years of transformational change."

"It's time for Ron DeSantis to be President of the United States," wrote Roy. He praised DeSantis' rejection of COVID vaccine mandates in Florida, his plane flight of migrants from Texas to Martha's Vineyard and the substantial election victories scored by DeSantis and Florida Republicans in the midterm elections last year.

While DeSantis is not in the 2024 presidential race yet, he has started to build his political infrastructure. And in recent weeks he's also traveled to promote his new book and his "Freedom Blueprint" in Iowa and Nevada, two early presidential primary states. He's also scheduled to headline a Republican Party dinner in New Hampshire in April.
Crimes! Crimes! Crimes! Disqualify him! Remove him from every ballot!
This pisses me off because Trump and Trumpworld knows this is what the left is trying to do to Trump -- beat him through legal machinations and abuse of the courts, instead of facing him in an election.
And yet, MAGA, Inc. decides to do the same thing to DeSantis. Maybe on the conspiracy theory that "Ron DeSantis' globalist backers put the Soros DA Alvin Bragg up to prosecuting Trump." Who knows what horseshit will be fabricated to justify all this.

It makes me a lot less willing to press for Trump's case. If "politics is a contact sport," then let's start trading hits. Including the low ones.

I really suspect that Trump is ultimately behind this, because this kind of trashcan stuff is extremely popular with Trump's Twitter agitators -- who are almost certainly being paid by Trump.
That doesn't apply to anyone here. It's a couple dozen low-rent "influencers."
Maybe DeSantis has started counterpunching against Trump.
He doesn't name Trump here -- he attacks Fauci and Birx.
But say, who was it who followed Fauci's and Birx's advice, and kept them in their jobs...?
Via David Strom, a DeSantis backer, who points out that Trump didn't just passively let these guys impose lockdowns.
He actually took credit for them:
Actually Sweden did better in preventing deaths than the US, which is the whole point, isn't it?
This is interesting: Sweden did have more covid deaths than their fellow Scandavian countries, which locked down. But their overall mortality, the "excess deaths" they saw during the covid years, the deaths beyond the anticipated historical/actuarial average -- were... incredibly low.
Unlike in nations like the US, which let serious non-covid conditions fester, delaying doctor's appointments, treatments, etc. And just making people miserable and sick, psychologically and physically, which of course has dire effects on mortality.
Is it fair for DeSantis to bring up Trump's advisors Fauci and Birx? Well, politics is a contact sport, I keep hearing, and even if it weren't, bad policy choices are always fair game for critique.
As I've said, I forgive Trump for buckling to the Safetycrats on covid. It was an unprecedented situation, he was under incredible pressure, and the "experts" were uniform in their demands... and uniform in their error.
Still, while some errors can be excused, they can never actually be praised. DeSantis got this right. Yes, as Trump says, he did order a shutdown of the beaches for two weeks... Based on Trump's advisors' demands, and Trump's own demands. Trump criticized Georgia governor Brian Kemp for opening some bars and restaurants and gyms -- "I just think it's too soon" -- the week before "Shutdown Ron" gave his brief shutdown order.
But Meatball Ron saw his mistake quickly, and corrected.
And Meatball Ron was under the same intense pressure as Trump. Even worse pressure, because Meatball Ron was defying "the experts," while Trump was echoing them.

posted by Ace at
04:03 PM
|
Access Comments