« Hunter Biden Wanted Office at Biden's Penn Center Office, Where The Classified Documents Were " " " Stored " " "
|
Main
|
Quick Hits »
February 07, 2023
Insurrection: Trans Extremists Break Into Oklahoma State House With Intent of Stopping Democratic Vote on Law
You'll be forgiven if the idea of an angry, threatening mob invading a "sacred space of democracy" with the express intention of stopping or delaying a democratic vote sounds a little "insurrection-like" to you.
Before getting to that, let's talk about the other recent incidents of Trans Bullying we're being forced to endure.
The game that trans extremists demand you not play or purchase, Hogwarts Legacy, is the number-one selling game, thanks partly to the transextremists essentially advertising the game to normies. If you want to tell the transextremists to shut the f*ck up and see their psychiatrists more regularly, then buy this game, their Streisand Effect advertising campaign goes.
Of course it helps that the game is very good. IGN gave the game a 9 out of ten, which is obviously a great score. (Even though game rating scores are inflated and basically start at a 6 or 7. Even so, 9 is a good score.)
Hogwarts Legacy Review In almost every way, this is the Harry Potter RPG I've always wanted to play.

Like many, I've been waiting for a truly excellent Harry Potter game since I was in the third grade. In that time, we've gotten some respectable LEGO Potter games, an underwhelming EA Sports Quidditch game for some reason, and even suffered through the fevered nightmare that is Harry Potter Kinect. But none of these has come close to fulfilling that fantasy of receiving a Hogwarts admission letter that opens the door to a secret world. With Hogwarts Legacy, I'm happy to say that we finally got a Harry Potter game that captures some of that magic. Its open world map absolutely nails the vibe of Hogwarts School of Witchcraft and Wizardry, it has spellcasting combat that's stupefyingly good, the characters that inhabit it are charming and unforgettable, and it is positively brimming with countless diversions to soak up dozens of hours of your time. It may not be the most impressive technical achievement and it is certainly cursed with a lack of enemy variety, but none of Hogwarts Legacy's issues can cast a Descendo charm on this triumphant visit to the Wizarding World.
But IGN is so afraid of the Trans Bullies that they appended this "Please don't hurt us" "disclaimer" to their review, agreeing with the Trans Bullies that J.K. Rowling is a terrible bigot for not wanting battered women to share shelter quarters with angry, mentally-ill men.
Despite the bullying and threats, the transextremists' coerced boycott failed.
Days before Hogwarts Legacy's official release, the verdict is already in: Efforts to rally a boycott of the much talked-about video game over its association with embattled author J.K. Rowling have failed.

...

The news will surely come as a major disappointment to Rowling's army of detractors, who had launched a campaign to see the highly anticipated game relegated to clearance bins after failing to sell.

And it's not for lack of effort. Twitch streamer Will Overgard, also known as Viking Blonde, last month shared a viral video on social media in which he urged his followers not to purchase the game.

...

While the post was met with some support on Twitter, a number of people commented under the video that they intended to purchase the game simply to spite the people campaigning for its failure.
Note that the game is on sale as of today.
This web developer and transextremist developed a Doxxing app to discover who streamed the game. So that the necessary pressure could then be applied to these Trans Dogma Defiers.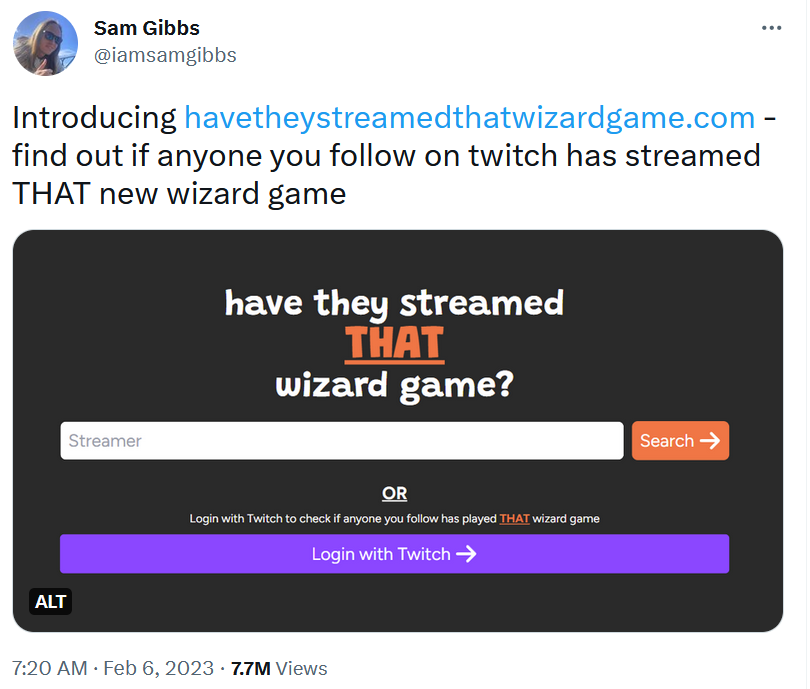 Trans extremists are doing what they do, bullying and threatening normal, non-mentally ill people:
A new "Harry Potter" themed video game, "Hogwarts Legacy," threatens to be the last game some Twitch streamers ever play in their careers, thanks to a new website.


...
A website -- "havetheystreamedthatwizardgame.com" -- allows Twitch users to find out if any of their favorite streamers have played "Hogwarts Legacy."

Many Twitch streamers and commentators predicted that the website would quickly become a cancelation tool for those who dare to play a video game that is tied to the "Harry Potter" franchise, especially after J. K. Rowling was attacked for being "transphobic."

Political commentator Ian Miles Cheong attempted to caution streamers, some of whom rely on the platform as their main source of income, about the site. "Warning to any Twitch streamers: If you stream Hogwarts Legacy, you can say goodbye to your career. The LGBT activists have created a website to check to see if you've even streamed the game at all. Expect your sponsors to leave you over transphobia."

"Good to see the boycotting has naturally turned into targeted harassment. With its own database to boot! Think I'll take 2 copies of Hogwarts Legacy now," popular Twitch streamer told his over 239,000 followers on Twitter.

Washington Post TikTok reporter Dave Jorgenson targeted the creator of the "Harry Potter" franchise directly after one caller accused Rowling of "transphobia" during a discussion about "Hogwarts Legacy."

"She IS transphobic and it's not exactly subtle," Jorgenson wrote.
But that's just the bullying from the trans extremists we've gotten used to.
But they're also staging insurrections, now. They "stormed" the Oklahoma state house declaring "This is our house now!," with the declared intention to prevent the passage of a law which would forbid trans drugs and surgeries for underaged minors.
Note that Fox News is here, as usual, pushing the leftwing media line -- they speak of the insurrectionists "gathering," and do not mention that they pushed their way inside the state house. Fox News just wants to talk about the protest outside the state house.
Hundreds of "Trans Lives Matter" protesters gathered at the Oklahoma state Capitol Monday to demonstrate against legislation that would restrict gender transition-related medical care.
"Medical care."
This is Fox News, the "fair and balanced news alternative."
Videos showed protesters chanting "this is our house," and "protect trans kids," and holding signs that read, "Protect trans rights" and "My body, my freedom," outside the Capitol building and inside the rotunda.

The protest took place during Gov. Kevin Stitt's State of the State address, in which he called on the legislature to pass a law banning gender transition medical treatment for minors.
This Fox News "journalist" won't admit that the "gatherers" forcibly entered the state house to stop voting on the bill -- even though someone, an editor perhaps, has linked video of the "gatherers" inside the statehouse.

Twitchy points out the media's refusal to apply one definition to what an "insurrection" is.
The extremists of theleft need to answer a question: Are bullying and threats a proper means of securing political victory, or not?
They should consider this question very carefully, because the majority is entitled to bully and threaten too, if bullying and threats are permissible.
And the overwhelming majority, the normies, are officially Sick of This Constant Terrorism from Mentally-Ill Extremists.

posted by Ace at
05:24 PM
|
Access Comments