« Weekend Hobby, Craft and Bodging Thread
|
Main
|
Saturday Overnight Open Thread (1/28/23) »
January 28, 2023
Saturday Evening Movie Thread - 1/28/2023 [TheJamesMadison]
Clint Eastwood, director


When
Clint Eastwood
's star was rising, in particular when he was working with Don Siegel on films like
The Beguiled
, he suddenly got it in his craw the idea that he could direct feature films, so, in 1971 he took a small thriller script by Jo Heims and Dean Riesner, cast himself in the lead as well as Siegel in a small part, and proved that he could manage a production and bring a script's strengths (and weaknesses) to screen efficiently. It wasn't in line with his common image of the Man with No Name, made famous in his trilogy of films made by
Sergio Leone
, but it worked, was produced cheaply, and it turned a profit.
Eastwood's directing career was off to a competent if not entirely remarkable start. For more than fifty years he worked diligently, receiving full directing credits on thirty-nine feature films (with a couple of others that he's rumored to have shadow-directed), honing his craft, and eventually winning two Best Director Oscars as well as two Best Picture Oscars in his dual role as producer.
When I first started going through this collection of films, I was convinced that I was going to find a solid craftsman but not much of an idea man. And yet, as his films went on, I picked up a couple of major thematic concepts running through the bulk of his work, mainly the individual against a system and the collapse of the law-enforcement institutions across modern-day America. He has never been a writer, so it's all about which scripts he chose to film and, especially, when.
The Individual Against the System


Both ideas evolve over time, but taking the first film of Eastwood's directing career,
Play Misty For Me
, is a great place to start. In it, Eastwood plays a late-night jazz DJ (jazz is a very common motif in his work simply because he's a huge fan) who thinks he enters a one-night stand-like relationship with a fan played by Jessica Walter. She becomes his terrorizer and yet, the judicial and law enforcement systems of the small, seaside town (Carmel-by-the-Sea, where Eastwood would eventually become mayor in the 80s) simply cannot help him. When they do try to help him, they end up inept or powerless, like when he gets her committed and the administrator simply lets her go early. The situation is only resolved when Eastwood kills her himself when she breaks into his house in the middle of the night brandishing a kitchen knife. The system doesn't resolve it, the individual does.
What's important about this point in time is that the system doesn't actively go after the individual for defending himself. When the killing is done at the end, Eastwood is let go because the police are understanding of the whole situation. That state of affairs does not last through his career.
High Plains Drifter
is a much more callus and cynical take on the idea in this point in his career, but it shows how the system can let a good man die in the name of corruption and cowardice, except that an avenging angel can still come and exact righteous (and not-so-righteous) vengeance upon those who wronged a good man, the symbol of law enforcement in the town.
The Gauntlet
shows how a corrupt Phoenix police chief can turn on a no-good, low-rung cop, but the good guy can still survive a hail of bullet fire in downtown Phoenix to bring justice upon the corrupt police chief, with the whole police force that had just been trying to fill him with holes, joining him in solidarity (it's, er, not his best movie).
Sudden Impact
is the sole Dirty Harry movie he's credited at directed (he's rumored to have shadow-directed
Magnum Force
when Tim Post worked too slow for his tastes), and it's about how a small town can let five rapists wander free while their victim cannot get justice, except through the cop visiting from San Francisco, of course. This sort of attitude continued through the 90s with
Unforgiven
,
Absolute Power
, and
True Crime
exemplifying this idea that the world may be corrupt, but there's still hope in the form of either vengeance or justice. That really starts to change with 2003's
Mystic River
.
Mystic River
ends with the wrong man murdered in a quest for vengeance of the death of a daughter. There are actually dueling systems in place: the Staties (the police) and the unofficial collection of toughs from the neighborhood who do their own policing because they feel like the actual police have failed them in the past. Both go after the innocent man, ignoring any evidence that exonerates him, and he dies pointlessly. The system has gone from inept, even corrupt, to not only antagonistic but able to win. It's pessimistic in a way that even something like
High Plains Drifter
never was.
Following the thread through the rest of his career, you see films like
Flags of Our Fathers
, a film about heroes brought home to sell war bonds who see themselves as fakes while the ones still doing the fighting are in the Pacific,
Changeling
, a film about the utter corruption of the 1920s LA police department that, though inaction and a desire for good press, did nothing while a woman's child was left to die by replacing him with another,
Gran Torino
, a film that shows contemporary Detroit as devoid of any support system that can do anyone any good, leaving it up for one good man to give up his life to save the life of a younger immigrant,
J. Edgar
, a film that details the degradation of a man of ideals into a man of corrupt personal power, and, most importantly, I think,
Richard Jewell
, a film about the federal government and the media going after an actual hero because they needed someone to blame and he was a convenient target.
What I see as I look over his career is a man increasingly unable to accept that there's any saving the systems that are designed to protect the innocent, that they have become so corrupted and debased that they would rather toss aside the innocent and even the heroic out of convenience rather than looking after their actual duties. It's not quite a complete portrait because there's also stuff like
The 15:17 to Paris
which ends with actual footage of President Francois Hollande giving out medals of bravery (specifically, the Legion of Honour) to the three Americans (and one Englishman) who stopped the 2015 Thalys train attack. He was looking for bright spots where he could find them, but these were obviously the exceptions to the rule.
The Collapse of the Institutions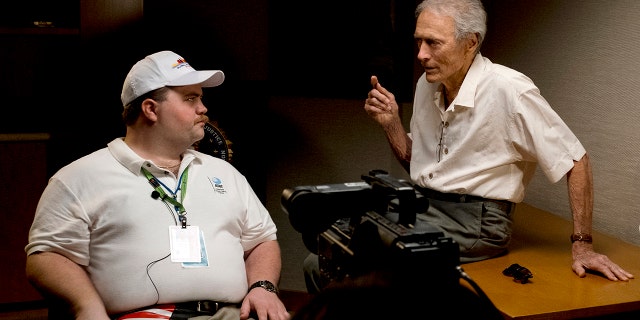 You can see how this is tightly intertwined into the first idea at this point, but I think it really stands distinct. This is specifically about law enforcement, and it's where the presence of
Dirty Harry
simply cannot be ignored. Eastwood obviously did not direct the first
Dirty Harry
film, that was his friend Don Siegel, but Dirty Harry represents how the institutions could still help even as they degraded over time and due to outside pressures. Harry Callahan was the one willing to do what was necessary to get his man, and his man was always the right man. As Eastwood's career continued, especially regarding films that dealt with law enforcement, that propensity for the one, rogue cop doing everything to do the
right thing
dissipates.
As the eighties moved into the nineties, we started getting people like Little Bob in
Unforgiven
. He was the sheriff of Big Whiskey, the town where the violence was done upon a prostitute, and he was uninterested in the pursuit of justice. He was interested in maintaining a peaceful town at any cost, even if that meant letting the cowboys responsible with essentially just a fine. He's so committed to maintaining peace at any cost, he commits violence against those who do nothing but are only tangentially related to violence, like Ned. Little Bill is blind to justice in the pursuit of something else.
Moving through the nineties to
True Crime
, the institutions of California had so failed any kind of investigation into the murder of a pregnant woman that they missed obvious signs that the man they had didn't do it, leaving it up to an investigative reporter to dig it out. By the early 2000s and
Mystic River
, the police were in the pursuit of justice, but unable to actually follow through.
Things turn with 2008's
Changeling
where the institution of the police goes from inept, maybe corrupt, into outright antagonism. When a woman who lost her son won't stop talking about how the boy they returned to her is not her child, the rogue cop doesn't knock down doors to find out where the real child is. No, he uses his corrupt authority to send the woman into a mental institution to get her to shut up to the press. There is another police officer in the story who does his duty to track down the man who's been kidnapping young boys and killing them at his ranch removed from the city, but he receives no press notice and little official attention. There's a shift in the balance. The corrupt get the attention while the good do their work quietly and under the radar. It's the last real bit of hope in the institutions Eastwood shows.
J. Edgar
tells the story of how Hoover went from a rabid anti-communist warrior to a power mad bureaucrat who sells out his principles in order to accumulate information over those around him instead of fighting the fight that animated him to start his involvement in the Department of Justice.
Sully
overplays its hand a little bit, but it shows the NTSB going after Captain Sullenberger for saving people's lives, second guessing a man's snap judgement that the rest of the world hailed as heroic.
It's
Richard Jewell
that is the perfect capstone to this downward journey of the degradation of American institutions. The Department of Justice and the FBI become outright antagonists, targeting the hero of Centennial Park as the bomber himself despite a complete lack of evidence based on an FBI profile and not much else. Leaking it to the press turns Jewell's life completely upside down and inside out, and the FBI agent in charge, even after having to admit officially that Jewell isn't a target of the investigation anymore, looks his lawyer in the eye and says that he still thinks that Jewell is "guilty as hell".
The rogue cop, the one who could have done some good in the early 70s, has been corrupted by the system itself, taking the final hope for the whole institutions with him. He no longer wants to break down doors despite the rules to find the right man, he wants to break down doors despite the rules to find his man, even if his man is a hero who did the right thing. That's a slow, steady, and depressing movement towards pessimism from a man who started out pessimistic to begin with.
There's More!
That's the major two streams of consciousness that run through Eastwood's work, and it's fascinating to watch it play out. However, like many studio directors from decades prior, he worked in a fairly wide variety of types of stories. How does something like
Jersey Boys
fit into the above? You can stretch some things and say it's about how strong the institutions and society were before the rise of the counter-culture movement in the 60s, but I'd chalk it up to nostalgia and little else. What about
Firefox
? It's a Cold War thriller in the style of something like a Jack Ryan adventure by Tom Clancy (though it predates the book
The Hunt for Red October
by a couple of years) and a special effects showcase about stealing a secret jet from inside the Soviet Union. Is Eastwood's character Mitchell Grant a sort of Harry Callahan, a man willing to do anything to get the job done in the pursuit of justice, in Cold Warrior form? Not really. Maybe there's something there connecting the need to fight for America, but it's a minor part of the whole thing.
What about
The Bridges of Madison County
? The story of a Midwest housewife who has a brief affair with a National Geographic reporter doesn't touch on authority at all. The script was something that Steven Spielberg had people working on with an eye towards directing himself, but he couldn't find the time. So, Eastwood stepped in and directed a script that someone else had shepherded for months, based on a book that Eastwood may or may not have liked. Does it fit with the rest? Not really.
The point is that with some filmmakers (like a Scorsese or a Kubrick) you can find the grand unifying theory of all their movies, but with others, like Eastwood, you have to be more careful because he worked so much off of scripts he often had little say in.
I do want to say, though, that there is one movie that I consider to be the most important film in Eastwood's body of work as director is his biographical film of the jazz saxophonist Charlie Parker titled
Bird
. I am not exactly a huge fan of the film, thinking it too self-indulgent and unfocused to tell a completely effective story despite the very strong central performance from Forrest Whitaker, but it represents a sea change in how Eastwood worked. It was the first major risk he ever took, and it failed commercially. He'd done personal projects like
Bronco Billy
and
Honkytonk Man
, but he'd starred in them and was front and center of all the marketing (it didn't really work, neither film was very successful). However,
Bird
had no star and was about a niche project, and he found the money to make it happen. It's the moment where you really see his career morph into something more than just an actor who is trying his hand at the whole directing gig.
From then on, the personal and commercial projects get more divergent with something like
White Hunter Black Heart
, a thinly fictionalized tale of John Huston making
The African Queen
, followed up by
The Rookie
, a
Lethal Weapon
/buddy cop imitation.
Bird
represents the moment he felt like he could be more, and he started trying to reach higher.
Saying Goodbye
I took up Clint Eastwood's body of work because of the news reports from the WB/Discovery merger about how new CEO David Zaslav was furious at WB for greenlighting Clint's final film,
Cry Macho
because WB's own internal research indicated that the film wouldn't make its money back (I question that research, by the way, since
The Mule
made more than triple its money back just a couple of years prior). Then came a report that Clint had met with executives at WB/Discovery to talk about a new project for him to direct, and they rejected him outright, referring to the financial failure of
Cry Macho
as the reason. His directing career is most likely over. At 92-years old, he obviously felt like he had it in him to tell some more stories through film, but his contacts at WB don't seem to matter anymore, and unless someone like Spielberg gives him money again (he helped fund the two Iwo Jima movies), I don't think Clint is going to be making any more. I'd happily be proven wrong, though. Someone seemingly
attached to his official social media account actually reached out to me to say that he was still working and healthy, so we'll see.
Still, it was a good run he had. He started somewhat roughly through the 80s, but he gained his feet in the 90s and maintained a reasonably consistent output. He had serious highs like
Unforgiven
and lows like
Midnight in the Garden of Good and Evil
, but a surprising amount of his work was simply solidly good. He reminded me of John Ford that way.
Movies of Today
Opening in Theaters:
Fear
Infinity Pool
Movies I Saw This Fortnight:
American Sniper
(Rating 3.5/4)
Full Review
"Combining a certain Hollywood heightened reality (to somewhat varying effect) with a much more grounded emotional realism that anchors everything, American Sniper is a late gem from Eastwood's career." [Personal Collection]
Richard Jewell
(Rating 4/4)
Full Review
"It's a triumph of his late career with only one wrong note. Otherwise, it's a great film that, maybe, should have been his last." [Personal Collection]
Sully
(Rating 3/4)
Full Review
"Still, as a portrait of the lowkey heroism that can come out of nowhere and inspire, Sully is a success." [Library]
The 15:17 to Paris
(Rating 2/4)
Full Review
"I don't hate the film, but after two viewings I can safely say that it's one of Eastwood's films that I find myself least likely revisiting again. There's simply not enough there to enjoy as a whole, though it does have its charms." [HBOMax]
Gran Torino
(Rating 3/4)
Full Review
"I can easily see the appeal to Eastwood, but it's one of those scripts that probably needed another draft while also needing some more professional actors if Eastwood wasn't going to go full-Bogdonavich and coach his actors." [Personal Collection]
Invictus
(Rating 3/4)
Full Review
"In the end, it's all uplifting and nice. It really feels like a fairy tale." [Library]
J. Edgar
(Rating 3/4)
Full Review
"So, I like the film. I think it's a handsome, well-acted film with DiCaprio serving as a solid foundation on which the film is built." [Personal Collection]
Cry Macho
(Rating 2/4)
Full Review
"Is this the worst way for Clint Eastwood to stop making films? Not really, but it's far from his best work. It's nice, unchallenging, and not all that interesting, but it moves efficiently and gives its star one last ride in the saddle." [HBOMax]
Contact
Email any suggestions or questions to thejamesmadison.aos at symbol gmail dot com.
I've also archived all the old posts
here
, by request. I'll add new posts a week after they originally post at the HQ.
My next post will be on 2/18, and it will cover the directing career of Erich von Stroheim.

posted by Open Blogger at
07:30 PM
|
Access Comments