« The Morning Rant: Minimalist Edition
|
Main
|
DeSantis: Apple's Threat to Deplatform Twitter from Its App Store is an Act of "Raw Monopolistic Power" Which Should Be Met by Congressional Action »
November 29, 2022
Sam Brinton, Biden's Genderfluid, Puppy Perversion Official In Charge of Nuclear Materials, Charged With Felony Theft of a Woman's Luggage
Who could have seen this coming?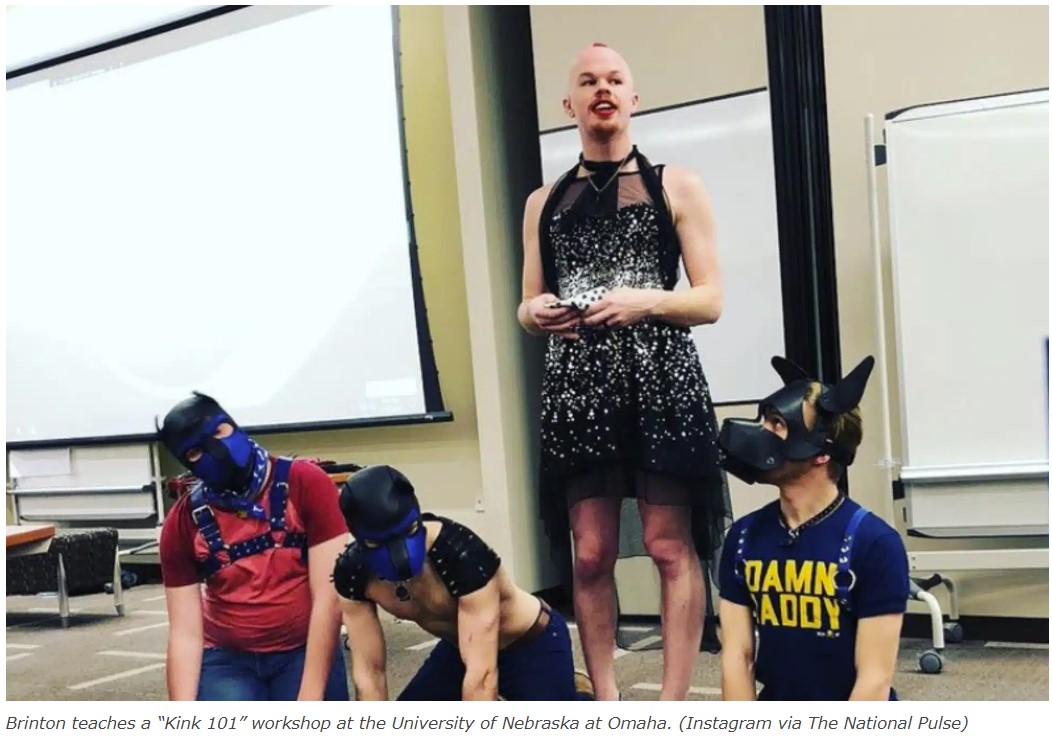 He stole a woman's expensive luggage bag from the carousel at the airport, despite he himself having never checked a bag. That is, he didn't have any bags on the carousel, so he can't claim "I thought it was my bag."
But that is what he claimed. At first.
Mollie @MZHemingway

This story is somehow far, far, far crazier than even the headline. Dude didn't check baggage for a flight, yet went to the carousel, took a woman's Vera Bradley rollerbag, and checked it on his next few flights.
Sam Brinton, one of the first "openly genderfluid individuals in federal government leadership," was charged with felony theft last month after allegedly stealing a woman's luggage at MSP Airport.

The MIT grad went viral earlier this year when he announced his new role as the deputy assistant secretary of the Office of Spent Fuel and Waste Disposition in the U.S. Department of Energy.

"As one of if not the very first openly genderfluid individuals in federal government leadership, I was welcomed with open arms into the Department of Energy all the way up to the Secretary whom I shared the stage with in a Pride month celebration panel just today," Brinton wrote on Twitter at the time.

He said he is not a Biden appointee but instead was hired as a career employee in the Senior Executive Service. Brinton accepted the job in February and began in June, according to media reports.

Prior to working in government, Brinton was an anti-conversion therapy activist who taught "Kink 101" workshops on college campuses, according to The National Pulse. A photo from one of these workshops shows Brinton in a dress as he stands over three males in leather dog masks.
The bag and its contents are worth over $2,300.
Sam Brinton, who is totally not a mentally ill criminal, offered a tale about the stolen bag which, like his sexuality, was very "fluid" and was constantly "evolving."
Story #1: It was totally my bag, baby

Brinton insists the clothes inside the bag are his, but is a little sketchy about whether the bag they're contained in is his.
Police questioned Brinton about the missing bag in an Oct. 9 phone call and asked him directly if he "took anything that did not belong" to him.

"Not that I know of," Brinton allegedly responded. He later admitted to taking the bag but said the clothes inside were his, according to the complaint.

"If I had taken the wrong bag, I am happy to return it, but I don't have any clothes for another individual. That was my clothes when I opened the bag," he told police, according to the complaint.
Note that this story has the classic hallmark of a lie -- equivocation. Instead of just saying "no, it's my bag" Brinton attempts a halfway statement -- well, the clothes inside are mine, and then weirdly concedes that maybe the bag containing the clothes might have been this woman's, and he'd be happy to return it if he accidentally took it?
This kind of halfway in, halfway out statement is what people do when they know they're caught in a lie and are trying to construct an escape route from the lie on the fly.
Motherf***er, how you gonna take a bag that isn't yours that contains clothes that IS yours?
This is obviously a lie.
This is Biden's top official for the disposal of spent uranium rods and nuclear materials. Not like we need a trustworthy individual safeguarding those.
Story #2: I Was Tired and Did an Oopsie

Now Brinton thinks over the stupid lie he just told and tells a new lie: Okay, maybe he took someone else's bag, but, like every shoplifter in the world, he took it On Accident.
Brinton allegedly called the investigating officer two hours later and apologized for not being "completely honest." This time Brinton said he took the bag because he was tired and thought it was his, the complaint says.

He allegedly told police that he realized the bag didn't belong to him when he opened it up at the hotel but "got nervous" and didn't "know what to do." Worried that people would think he "stole the bag," Brinton told police he left the victim's clothes in the drawers in the hotel room, according to the complaint.

Brinton said he brought the bag back to D.C. with him because it would have been "weirder" to leave a bag in the hotel room, according to police.
See, he didn't want people to get the wrong impression that he "stole the bag" when he took a bag that clearly didn't belong to him. He realized that it would "look bad" when he emptied out all the clothes that were in the bag on to the floor of the hotel room, so, to make it look less weird, he did the Totally Normal Thing and just took the bag with him to his house in DC.
You know -- almost as if his goal all along was to steal a piece of luggage that struck his fancy.
But totally not, totally not. He just happened to accidentally take a bag that wasn't his, accidentally throw all the contents of the bag that he didn't want (not his size of women's clothes!) on to the floor, and then take the bag that he did want back home with him, so that it wouldn't look like a theft.
Police told him how to return this bag totally taken On Accident to the woman who actually owned it.
Story #3: I'm Keeping This Bitch
Okay, I guess he's just keeping the bag now.
Police told Brinton how to return the bag to Delta, but as of Oct. 27 the victim still had not received her bag back.
I guess it looks cute with some high heels he also stole.
Story #4: I Thought I Was on The Price Is Right and just won the Showcase Showdown
Okay he didn't say this yet, but I expect it's coming.
Brinton was quietly placed on leave a month ago. He faces five years in prison and a $10,000 fine. Of course he will not even be prosecuted, even if he never returns the bag he totally took On Accident.
He will be allowed to cop to a misdemeanor because of His Precious Career -- why should the Fabulous pay for their crimes? -- and then will get to keep his job because hey, no felony conviction.
There will be no re-evaluation of his Security Clearance. He is "genderfluid." He is Protected and Untouchable.
As far as I know, the leftwing media embargoed this story -- and probably still is embargoing this story. It took Alpha News to break it.
I said yesterday when a commenter first reported this story,, that I googled it to get details. First Sam Brinton nothing, then Sam Brinton arrested nothing , finally Sam Brinton arrested for stealing luggage from airport and the Alpha News story came up. Google was suppressing it and the propaganda ministries were boycotting it. F**k them all

Posted by: Smell the Glove
Likely Google was, as usual, suppressing stories by anyone other than CNN and the CDC.
But the dearth of stories was also a matter of the media refusing to "feed far-right narratives" by, you know, doing their jobs and reporting facts about government officials.

posted by Ace at
12:02 PM
|
Access Comments