« Leftwing Propaganda Organs Politico and NYT Moan: Biden Is Actually Serious About Running Again
|
Main
|
Quick Hits »
November 28, 2022
Apple Threatening to Deplatform Twitter Unless It Begins Censoring People The Way Gay-and-Trans Crazy Apple Demands;
Musk Threatens to Release All the Dirty Laundry of Twitter's Previous Internal Censorship Discussions
Liz Wheeler @Liz_Wheeler

I predicted this the day @ElonMusk said he was gonna buy Twitter. Woke Apple *has* to deplatform Twitter because free speech is an existential threat to Marxism. The left doesn't "fight for the marginalized." The left are Marxists. Proud of Elon for refusing to bend a knee.

Apple has been using its monopolist leverage to force a lot of people to execute its preferred censorship policies -- possibly in collusion with the US government.
Apple threatened at least one developer with banishment from the company's lucrative App Store if they didn't remove all search engine returns regarding COVID-19 from their library application.

LBRY bills itself as "an open, free, and fair network for digital content," designed to circumvent social media and government controls. But the company told Twitter owner and CEO Elon Musk on Monday that, "During Covid, Apple demanded our apps filter some search terms from being returned. If we did not filter the terms, our apps would not be allowed in the store."

elonmusk 25m

The Twitter Files on free speech suppression soon to be published on Twitter itself. The public deserves to know what really happened...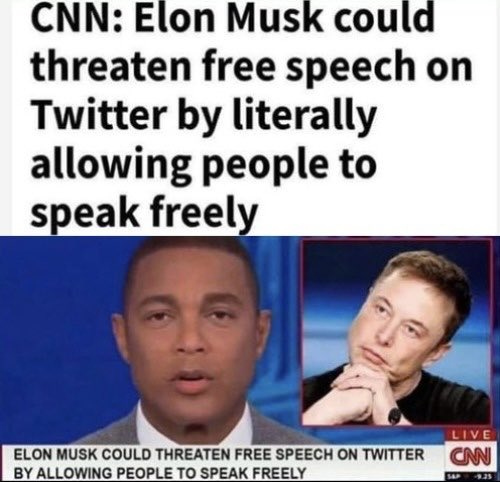 Update: Musk tweeted the above meme. CNN freaked out.

posted by Ace at
05:50 PM
|
Access Comments