« Did Joe Biden Grope His Own Granddaughter?
|
Main
|
Halloween Cafe »
October 31, 2022
The Atlantic: Say, Now That It's Known That the Institutional Left and Media and Democrat Party Got Nearly Everything Wrong on Covid, Isn't It Time to "Move On" and Stop This Petty Small-Minded Squabbling About Who Was Right and Who Was Wrong?
They'll never forgive us for what they did to everyone.
Posted by: Hadrian the Seventh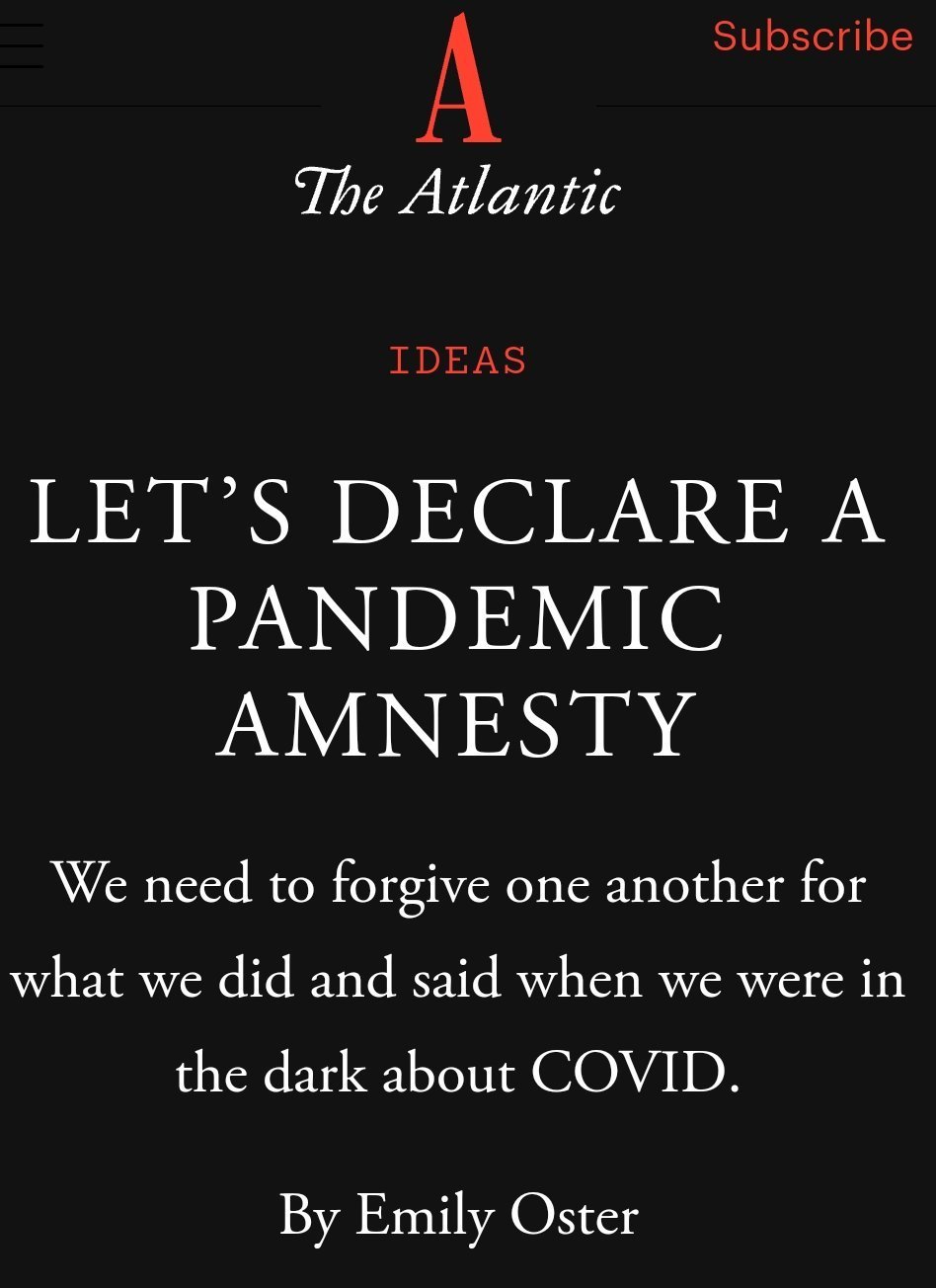 RAW EGG NATIONALIST @Babygravy9

"For 2 years, with the full backing of the state and media, we ridiculed you and called you a stupid, immoral enemy of your fellow citizens. We said you should live out your days as a 2nd-class citizen, maybe in a camp. Now you have to forgive us, whether you like it or not."
Emily Oster at the Atlantic wants an amnesty for the people who spread covid misinformation negligently -- meaning, the government, the Democrats, and the media.
But she doesn't want an amnesty for people who spread misinformation willfully -- by which she mean people on the right and people who pushed back against covid lunancy.
How very convenient.
In April 2020, with nothing else to do, my family took an enormous number of hikes. We all wore cloth masks that I had made myself. We had a family hand signal, which the person in the front would use if someone was approaching on the trail and we needed to put on our masks. Once, when another child got too close to my then-4-year-old son on a bridge, he yelled at her "SOCIAL DISTANCING!"

These precautions were totally misguided. In April 2020, no one got the coronavirus from passing someone else hiking. Outdoor transmission was vanishingly rare. Our cloth masks made out of old bandanas wouldn't have done anything, anyway. But the thing is: We didn't know.
You didn't know, but you all claimed you knew with 100% perfect knowledge, to such an extreme degree of certainty that it justified censoring and deplatforming anyone who disagreed with you, and firing them, and closing their bank accounts, etc.
But you "didn't know," you say now?
...

Some of these choices turned out better than others. To take an example close to my own work, there is an emerging (if not universal) consensus that schools in the U.S. were closed for too long: The health risks of in-school spread were relatively low, whereas the costs to students' well-being and educational progress were high. The latest figures on learning loss are alarming. But in spring and summer 2020, we had only glimmers of information. Reasonable people--people who cared about children and teachers--advocated on both sides of the reopening debate.
Oh they "advocated"? They screamed at people that they were murderers and pressured employers to fire them for merely speaking up?
That's "advocacy" now, huh?
...

Obviously some people intended to mislead and made wildly irresponsible claims. Remember when the public-health community had to spend a lot of time and resources urging Americans not to inject themselves with bleach? That was bad.
It was also a lie. Trump never suggested drinking bleach, as even leftwing media fact-checkers were forced to admit. He suggested using bleach for a very sound purpose: Disinfecting surfaces where covid might persist.
It was the media, not Trump, that began claiming that he had said people should "drink bleach."
Oh, and Democrats, of course. But I think I included them when I said "the media."
But I suppose your lie about that is something else we're to have an "amnesty" about, huh?
Misinformation was, and remains, a huge problem. But most errors were made by people who were working in earnest for the good of society.
I emphatically disagree. Most errors were made by people engaging in Competitive Bidding to push covid fanaticism into places where reasonable people -- like the Republican Administration then in charge of the Executive -- simply could not follow.
This was 90% about laying the groundwork to push Trump out office. Did Trump say he was okay with masks? Okay then -- we're now pushing Two masks. Or three masks.
Did Trump say he's okay with six feet of social distancing? Okay, let's move the goalposts -- ten feet of social distancing.
Whatever covid mitigation policies Trump signed on to -- which were already anti-scientific and essentially bureaucratic voodoo -- the left had to demand an even greater ask because you can't say Trump is Murdering People if he just does what you ask him to do. You need him to refuse to do what you demand of him, which means you are obligated to continually escalate your absurd demands until they are simply impossible to comply with.
And of course, there was an absolute ton of Virtue Signaling -- "I Believe In 'Science'" -- and a lot of hysteria from neurotic leftist women (and effeminate men) prone to gales of hysteria already, and the need to cultivate their hysterias for political gain.
Given the amount of uncertainty, almost every position was taken on every topic. And on every topic, someone was eventually proved right, and someone else was proved wrong.
How often were "The Experts" who claimed to always be right proven right?
Like... 15% of the time
In some instances, the right people were right for the wrong reasons.
You mean Republicans -- they just got "lucky." They advocated policies for Evil Selfish Reasons but then just happened to turn out to be right.
Whereas the Liberals advocated policies for Good Selfless Reasons, all based on The Science (TM), but darn it, they just kept turning out to be wrong! Oh fiddlesticks!
In other instances, they had a prescient understanding of the available information. The people who got it right, for whatever reason, may want to gloat. Those who got it wrong, for whatever reason, may feel defensive and retrench into a position that doesn't accord with the facts. All of this gloating and defensiveness continues to gobble up a lot of social energy and to drive the culture wars, especially on the internet.
I don't remember the left ever permitting the right to get off scot-free for the Iraq misadventure. And the left is still running on the claim that the 2020 Election Denial is the worst thing ever.
Tell me, Emily, do you also propose an amnesty, a Let's Just Call It a Draw on that, or do you intend for the left to continue lashing the right for as long as it is politcally useful to do so?
(Which, by the way, it stopped being about six months ago.)
Once again, it's only the right which is expected to not claim a victory on the facts that it earned, at no small cost -- we've had to pay the cost of being right with vitriol, harassment, censorship, punishment from all the financial institutions the left has wrangled into enforcing it collective political will, etc.
The right suffered for being right -- but we're supposed to just say, "And the left was equally right, in its own way."
Go fuck yourselves in the heart with a knife.
These discussions are heated, unpleasant and, ultimately, unproductive.
The same could be said of the January 6th committee but full steam ahead there, huh?
In the face of so much uncertainty, getting something right had a hefty element of luck. And, similarly, getting something wrong wasn't a moral failing. Treating pandemic choices as a scorecard on which some people racked up more points than others is preventing us from moving forward.


We have to put these fights aside and declare a pandemic amnesty. We can leave out the willful purveyors of actual misinformation while forgiving the hard calls that people had no choice but to make with imperfect knowledge.
Once again -- some purveyors of willful disinformation, like Randi Weingartner and Anthony Fauci, will be absolved, but others -- like Trump, who never claimed that people should drink bleach -- will be forever stained with a lie made up by the left.
We will not "move on" until we have had a strict account of who got what right, and who got what wrong.
It's called a reckoning. It's called a final weighing in the balance. It's called a political accounting.
We cannot go into the future trusting the same "experts" who gave us such terrible "expert" opinions in the past -- and told us that their "expertise" was so beyond question that anyone challenging it must be censored, deplatformed, and de-banked.
After a great public controversy, the public is owed an accounting of who got it right, and who got it wrong. And who covered up the obvious truth, such as covid being created in a lab, and Anthony Fauci having funded it, and then used his influence with the media, and as the man controlling government research grants, to smear and defame anyone who spoke the truth about this.
Instead, the left wants -- get this -- Participation Trophies for everyone.
You selfishly, insanely inflicted two years of irrecoverable developmental delay on tens of millions of children, but hey...

Alex Berenson linked some old stories showing why we cannot just "call it a draw:"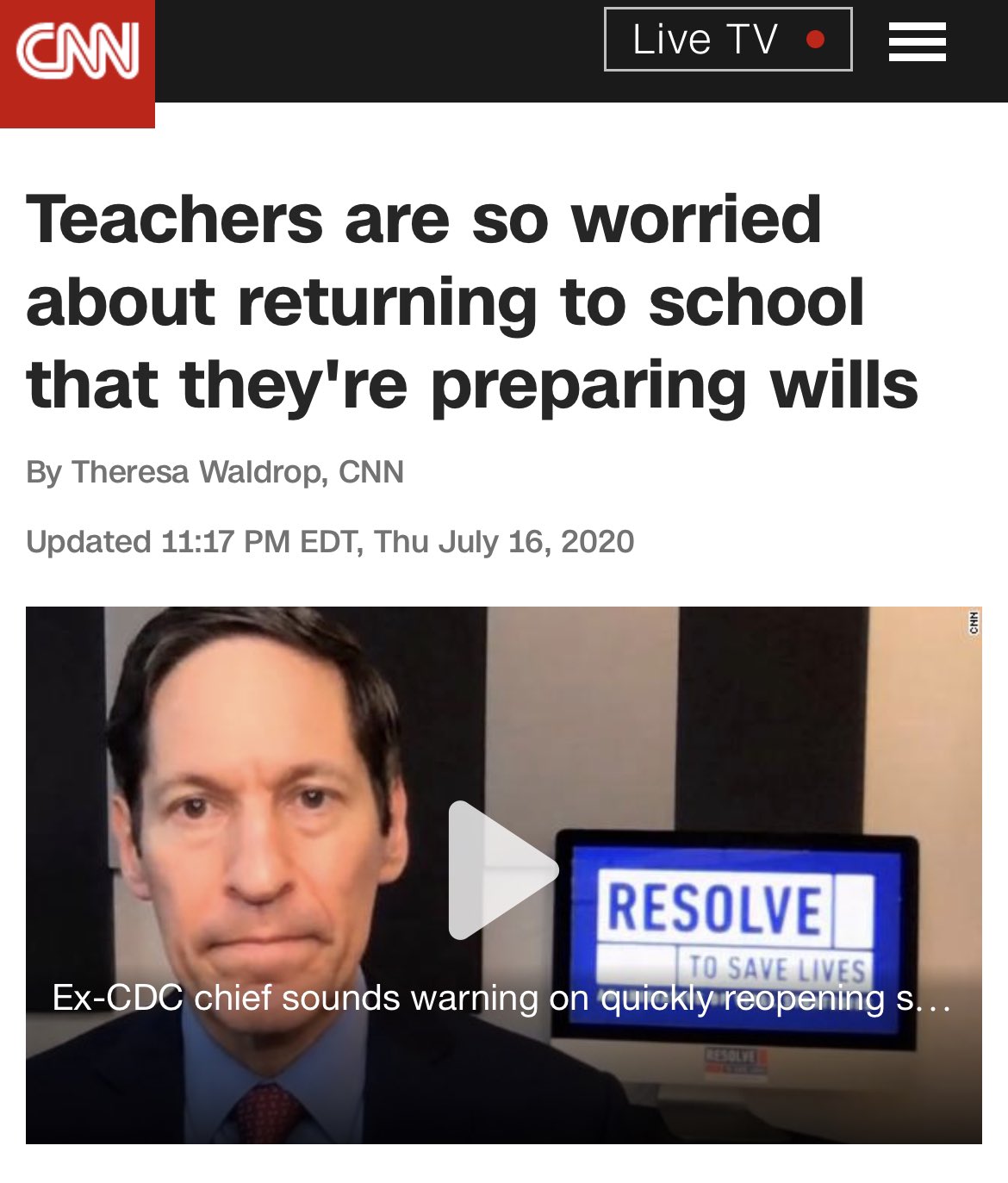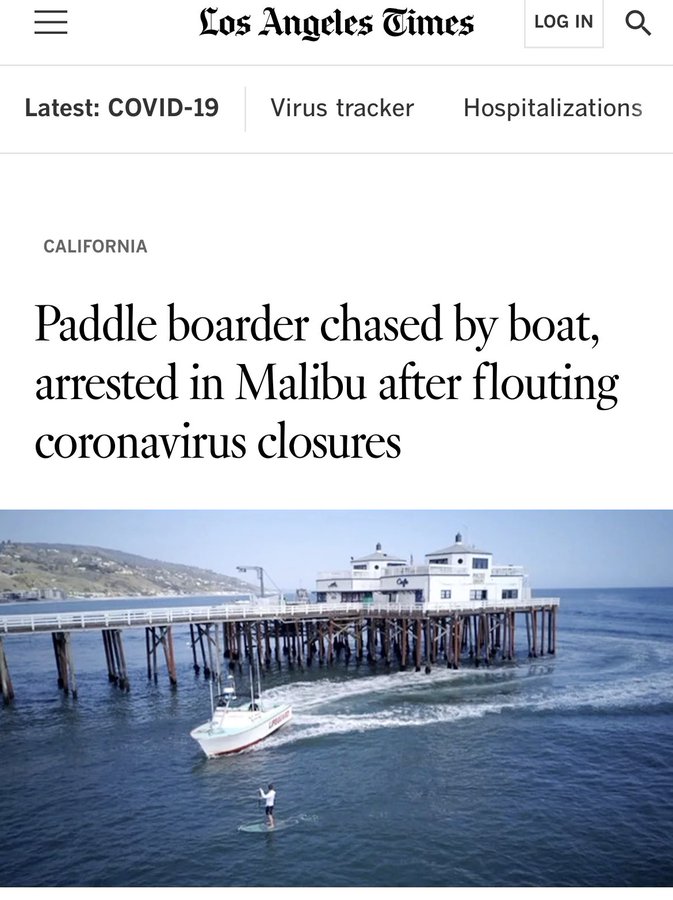 Backyard gardening is of course the safest hobby one can engage in. Not only is it conducted only with close family members or completely alone, but any food you produce reduces your need to go to the market.
So of course Governor Whitman made it illegal to buy seeds. Gotta protect Amazon and WalMart.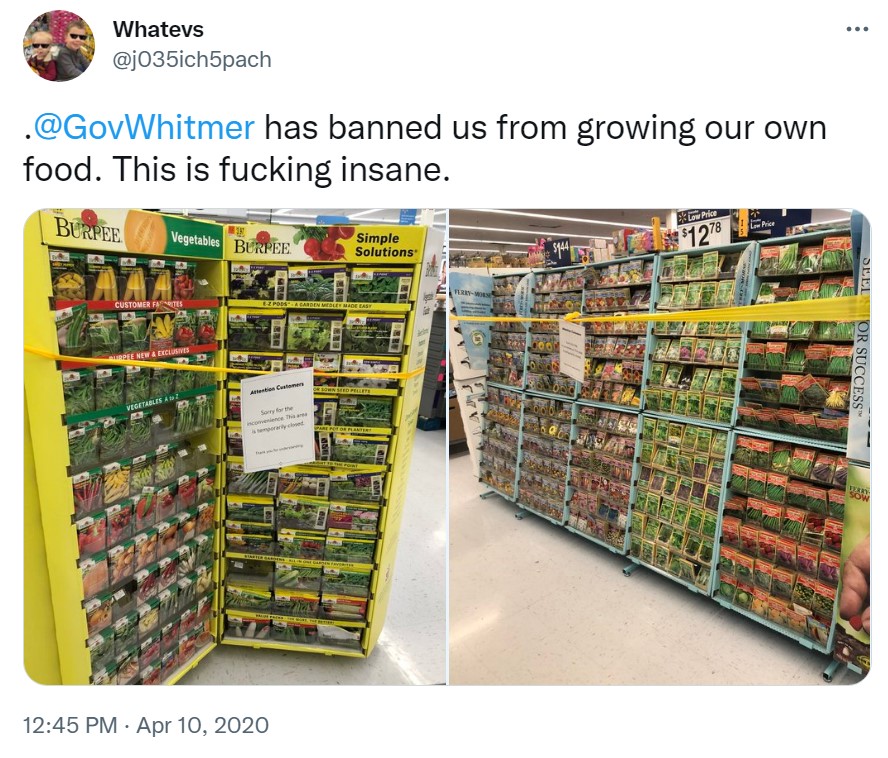 Here's another example of why we must not forgive until those in need of forgiveness first admit they are in need of it:
If they are never made to confront and confess their errors, they will keep making them forever.
Like Kathleen Parker. Who demands, at this late date, that we all mask up again, for her psychological safety.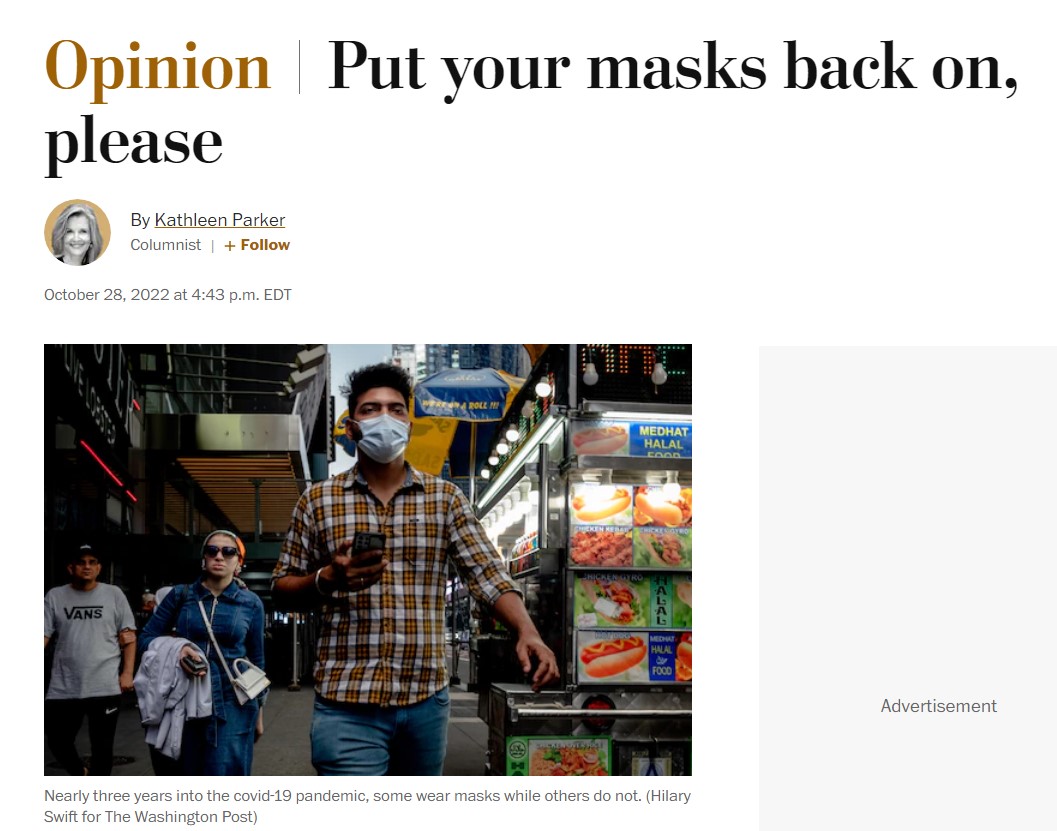 This Sentient UTI, this Vaginosis Given Form and Flesh Kathleen Parker caught covid and because the entire world seemingly revolves around the trivial quotidian dramas and terrors of sexless, graceless, childless leftwing women who aged out of middle age when Seinfeld was still on the air, we all now have to put our masks on again.
Should we all just "call it a draw" with the Kathleen Parkers of the Democrat Party? The crazed cat-lady Karens, low-value and low-status women who thirst to exert control over everyone around them, and do so by shrieking until the Democrat Party sees a demographic complaint it can satisfy and exploit and begins encoding their hysterias into positive law?
Should we just keep Turnkey Fascism in place so they can do this all again next time, the next time a Fauci Special escapes from a lab?
No, we won't be doing that, Emily.
Never Again, Emily.
Never Again.
And if we have to hurt the feelings and bruise the egos of you and your Cat-Lady psychopath friends to make sure this can never happen again... so much the better.
I will never forget Dr. Guy P. Benson, M.D., Ph.D., shrieking "WHAT ABOUT SOCIAL DISTANCING?!" after one Trump statement (or statement by his panel of covid idiots).

Sad little bitches like Guy (and AllahPundit) became Instant Twitter Experts within literally days of the covid outbreak.

Posted by: ace at October 31, 2022
Odds that I will be forgiving and forgetting that? Zero point zero zero zero zero percent chance.
Have either of those assholes admitted a speck of error yet? Or are they still "Emily Oster-ing" their way through this?

posted by Ace at
05:27 PM
|
Access Comments