« Political Cross-Dresser and "Dean of NeverTrumpers" Evan McMullin Makes a Spectacle of Himself at Debate
|
Main
|
Big Koala Energy Cafe »
October 19, 2022
In LA, a 24-Year-Woman Was Senselessly Attacked by a Homeless Man, Stabbed in the Brain With Garden Shears
Don't worry, though, guys: The Biden Administration has its priorities in order.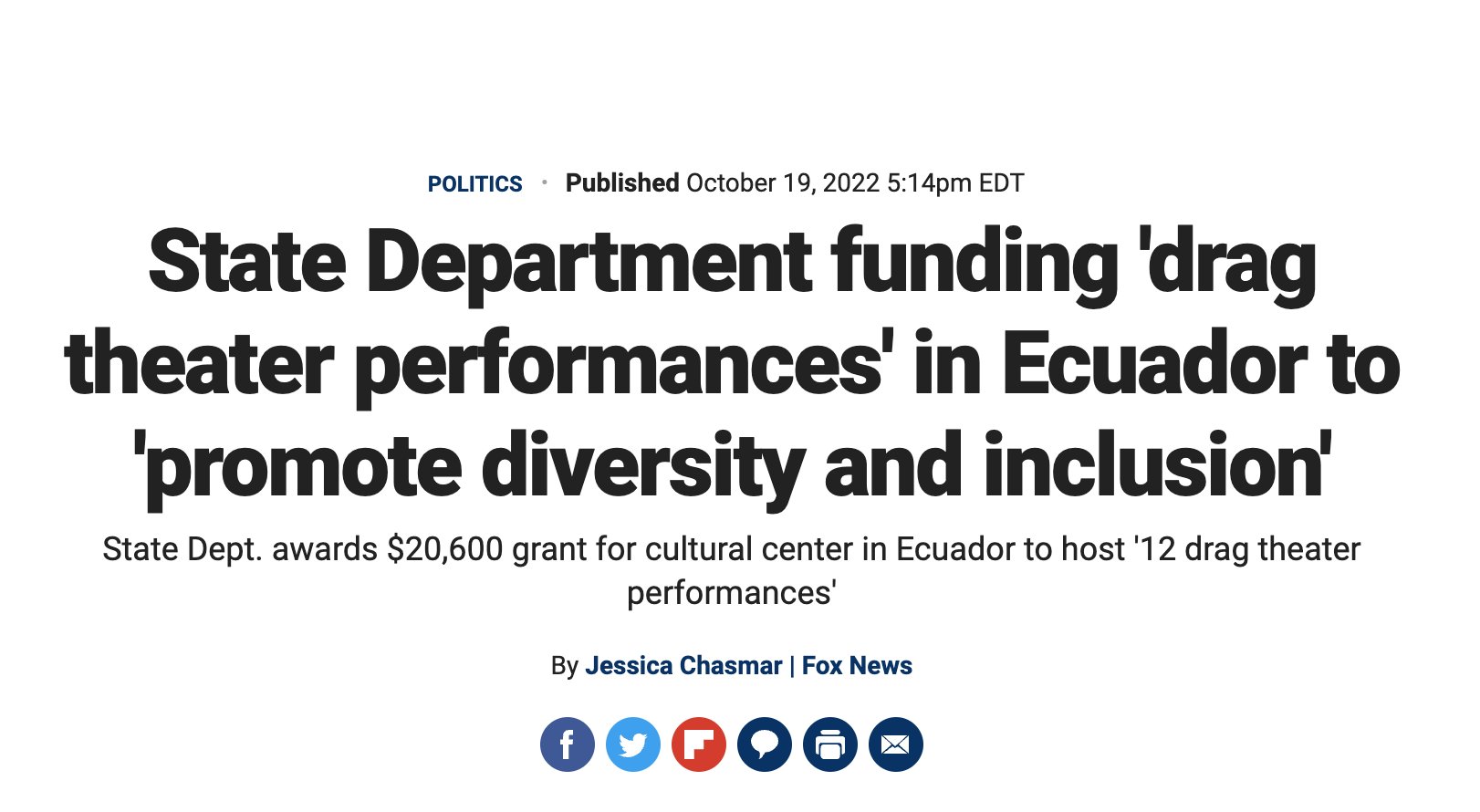 Maybe she should have just hired a Social Worker to accompany her wherever she went, to minister to the violently criminally insane as she went to and from the supermarket.
A 24-year-old Los Angeles woman is recovering from a traumatic brain injury after a homeless man stabbed her in the head with a pair of gardening shears in an unprovoked attack, authorities said.

Kyli Watts was walking along Lankershim Boulevard in North Hollywood around 11:30 a.m. Oct. 10 when the grisly assault took place, according to news station KTLA.

The suspected stabber, 30-year-old Jonathan Cole, rammed a pair of gardening shears with 4-inch blades into the back of Watts' head as they passed while walking down the street, police said.

Watts ran to a nearby restaurant with the weapon still embedded in her skull and begged for help before collapsing.

Staff at the restaurant were able to call 911 and Watts was rushed to a nearby hospital.


After the attack, she immediately called her mother, a psychiatric nurse in North Carolina.
The mother wasted no time in excuse the man who had attacked her daughter and given her a lifetime of brain damage to recover from.
Despite the horrific nature of the crime, her mother said she understood what happened to her daughter was a "social and systemic failure," and that more needs to be done to help those living on the streets who are struggling with mental illness.

Her mother, Amy Watts, said they'd been a foster family for 15 years, and had experience taking care of people suffering from severe mental illnesses.

"She understands this is a very sick person," her mother said.

"This is a problem that we as a society have to look at and figure out what's next," she said. "Because this is just going to continue to get worse."
That last part is undoubtedly true.
She faces a "long-term recovery" and may experience disabilities having to do with vision and balance for the rest of her life.
She had just gotten a job in tech and had relocated to LA.
A few days ago, Susan Sarandon posted this video of the splendor that is Los Angeles Oakland. [Editor's note: Close enough.]
Thanks to Yellow Flash.
The left wing can't deny the violence that is the direct result of their lunatic "free the criminal, imprison the law-abiding" policies, so they've decided just to -- get this -- call anyone making an issue of the rampant violence and chaos racist.
It's racist that you noticed a 24-year-old woman with garden shears sticking out of the back of her skull.
by Will Bunch | Columnist Published Oct 16, 2022

If you live in Philadelphia or thereabouts, the October baseball playoffs have brought almost unbridled joy from a Phillies hot streak, punctuated by an epic bat flip and an inside-the-park home run -- and marred only by jarring interruptions from the most shockingly crude and, arguably, racist political ads since Willie Horton hit the small screen in 1988.

Every few innings, the dark, grainy TV spots -- with a flood of unsettling images of urban crime and civic unrest, or large migrant caravans streaming toward the U.S. border -- broke up the stream of otherwise cheerful spots for iPhones or car insurance. One says "illegal immigration is draining our paychecks, wrecking our schools, ruining our hospitals and threatening your family" -- blaming President Biden, and telling Democrats to "stop hurting our children," against an ominous, empty playground swing. The crime spot blames liberals for a wave of "violence, bloodshed and death" as men with machine guns roam an urban wasteland.
And...?
You won't be shocked to learn that the ads are deliberately dishonest, conflating Democratic immigration policies, for example, with the horrific case of one undocumented immigrant named Christopher Puente accused of raping a toddler at a fast-food restaurant in Chicago ("She was 3 ... years ... old," the narrator intones, milking the pathos). What's not said is that the alleged assault occurred in February 2020, more than three years into the presidency of Republican Donald Trump, well before Biden took office.
The border has been an issue for decades -- and Democrats have resisted sealing it all that time.


That's appalling, but that's not what's most upsetting about these ads, which, according to social media, have been broadcast nationally during the baseball telecasts on Fox Sports 1. There is absolutely no filter of jarring and often violent imagery, the racist overtones and the xenophobic innuendo, and the unrelenting darkness of the "American carnage" vibe. No one cares that this is afternoon baseball and little girls and boys are watching. This is America now.
What about the actual violence? Sorry to scald your delicate eyes, but what about the women being beaten in the subways by deranged, violent homeless drug addicts?
When should these ads run? You're claiming you don't want them on during sports -- so, when then? During a sitcoms? Reality tv shows?
Lemme guess -- you want them banned entirely from the airwaves, huh?
In fact, the comparison to that infamous "Willie" (really William) Horton ad isn't even fair. That spot -- which attempted to stir up racial panic by (misleadingly, of course) linking Democrat Michael Dukakis to a Black inmate who committed a rape and murder after a weekend pass

How was that misleading? Leftists just throw this word out there without even bothering any longer to specify what they claim is the "misleading" aspect.
What they usually mean, if you press them, is "You're not talking about the positive things it is hoped our crack-pipe-dreams were intended to accomplish, only the negative things they actually did accomplish. Without mentioning our 'good intentions' (citation most definitely needed), this is 'missing context' and must be branded as 'disinformation.'"
In other words: Run my rebuttal along with your own political statement or else it's disinformation to be censored.
Our own political attacks on you can be run without the context you would like supplied, of course, because our political attacks are just true, and your context is just Hitler's Big Lie.
...only aired on TV one time, because just 34 years ago even most Republicans found it too crude, and over the edge. Listen to that 1980s spot and the tone that offended many folks back then seems calm and measured compared to the Natural-Born-Killers-on-acid vibe of the 2022 attack ads. Today, any and all guardrails have been taken down.
Republicans want to kill grandma and hold down children as they're raped.
No complaints about those ads, right, Sissy?

...
The world has seen this before. When fascism and other forms of right-wing extremism rose across Europe in the 1930s, large corporations and their rich investors who one might have hoped would have been revulsed by the ugliness, violence and racism of such movements instead hopped on the bandwagon, supporting some of the worst dictators. It took decades for corporations like Volkswagen, Siemens, and IG Farben successor Bayer to apologize for supporting Germany's Nazi government. In 2020s America, it feels like the cycle is just starting.

Some might find that comparison extreme, but this fall's rise of Citizens for Sanity shows that some secret billionaires are willing to fund commercials that feel like the modern heirs to Goebbels-inspired propaganda.
Did I mention this is a sports column?
This is sports column, you guys.
His bio:
Will Bunch I'm the national columnist -- with some strong opinions about what's happening in America around social injustice, income inequality and the government.
Not much to say about actual sports, though. Like most of these low-t sexually-suss jock-sniffers.
Correction: I don't think he's a sports columnist. Or I'm not sure, anyway. I thought he was because I don't understand why a Philadelphia paper has a "national columnist." I thought he was a syndicated sports columnist. Bad assumption. I guess he's just another hysterical Blogger On Newsprint.

posted by Ace at
06:29 PM
|
Access Comments