« The Morning Rant: Minimalist Edition
|
Main
|
Santa Fe DA: Alec Baldwin May Face Charges in "Rust" Killing
Update to Nord Stream Story: European MP Thanks the US for Blowing Up Nord Stream Pipelines »
September 27, 2022
Nord Stream Pipelines 1 and 2, Which Carry Russian Natural Gas to Germany, Leaking Into the North Sea;
Sabotage Strongly Suspected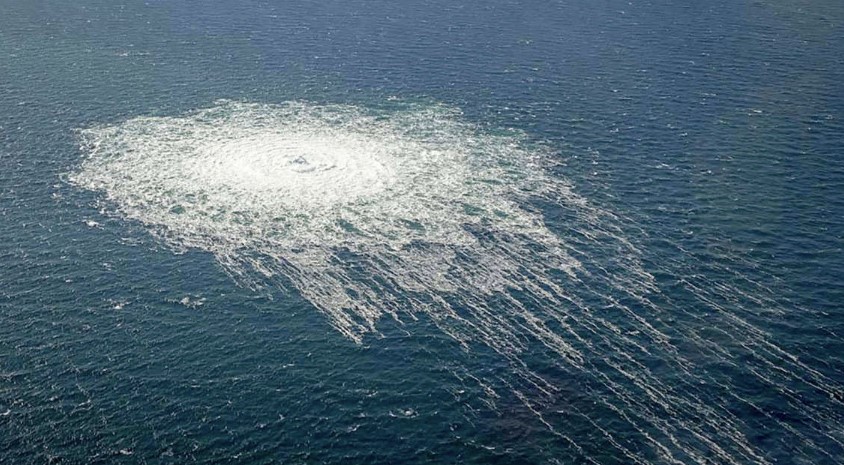 Gas leaking into the North Sea.

This is going to get a little conspiratorial.
Two undersea pipelines crucial to delivering Russian natural gas to Germany were hit with mysterious leaks on Monday, prompting concerns of sabotage.

Why it matters: The Nord Stream 1 and 2 pipelines have been central to the energy crisis that has enveloped Europe in the wake of Russia's invasion of Ukraine.

While Nord Stream 2 hasn't entered commercial operation -- its certification was halted on the eve of the invasion -- Nord Stream 1 provided a crucial pathway for Russian gas to reach Europe until earlier this month, when Russia closed the pipeline citing maintenance concerns.

The big picture: Two leaks were detected in the Nord Stream 1 pipeline and one in the Nord Stream 2 pipeline. While neither pipe was operating at the time the leaks were discovered, both were filled with gas, Reuters reported.
Via the French outlet BFMTV, two underwater explosions were detected just before the leaks were sited. (My translation.)
Two underwater explosions detected before the Nord Stream leaks

Two underwater explosions "very likely due to detonations" have been recorded in proximity to the sites of the leaks of the pipelines Nord Stream 1 and 2 shortly before their detection, a Swedish seismic institute announced Tuesday.

A first "massive release of energy" of a magnitude 1.9 [Richter, I assume] was recorded in night between Sunday and Monday at 2:03 am local (12:03 am GMT) southwest of the Danish island of Bornholm, then another of magnitude 2.3 at 7:04 pm Monday night northeast of the island, Peter Schmidt of the National Swedish Seismology Network to the AFP. "We interpret it as most likely originating from a form of detonation," he said.
I'm a little unsure if they mean a deliberate detonation via explosive charges or the like, or maybe a detonation of the gas caused by, I don't know, a natural accident. There shouldn't be a lot of free oxygen down there so I don't know how an explosion would happen, even assuming something made a spark.
If these were planted charges, why did they go off so many hours apart? One went off early Monday morning at 2:03 am, the next went off Monday night at 7:04 pm. What kind of timing is that?
Was it not explosives at all? Was it just divers cutting into the pipelines with underwater torches, and the torches themselves provoked the explosions? That seems dangerous to the divers.
On the other hand, if this is all accidental and due to natural causes -- how did both pipes get ruptured?
Denmark's prime minister says it's "hard to imagine" that the ruptures are "accidental:"
Assuming this was a deliberate detonation --
Why blow up a pipeline that wasn't delivering gas anyway, due to Putin's sanctions?
Maybe, some speculate, because there were protests in Germany demanding that the pipelines be reopened?
And the way to reopen the pipelines is to pressure European governments to start negotiating with Russia to end the war?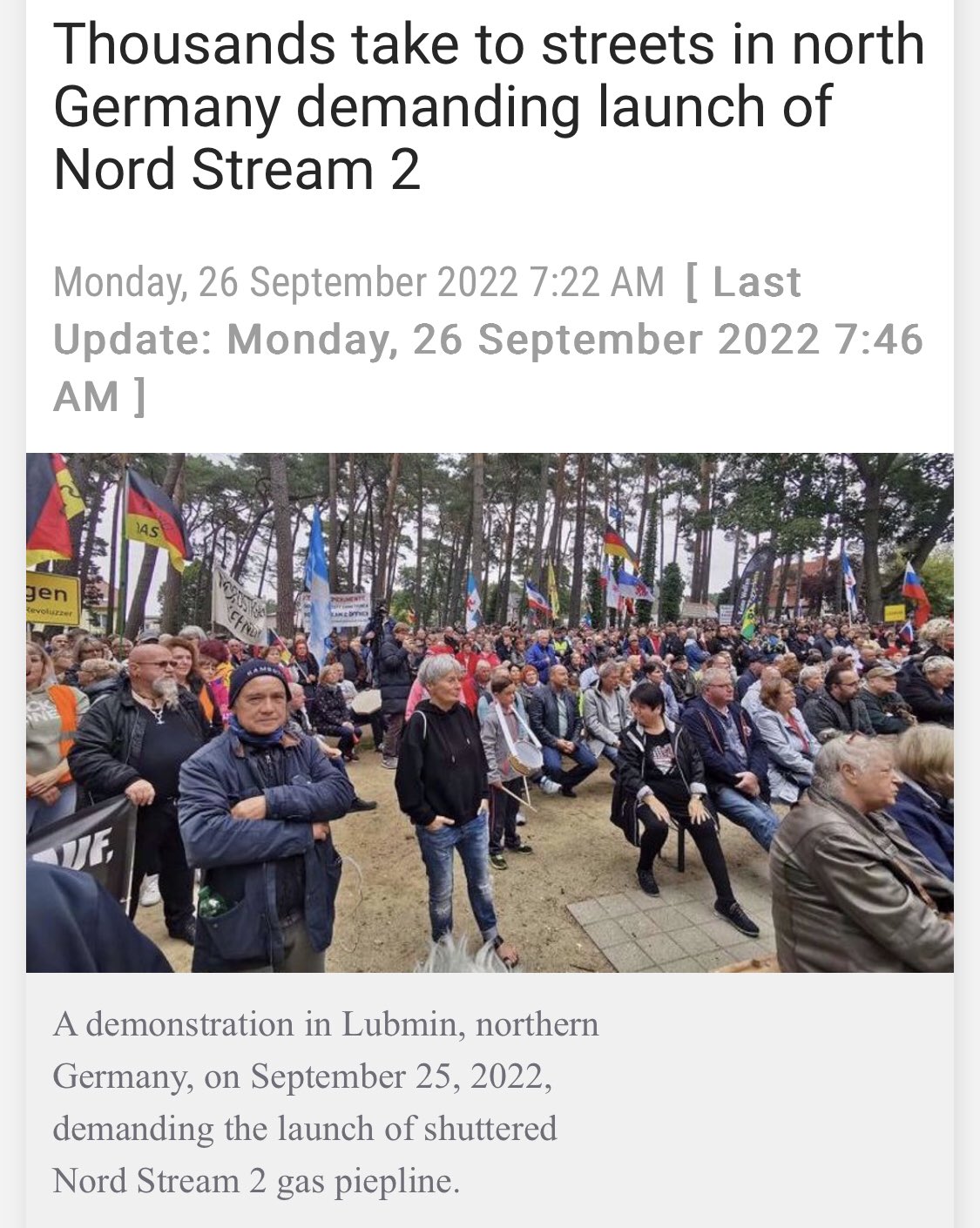 As you can see, Ukrainians don't want the pipeline reopened.
And Biden previously vowed, back in February, that "there will no longer be a Nord Stream 2" if Russia invades Ukraine.
I don't know if I'd put any stock in what that demented fool says. He does not speak for the US government nor make US policy, as the US government informs us weekly.
Darren J. Beattie is blaming the US, "or its proxies:"
Darren J. Beattie @DarrenJBeattie

Before yesterday, the only impediment to Germany receiving Russian gas from Nordstream 2 was political--Scholz wouldn't allow it

Germans demonstrated demanding the pipeline open

Now that USA (or its proxies) destroyed the pipeline, Germany is fucked

...

USA sabotaged major gas pipeline from Russia to Germany, and Germany isn't going to do shit about it

Germany is not a sovereign country.

...

Champagne bottles popping at Atlantic Council right now
Yeah I don't know about that. Something really risky like this would only be done by the people with the greatest stake in the outcome -- that is, the Ukranians themselves.
But who knows if they had some unofficial help from former CIA people working for one of the many well-funded private intelligence agencies based in DC.
For their part, Ukraine is blaming... Russia.
This is the "Adviser to the Head of the Office of President of Ukraine Volodymyr Zelenskyy."
@Podolyak_M

"Gas leak" from NS-1 is nothing more that a terrorist attack planned by Russia and an act of aggression towards EU. Russia wants to destabilize economic situation in Europe and cause pre-winter panic. The best response and security investment -- tanks for Ukraine. Especially German ones...

That seems suspicious.
But maybe, who knows, maybe it was Russia. They are sneaky sons-of-bitches, and the war has been going badly for them.
And just because there have been protests to turn the Nord Stream pipe on -- we have no idea how extensive those protests were, or if they had any chance at all of pressuring the German government.
And those protests could be, legitimately, RUSSIAN DISINFORMATION. Russia pulls a lot of operations with respect to energy -- after all, they fund the anti-fracking movement in the US. I imagine they have similar operations in Germany.
And this is a possibly War-Ending move if it's Ukraine -- this would lose them Europe. Would they do this, based on the iffy premise that a few protests might push the German government to reduce its support of Ukraine? They still have the big guns, the UK and US.
I don't want to be played by Ukraine, but I also don't want my not-wanting-to-be-played-by-Ukraine to make me open to being played by Russia, either.

posted by Ace at
12:00 PM
|
Access Comments