« Trans Parents Have, Get This, a 10-Year-Old "Trans" Child Model Who's Planning Trans Surgery at Age 16
|
Main
|
Rescuers' Cafe »
August 29, 2022
Hmmm: Partisan FBI Agent Who Opened Trump Investigation Seen Being Escorted Out of FBI Building By "Headquarters-Looking" Types
Trump Demands a New Election
Did the highly partisan Democrat operator Thibault just get fired?
Was it Thibault who told Facebook to censor the "treasure trove of documents" about to come out about Hunter Biden?
That would square with the timing.
JustTheNews' Ben Whedon reporting:
Former Washington Field Office Special Agent in Charge Tim Thibault was reportedly escorted out of the Bureau's headquarters on Friday, amid whistleblower allegations that he showed political bias in his handling of politically sensitive investigations.

The Washington Times reported eyewitness accounts that "Mr. Thibault was seen exiting the bureau's elevator last Friday escorted by two or three 'headquarters-looking types.'"

Whistleblowers alleged that Thibault concealed the partisan nature of evidence from FBI Director Christopher Wray and Attorney General Merrick Garland to secure their approval to open an investigation into former President Donald Trump. That investigation culminated in the FBI's raid on Trump's Mar-a-Lago estate earlier this month.

...

Iowa Republican Sen. Chuck Grassley confirmed to Just the News prior to the raid that Thibault had been removed from his post and reassigned to an unspecified position.
>>>22 Is this big? Cause if this is not big it should be big.


No se. We don't even know if he was fired. And even if he was fired, we don't know which Coverup Protocol they'll be deploying.
Which news channel do you think will offer Thibault a $350,000 contract first, CNN, ABC, CBS, or NBC?
"Greyman27" says this usually marks someone who's under investigation:
ormally, being "walked out" means you're under either FBI OPR or DOJ IG investigation (or both) and the offenses you're suspected of mean you will be terminated if found culpable. It prevents you from tampering with evidence or intimidating witnesses. No badge, no credentials, no gun, no Bureau car, all accesses revoked. "On the bricks" is the common colloquialism. You are for all intents and purposes no longer a sworn federal law enforcement officer. Posted by: Greyman27
He added:
Thibault was also apparently intimately involved with Crossfire Hurricane and burying the Hunter laptop lead.

Oh, and being walked out also means you either burn all your leave (sick and annual) or go on leave without pay.
Greyman hasn't responded yet about whether he worked at the DOJ, or how he comes by this opinion. Sounds legit though.
There's no mechanism in the law or Constitution for what Trump proposes, but then, there is also no mechanism in the law or Constitution for the FBI, DOJ, and CIA to interfere in the elections of the United States to illegally install their favored puppet, either: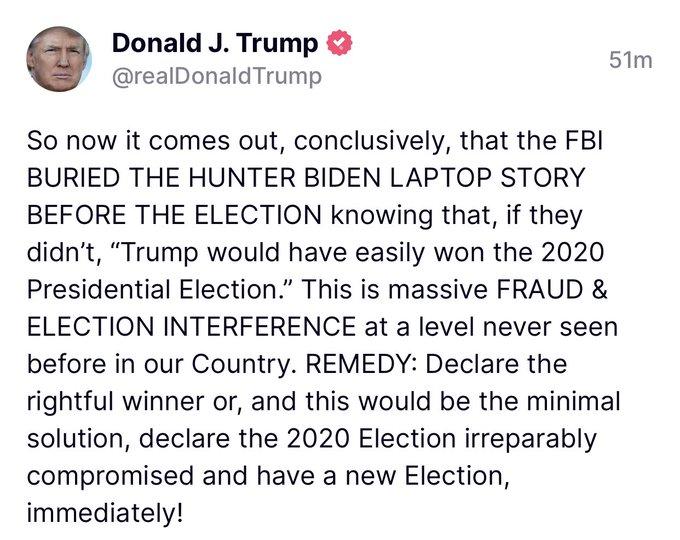 I know that half the country will be upset that Trump is undermining faith in their corrupt, rigged, FBI-sabotaged election, but people actually shouldn't have that much faith in the outcome of a coup by the American Stasi and its election-fortifying corpo partners.