« Dee Snider Wants You To Know You Can't Sing His Horrible Song Any More!
|
Main
|
Hmmm: Partisan FBI Agent Who Opened Trump Investigation Seen Being Escorted Out of FBI Building By "Headquarters-Looking" Types
Trump Demands a New Election »
August 29, 2022
Trans Parents Have, Get This, a 10-Year-Old "Trans" Child Model Who's Planning Trans Surgery at Age 16
Hey David French, do you have anything to say about this, or is this too "real" for you? Is this too "lower class" a thing to find to be objectionable?
Oh wait, of course not -- no objections from David "Blessing of Liberty" French. How silly of me to even ask.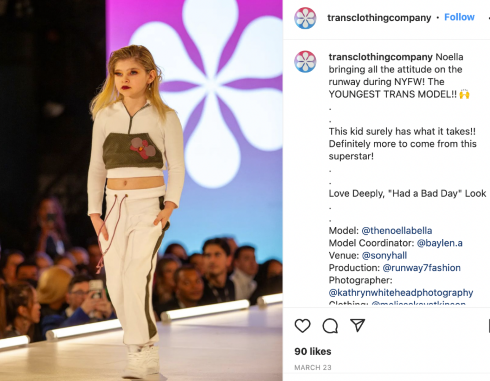 Recent reporting from Reduxx magazine on the 10-year-old "youngest trans model" has uncovered revealing information about the child's family. Noella McMaher, a trans-identified male, belongs to two trans-identified female parents, who additionally have a nonbinary "theybie."

"Both of my parents are trans-masculine. We are one big queer family!" reads Noella's profile on a LGBTQ+ online community.

Noella McMaher was a model at New York Fashion Week representing the Trans* Clothing Company brand in February, but has made headlines this past week after it was announced that the 10-year-old has been signed for additional modeling gigs until November.

Reduxx reported on information collected from a now private social media profile, that Noella's biological mother, Dee McMaher, is "a social justice advocate who identifies as non-binary, appears to be on hormone replacement therapy, and recently had a cosmetic mastectomy."

McMaher, 35, and her partner Ray, 32, recently wed in 2019. Ray is a biological female who also identifies as transgender and works in "LGBTQ health justice," according to Reduxx. They describe Noella beginning his transition at age 4, where they began referring to him as a girl and dressing him in girls' clothing.

Noella was 4 when his mother said she brought him to therapy at the gender development clinic at Ann & Robert H. Lurie Children's Hospital of Chicago. During the sessions, Noella told a gender counselor he was a "girl" and by age 6, his legal documentation was already changed.

"I socially transitioned at 4 years old, legally at 6 years old and I am being monitored and hoping to get hormone blockers soon!" says Noella's online profile on LGBTQandall.

McMaher has stated in an interview for Chicago Parent that she plans for Noella to have "gender surgeries" at age 16, but would start the child on puberty blockers and hormone therapy before then.
I'm sure the four year old child, and not the adult trans "social justice advocate" publicity-seeking parents, decided this boy was a " " " girl. " " "
Am I allowed to judge yet or is that too icky? Would that betray my unfashionable working class roots?
We need laws to stop this. The state of the current law is to force parents and medical caregivers into accepting any child's claim that he or she is "trans." The only permissible reaction is to "affirm" that claim. If one questions it, one runs afoul of laws against "gay conversion therapy." Even if one merely wishes to simply ascertain if this is genuine or longstanding feeling, as opposed to a short-lived fancy recently discovered by watching TikTok. Or if one wants to delve into other mental problems the child might have, such as depression or schizophrenia, and treat those first instead of the patient's self-diagnosis of "transgenderism."
And by the way, in what other context do we allow a patient, especially a child patient, to self-diagnose and accept that self-diagnosis uncritically, allowing it to override the medical professional's own battery of diagnostic procedures?
In no other contexts.
But this is what the law demands in the case of "transgenderism," and no other condition.
So this is a field in which there is already established law. It offends no "libertarian" principle to push aside one invasion of statist law in favor a different law.
The current law insists that the diagnosis of transgenderism be presumed and that hardly any questions can be asked about it without risking one's medical license (if a doctor) or one's custody of the child (if a parent).
The law must be changed to presume against transgenderism. The law must presume skepticism towards this diagnosis.
Highly relevant questions like "How many people in your peer group have recently self-diagnosed as 'transgender'?" must also be asked, because we know that, like anorexia, this particular mental fixation is a social contagion and has outbreaks among groups of peers, especially girls.
At the moment, doctors and parents aren't even supposed to ask about this fact. It's transphobic to ask about reality.
And the law must demand that questions be asked, and other mental illnesses be inquired into. Illnesses that frequently accompany "transgenderism," such as anxiety, depression, manic-depressive disorder, schizophrenia, and the like.
And these serious conditions should be treated first and eliminated as possible causes of the self-diagnosis of "transgenderism" before the self-diagnosis is given credence.
In short, the law and medical practice must move -- and I know I sound like a madman here -- from a presumption in favor of medically-irreversible treatments based on slight evidence and scant investigation towards a presumption against medically-irreversible treatments based on slight evidence and scant investigation.
I know that sounds highly Anti-Science, but I guess I'm just some kind of Religious Nut who read something in a Holy Book somewhere about extraordinary claims requiring extraordinary evidence.
Or if you don't think that claiming to be trans is an "extraordinary" claim -- how about the rule that claims just require evidence, period?
And how about we just stop allowing children to self-diagnose?
Have any men out there tried to get hormones prescribed to them? Testosterone?
Are... are adult men allowed to walk into a doctor's office and self-diagnose as "having low testosterone," and needing a boost, and walk out with a prescription in a half an hour?
Why no. No they are not. Doctors are very reluctant to give out scripts for any kind of testosterone booster for men, even if they show symptoms of associated with low-T. It's "too dangerous" to just let adult men supplement testosterone, even if it's like a boost in the hormone would help them.
But a 13-year-old girl can self-diagnose as "trans" and walk with a script that will increase her testosterone by 200-300% after a couple of consults.
That's kind of screwed up, isn't it?
Maybe we need to create a new sexuality -- specifically, the "High-T Chad Man" -- and just tell doctors that we've realized we've been living in the wrong bodies our whole lives, and if we're not allowed to transition to High-T Chad Men we'll kill ourselves or whatever the script we get from our Chad Men Conversion Advisors tells us to say.
Meanwhile: More blessings of liberty.
Twitter users reacted negatively on Thursday to viral videos and photos showing a young child on a stripper pole at a recent gay pride event in North Carolina.

"A pride event in Charlotte, NC featured a stripper pole where kids were able to try out pole dancing," the conservative news account LibsofTikTok posted on Thursday.

In one of the photos, a scantily-clad woman can be seen holding onto a stripper pole with a young boy in her arms, who is also holding on to the pole.


The footage appears to have been taken at the Charlotte Pride Festival & Parade that was held on Aug. 20 and 21.


Many conservatives on social media expressed outrage over the video, including Republican political operative Matt Mackowiak who called it "child abuse."

"Straight to jail," Matt Rinaldi, Chairman of the Republican Party of Texas, tweeted.

This appears to be actual female strippers bringing children into the act.
Once again, pedophiles and groomers are plying their dark arts under the pride flag, which is, of course, protection against all criticism.
This is just "The Culture of the Gays," they keep telling me, and I'm homophobic if I don't embrace it.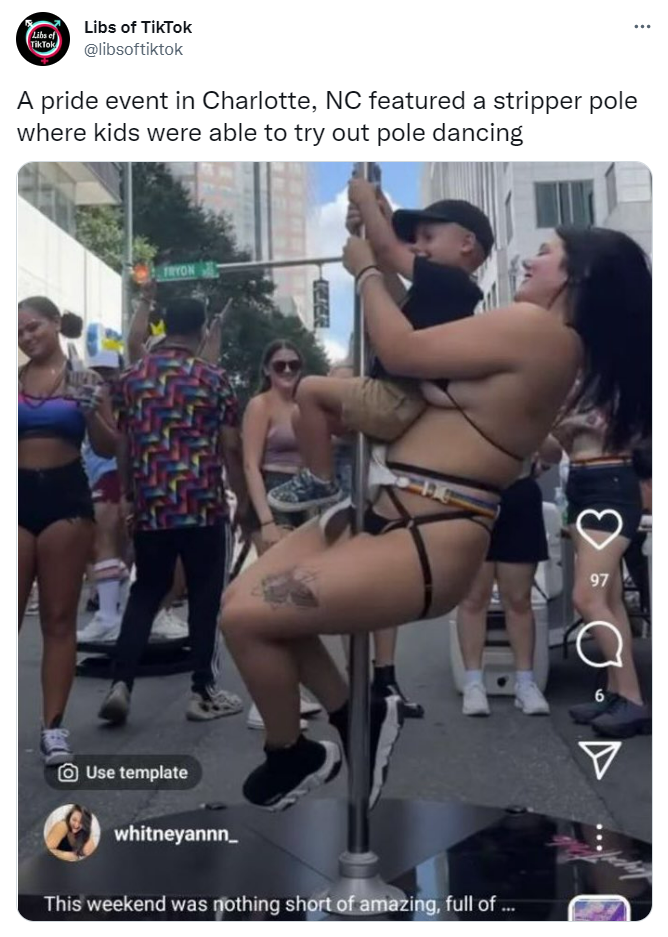 posted by Ace at
04:09 PM
|
Access Comments