« Anthony Fauci to Step Down from Government Position as Head of NIAID, Avoiding Congressional Grilling
Update: The Anthony Fauci Tribute Thread
|
Main
|
Kurt Schlichter: It's Not 2005 Any Longer, and The Situation Is Too Desperate to Continue Indulging Weak and Feckless Men Like Mike Pence and Tim Scott Who Don't Know What Time It Is »
August 22, 2022
NBC "News" Poll: 74% of Americans Say We're on the Wrong Track; All-Time High Say America's Best Days Are Behind It
This is the longest period during which over 70% of the public has said we're on the wrong track -- nearly a year.
As you know Biden received 81 million vohhhhhsshheszzzzzzzzz.
Sorry, I fell asleep writing that due to the well-known syndrome called Repetitive Lie Narcolepsy.
Nearly three-quarters of voters in a new poll said they believed things in the U.S. were headed in the wrong direction.

An NBC News poll revealed just 21 percent of voters feel the nation is headed in the right direction, while 74 percent think the opposite.

Over half of respondents, or 58 percent, said they feel "more worried that America's best years may already be behind us," while 35 percent feel more confident the best years are still ahead.

About a third of respondents, or 34 percent, said they think the state of the nation will worsen over the next five years. Just two percent more, or 36 percent, said they think things will get better in that same time period, and 21 percent said they think things will stay the same.
In addition, a combined 71% think that the "Inflation Reduction Act" -- which the media now nigh-exclusively calls a "climate bill" -- will either have no effect on inflation or make inflation worse.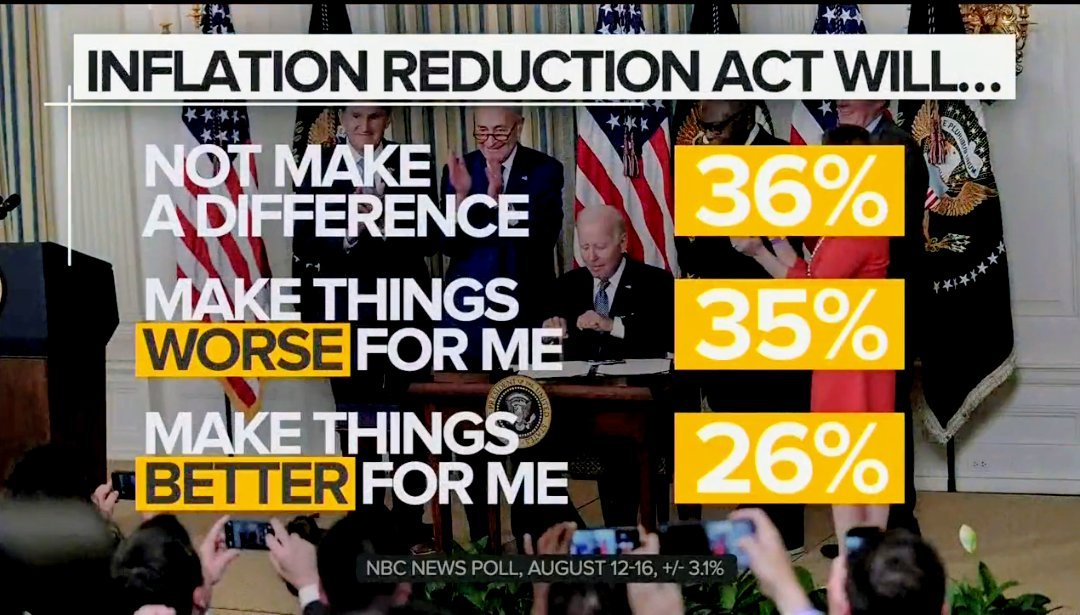 Don't worry, Democrats! Don't worry, Paul! Take heart, Raykon!
NBC's Bloated Talking Points Warthog Yamiche Alcindor says that the only reason Democrats say we're on the wrong track number is because they're worried that Trump or any other Republicans will win 2022 or 2024.
NBC's @Yamiche Alcindor on 74 percent of Americans saying the U.S. is on the wrong track: "They're very worried about former President Trump coming back into power, or former President Trump or another Republican stealing the election in 2022 or 2024."
Yamiche's now just blaming any negative polling on Democrats fearing that, at some time in the future, some Republicans at some time will win some elections.
And also, that Republicans are going around the country lying to people, telling them that inflation is bad and gas prices are high.
So, all negative polls are due to Republicans lying, and Democrats worrying that lying Republicans may one day get into office again, due to their lies.
That should take care of all negative poll findings for Democrats from here forward, huh?
Thanks to Anonysaurus Wrecks for that, from @TomSElliott. Video clip below.

posted by Ace at
01:04 PM
|
Access Comments